Formula One
F1 2016: ten talking points from the Bahrain Grand Prix
There was plenty to discuss following the second race of 2016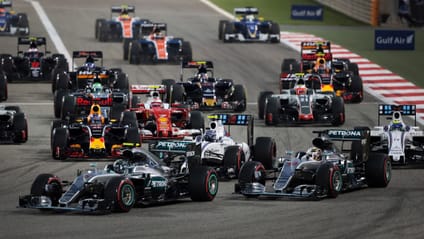 Nico Rosberg cruised to his second victory of 2016

Taking advantage of a slow start from his teammate, the German jumped into the lead in the first corner and didn't look back on his way to the chequered flag.

While Ferrari's Kimi Raikkonen was only a few seconds behind come the end of the race, Rosberg was in control throughout and managed his strategy perfectly in an error-free performance.

The win makes it five victories in a row for the Mercedes driver since losing the 2015 title to Lewis Hamilton in Austin last October, and his lead in this year's championship has now grown to 17 points just two races into the season.

Rosberg needed to make a strong start to 2016 if he was to have any chance of beating his teammate to the title. With two wins out of two, he couldn't have made a better one...

Advertisement - Page continues below

Hamilton botched another race start

Once again Lewis Hamilton failed to convert pole position into a lead at Turn 1, bogging down off the line as his teammate made the better start from P2.

Things might not have been so bad for the three-time world champion had he held onto second place, but there was further misfortune for him as contact with Valtteri Bottas dropped him into the middle of the pack.

Hamilton was forced to recover his race with the added hindrance of a damaged car, while Bottas was penalised for causing the accident with a drive-through penalty.

A second podium finish in a row might be seen as a silver lining for Hamilton given the problems he's had in the opening races in 2016. More worrying though for him though will be the fact that they were self-inflicted with poor getaways at lights-out.

The world champion has a weakness. And he needs to address it quickly.

Vettel didn't make it round the formation lap

Meanwhile the spectators were robbed of what could have been an interesting battle at the front as Sebastian Vettel peeled away from the formation lap with an engine failure.

It's the second DNF (technically a DNS) for Ferrari in as many races following Kimi Raikkonen's non-finish in Australia a fortnight ago.

While the lost points will hurt Ferrari – already 50 points behind Mercedes in the constructors championship – the long term concern will be the reliability of their SF16-H.

Analysts believe that they are closer to their main rivals than they were last season, but if their reliability doesn't improve, that progress won't translate into silverware in Abu Dhabi in November.

Advertisement - Page continues below

And several other cars retired

A frenzied start to the race was further muddled by a number of early retirements, with Renault's Jolyon Palmer joining Sebastian Vettel by not even making it to the grid after the parade lap.

Esteban Gutierrez was forced to pull into the pits on lap ten – making it two retirements in a row for the Mexican after the huge collision with Fernando Alonso in Melbourne – while Carlos Sainz was also left disappointed after calling it a day 29 laps in.

Jenson Button was the other man to register a DNF as a consequence of a problem six laps in. It completed a fairly miserable weekend for the British veteran, who was outqualified by a rookie teammate who had driven the car for the first time the day before.

On which note...

Qualifying was a shambles again

As expected, the farce that is 'elimination' qualifying failed to deliver once more as fans and viewers were treated to another three sessions plagued by a lack of action on track.

There was some drama as Nico Hulkenberg improved his time in Q2 to squeeze into eighth on the grid, while Lewis Hamilton had to secure pole at the second time of asking after a mistake in the final corner left him in fourth after the first runs in Q3.

Once again though, the 31-year-old had already climbed out of his car to celebrate claiming pole by the time the chequered flag was out to bring qualifying to an end.

How much longer can the format last?

And it might be replaced with an 'aggregate' quali system

Discussions between the teams and organisers are ongoing but the FIA and Bernie Ecclestone are unwilling to revert to the 2015 system, believing such a move would be confusing for fans.

There's also a feeling that a return to the old format would give the impression that the sport wasn't trying to hard enough to improve the spectacle for viewers around the world.

One of the options now believed to be under consideration is an 'aggregate' format, whereby drivers qualify based on the total time taken to complete their two quickest laps.

F1 adopted a similar system in 2005 with flying laps completed on both the Saturday and the Sunday of a race weekend. It was ditched after just six races because it was so unpopular.

Nope, us neither.

Romain Grosjean had another strong race

The furore over qualifying has taken the spotlight away from two grand prix which have actually been very entertaining, not least because of the performances Romain Grosjean is delivering with Haas.

The new American team had fortune on their side on their way to sixth place in Australia two weeks ago, but they went one better on merit in Bahrain as Grosjean drove brilliantly to secure P5.

The Frenchman even had enough of a cushion over sixth placed Max Verstappen to accommodate a mistake on the final pit-stop, where mechanics struggled to fit his new left-rear tyre.

While Esteban Gutierrez has been lucky not to finish a race so far this season, Grosjean now sits in fifth place in the drivers championship, with Haas occupying the same position among the constructors.

Haas's car might be heavily based on the Ferrari, but even so their high finishes are nothing short of astonishing for a team that has just completed its second F1 race.

Advertisement - Page continues below

Stoffel Vandoorne was a super-sub for McLaren

Stoffel Vandoorne stepped off a long-haul flight from Japan just hours before the first practice session on Friday having received a last-minute call to stand in for the injured Fernando Alonso.

But having never driven McLaren's MP4-31 before, he still managed to outqualify teammate Jenson Button before scoring the team's first points of the new season.

The tenth place finish represents an excellent weekend for the Belgian, who will have done his reputation as a future star no harm by competing well against someone of Button's calibre.

Jenson could well face a battle to keep his seat at the end of the year, especially with Vandoorne keen to secure a full-time F1 drive in 2017.

If you were Ron Dennis, would you stick with the aging world champion or promote the youngster with a bright future?

Fernando Alonso rebuked a pundit live on TV

Despite his injuries, Fernando Alonso commendably decided to stay in Bahrain for the weekend in order to assist young his stand-in.

However former F1 driver Johnny Herbert, now an analyst with Sky, said he didn't think the Spaniard should come back, explaining: "I know things have changed as far as the cars are concerned, but as far as performance is concerned we haven't seen this two-time world champion that everyone says is the best. I don't see it."

Clearly Alonso wasn't amused, approaching Herbert during a live broadcast. The McLaren driver shook hands with Herbert – a seven-time F1 podium finisher – before declaring: "I'm a world champion. You ended up as a commentator because you are not world champion."

Ouch.

Advertisement - Page continues below

Pascal Wehrlein was also on form

While Manor are yet to set the world alight in 2016, the gains they have made over the winter are finally giving them opportunities to compete at the back of the field.

There were times during the race where they were going wheel-to-wheel with much stronger opposition in the middle of the pack, and Pascal Wehrlein did a particularly fine job throughout to bring his car home ahead of the two damaged Force Indias.

The German's development will be interesting to monitor over the coming year, especially given his ties with Mercedes.

The relationship between Nico Rosberg and Lewis Hamilton has threatened the performance of the frontrunners before, and if it ever gets hostile again, the Silver Arrows might just decide that a change in personnel is required...