Formula One
F1: Your full line-up for 2016
The final race seat has been filled. Here is the complete grid, team by team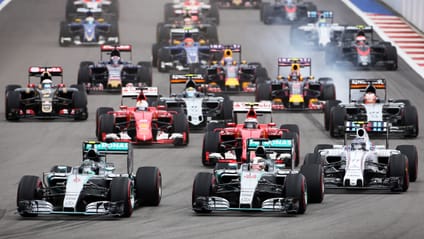 So it's official: Indonesian driver Rio Haryanto will join Pascal Wehrlein at Manor F1, leaving Brit Will Stevens and American Alexander Rossi without race seats for the new season.

Haryanto's arrival – secured with a reported sum of £10 million of investment – means that all 22 places on the F1 grid for 2016 have now been filled, just days before the first pre-season test is due to take place at Circuit de Catalunya in Barcelona.

The first race itself is now little over a month away, and despite last year's snoozefest there are plenty of reasons to be optimistic that this year will much better.

Team by team we've done a quick assessment of the teams' prospects, starting with...

Advertisement - Page continues below

Mercedes AMG Petronas - Lewis Hamilton & Nico Rosberg

First and second again in the championship last year, Mercedes surely start as favourites for the forthcoming season.

Lewis Hamilton is a title away from drawing level with Alain Prost and Sebastian Vettel, although his teammate will be desperate to stop him and finally become a world champion himself.

The German won the final three races of 2015, the first time in his career he's won a hat-trick of grands prix. Keeping that momentum will be key to his prospects this year.

Scuderia Ferrari - Sebastian Vettel & Kimi Raikkonen

Mercedes' main challengers last season as the only other team to win a grand prix, with Vettel collecting wins in Malaysia, Hungary and Singapore.

By the end of the year Ferrari's engine wasn't far behind that of the Mercs, which is a sign that the gap is closing. And the closer it is, the more competition we're going to have at the front.

In any case, this will be a vital season for Raikkonen having been largely outclassed by his German teammate in 2015. A poor season could tempt Ferrari to look at other options.

Advertisement - Page continues below

Williams Martini Racing - Valtteri Bottas & Felipe Massa

Another unchanged line-up. Williams could well have won the British Grand Prix last year had they been a bit cannier with strategy, but typical struggles on low-speed circuits meant their opportunities to win races were lacking.

At 34 Felipe Massa is still going strong, although his Finnish teammate generally tends to get more out of the car. Bottas would surely be a candidate for bigger teams should a seat become available in the near future.

Red Bull Racing - Daniel Ricciardo & Daniil Kvyat

2015 was tricky for Red Bull, and it's hard to see how 2016 will be any better given that they're still using the Renault engine they were so desperate to get rid of last year.

Ricciardo was the star of 2014 after beating four-time world champion Vettel whilst he was still a relative rookie, although Kvyat held his own against the Aussie and outscored him in their first season together.

An interesting battle to keep an eye on, even if it doesn't play out at the front of the pack.

Sahara Force India - Sergio Perez & Nico Hulkenberg

The team finished fifth in the constructors championship last year, pulling off a string of impressive results in the second half of the season.

The best of those was a sensational podium finish for Sergio Perez at the Russian Grand Prix; a sweet moment for the Mexican whose F1 career looked in decline after being ditched by McLaren in 2013.

Maintaining this position in the field would be a great achievement for Force India, but don't be too surprised if they're caught by richer teams.

Renault Sport - Kevin Magnussen & Jolyon Palmer

The French manufacturer returns as a full works team having bought the Lotus outfit which struggled with its finances last year.

Renault are in it for the long-haul having targeted podiums in 2018 and a world championship in 2020, but immediate progress this season is unlikely given the short amount of time they've had to focus on developing the car.

That said, their line-up is strong: Kevin Magnussen fills the void left by Pastor Maldonado, and Jolyon Palmer takes the seat vacated by Frenchman Romain Grosjean. Both are young, hungry and recognise the team's potential. Neither will want to let this opportunity slip their grasp.

Advertisement - Page continues below

Scuderia Toro Rosso - Max Verstappen & Carlos Sainz

Without a single yard of F1 racing experience between them in 2015, Verstappen and Sainz proved to be the most exciting pairing on the grid last year.

The Dutchman especially thrilled fans around the world, producing a season stuffed with daring overtakes and two fourth place finishes in a car that few could have pushed that high up the grid.

Team boss Christian Horner has admitted that Toro Rosso are likely to outperform their parent team in the early part of the new season. It'll be quite a sight if it happens.

Sauber F1 - Felipe Nasr & Marcus Ericsson

Sauber were eighth in the standings last year, with a smattering of points finishes and decent reliability ensuring they finished above McLaren.

With a limited budget and ambitious rivals, success will be hard to come by for Nasr and Ericsson this season. A Ferrari engine gives them the same power as newcomers Haas F1, over whom they should have the advantage of experience.

But with Manor and McLaren showing signs of improvement, Sauber need to have something up their sleeve to stay ahead.

Advertisement - Page continues below

McLaren-Honda - Jenson Button & Fernando Alonso

It would be remarkable if McLaren were to endure a repeat of last year's disaster, especially when Honda have been working non-stop over the off-season to bring their power unit up to speed.

The team was miles off the pace because of a fundamental flaw in the engine which couldn't be rectified last year because of F1's 'token' development rules. 2016 should deliver big improvements, even if race wins remain out of reach.

Both drivers remain among the sport's top bracket of names, although at 36 and 34 years of age, neither is getting any younger. Can they get the car into a position where it's ready for a title challenge in 2017?

Manor Racing - Pascal Wehrlein & Rio Haryanto

After employing three drivers over the course of last season, Manor enter 2016 with two completely new faces in the form of DTM champion Pascal Wehrlein and ex GP2 driver Rio Haryanto.

The latter becomes Indonesia's first ever F1 driver, while Wehrlein lines up on the grid for the first time having performed duties as Mercedes' reserve driver last season.

Manor have secured a Mercedes engine and have agreed a technical partnership with Williams for the forthcoming season. How much they'll improve remains to be seen, but don't expect them to be lapped quite as much this year...

Haas F1 - Romain Grosjean & Esteban Gutierrez

Formula One's newest team, backed by American owner Gene Haas.

Romain Grosjean has taken a risk joining the team, probably in the hope that their ties with Ferrari lead to an opportunity with the Italian outfit later in his career. He is joined by former Sauber driver Esteban Gutierrez, who arrives having spent a year as backup to Sebastian Vettel and Kimi Raikkonen.

The North Carolina-based team has bought as many parts as is legally permitted from Ferrari in order to hit the ground running. It would be a big disappointment from their point of view if that investment didn't pay dividends during the season.