Formula One
Five things we learned from the Italian Grand Prix
Verstappen wins a record 10 in a row as Ferrari puts on a show in front of the Tifosi…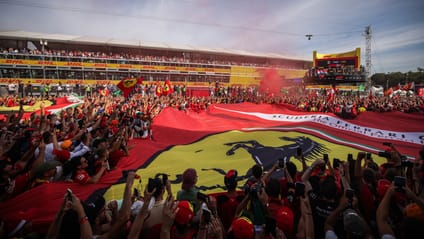 Verstappen is in uncharted territory

Max Verstappen went into the Italian Grand Prix knowing that victory would see him accomplish what no other driver has been able to do in 73 years of F1; winning 10 races in a row. But when the Dutchman was pipped to pole position on Saturday it looked like that chance might - just might - go begging.

It didn't. The Ferrari of Carlos Sainz put up one heck of a fight, but eventually the pressure told and one lock-up was all the Red Bull driver needed to sweep into a lead and out of sight.

That historic win for Max also made it 14-out-of-14 wins for Red Bull this season, and an unprecedented 15 on the bounce in an unbeaten run that goes back to George Russell's maiden victory for Mercedes in Brazil last year.

They're going to win every single race in 2023, aren't they?

Advertisement - Page continues below

The Italian Grand Prix is always Ferrari's biggest race: the tifosi treat the drivers like demigods and the support for the Scuderia at Monza borders on delirium.

And knowing that the track suited their car, Ferrari threw everything at trying to win. High-speed aero set-up? Check. New engines for both cars? Check. Actual go-faster stripes. Check.

Things got off to a promising start as Carlos Sainz put Ferrari on pole, and after defending for his life in the opening few laps - including one block in the first chicane that Verstappen called "naughty" on the team radio - it looked like he had the pace to keep the championship leader behind him.

But the Red Bull was simply too relentless and on lap 15 Verstappen edged ahead through the Curva Grande, after which he was never under threat.

However, that wasn't the end of the entertainment. Both Sainz and teammate Charles Leclerc then set about defending from Sergio Perez in the other Red Bull, the Mexican taking longer to get past the red road block up ahead.

And once he'd climbed up into P2, the Ferrari pair then embarked on an increasingly desperate battle for the final podium place, complete with lock-ups and wheel-on-wing contact in the dying laps. Excellent stuff. Forza Ferrari!

Hamilton had his elbows out

Lewis qualified a disappointing P8, and lost another position at the start as he began the race on the hard tyres. Mercedes was playing the long game, hoping that a safety car in the middle of the race would give them an advantage later on.

The safety car was never needed, and so Hamilton was forced to get aggressive after pitting for mediums. And after treading carefully to begin with, he then chased after the pack knowing that P6 was still on the cards.

He nearly went horribly wrong: in overtaking Oscar Piastri he moved over on the McLaren driver under braking, for which he earned himself a five-second penalty (he later admitted he was "totally at fault" and apologised straight after the race). But the car wasn't too badly damaged and he managed to pass Lando Norris and Alex Albon, and get far enough ahead that his penalty didn't cost him any points.

Advertisement - Page continues below

You shall not pass Alex Albon

Okay so Hamilton got by, but other than that Alex Albon became a one-man roadblock in the Williams, which came alive at Monza thanks to its efficient aero and high top speed.

Albon stuck it P6 in quali, and after regaining the place he lost to Piastri on the opening lap, he judged his race to perfection as he kept the McLarens at bay despite having to manage overheating tyres during an ultra-long second stint on the hards.

Williams is now seventh in the constructors' championship, even though it's relied on Albon for all of its 21 points so far in 2023.

Tsunoda's overalls won't need washing

Like a jumper that only goes on an hour before bedtime. Yuki Tsunoda didn't get to drive a single lap in anger at Monza, as his AlphaTauri pulled over on the formation lap with an engine failure. That's the second time in three years that Tsunoda's suffered a DNS at Monza…

The delay removing his car from the side of the track meant the race start was held up by 20 minutes, and we were treated to the slightly comical sight of all the mechanics sprinting back up the pit lane to get fans and tyre blankets applied to the cars as they waited patiently for the AlphaTauri to be lifted out of harm's way.

Get those guys 'n' gals some scooters, stat.