Formula One
Interview: Alex Albon on his GT3 RS, F1 redemption and leading Williams back up the grid
The Thai-British driver beat the odds to revive his F1 career. Now he wants to push on with Williams
The last time TG caught up with Alex Albon he was running around in a Mercedes GLE. "But as you can imagine," he tells us in the paddock in Bahrain on the second afternoon of pre-season testing, "you can get quite good deals on cars if you're an F1 driver."
And Albon firmly is an F1 driver: 18 months ago it would've been 'was'. Midway through his rookie season he was thrust into a race-winning Red Bull alongside the relentless Max Verstappen, but the promotion came too soon and at the end of 2020, he dropped out of the sport altogether.
Advertisement - Page continues below
When that happens to a driver, few make it back. Esteban Ocon is a recent exception. Fernando Alonso's another, though as a double world champion he's one of the few drivers who could afford to take a holiday to win Le Mans. Twice.
Without such a glittering CV, Albon had to graft. A year in DTM kept him sharp, while hour after hour in the Red Bull simulator showed his determination to get back on the grid. And when George Russell joined Mercedes a door opened at Williams; the 26-year-old hasn't looked back.
So what wheels has he acquired? With a little help from his F1 status, of course. "It's embarrassing! Well, it's not embarrassing, it's just I don't see myself in one. It's a G-Wagen, a G63. But it's for my family, not even for myself.
"I have that, and I've pre-ordered a GT3 RS. So I'm a proper rudeboy." A GT3 RS, eh? We're guessing that's completely unrelated to the Williams-Porsche rumours that have persisted ever since Audi lined up its takeover of Sauber?
Advertisement - Page continues below
"Exactly!" he laughs. "I posted a photo of a Singer the other week on my social media, and people thought it was connecting dots. Tin foil hats start going on."
I've pre-ordered a GT3 RS. So I'm a proper rudeboy
Classic cars and restomods - especially Singer and Alfaholics - are his "true passion", he adds. "I just kind of hoard them. That's the reality of it. I love the Land Rover Defenders, the way people are doing them nowadays. That's my kind of vibe.
"They're just too expensive. Thing is, these guys don't offer deals! So I'm screwed."
Top Gear
Newsletter
Thank you for subscribing to our newsletter. Look out for your regular round-up of news, reviews and offers in your inbox.
Get all the latest news, reviews and exclusives, direct to your inbox.
Well, good things come to those who wait. And the reality is Albon may have to do more than his fair share of waiting as Williams gears up for a new season having scored just eight championship points and finished last in the previous campaign.
The team has "definitely made a step forward" with the FW45, he reckons, "but it's all relative" as everyone else will have made gains too. "So it's going to be tricky," he concedes. "I think we've addressed some of the issues. The car feels very similar to last year. It just feels like we've been able to improve some of the key weaknesses. And not fix them, but get them into a better window."
Basically, don't expect Williams to be fighting for podiums every week. Or even points. But Albon will take that over being out of the sport entirely, a feeling he admits is "weird" given the drivers are all "taught about winning and nothing else" through karting.
"You look at things with perspective," he explains. "If I was someone like Max or Lewis, and they were at the back, maybe they would be a bit more disappointed. But for me last year was a redemption year. It was about getting back onto the grid, showing my worth and proving to people what I can do.
"And yes, of course it's not fun to be struggling for points. And sometimes a great qualifying lap was 18th, or 19th. And that doesn't fill you up with much satisfaction.
"But I think for your own sanity, you self-reflect a lot. If you'd asked me 'How was last year?', I'd have said it was a great year. It was my strongest year in F1.
"Your goals and the way that you view success is different. That's how you deal with it."
I think for your own sanity, you self-reflect a lot
Albon now has something else to focus on too: leadership. Already seen from the outside as the team leader alongside Nicholas Latifi last year, Williams' reliance on his feedback will be even greater in 2023 as new teammate and F1 rookie Logan Sargeant (an "unbelievably quick driver") gets up to speed.
What's it like adapting to that kind of role? "It's not like you put your nametag on which says 'I'm the boss' and go around pointing your finger at everyone," says Albon. "But it just comes naturally, because as a person you're maturing. You're spending more time in Formula 1, you're getting to know the insides and outs, you get to know the politics.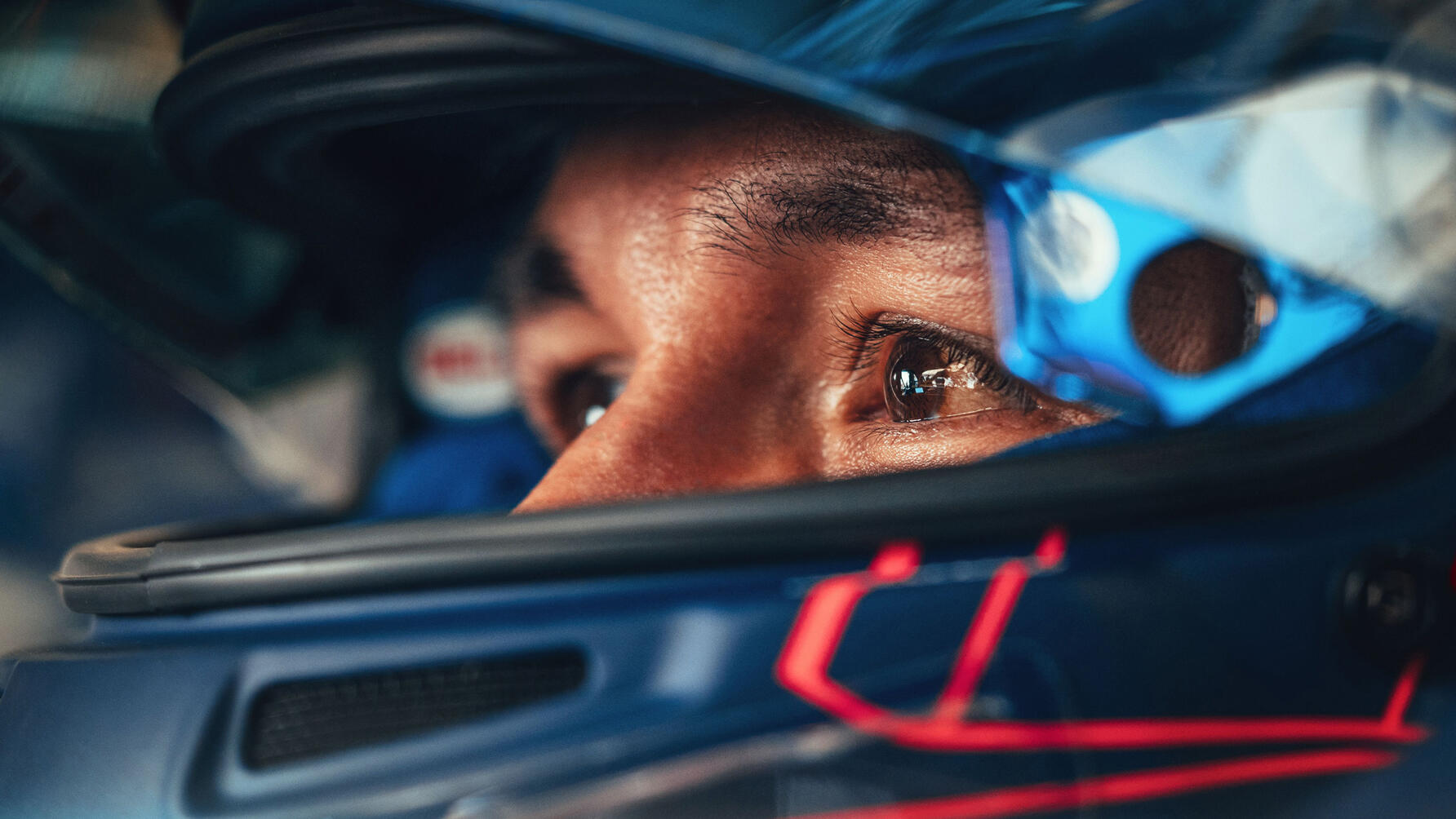 "You become more confident in what you're saying, you're more knowledgeable in what you're saying… I feel like I've become this team leader, but in a natural way."
And it's at this point Albon gives a hint of the steel that got him back into an F1 car, and why Williams saw fit to sign him up on a 'multi-year' contract.
"I find a lot of passion and drive from trying to get from where we are and moving us up. It's a great bunch of people at Williams, and I want to move this team forwards just as much as they want it. And that's where that hunger goes.
"I don't expect us to stay like this," he assures us. "I expect us to improve."