Formula One
Formula One is back! Here are Top Gear's 10 predictions for the season ahead
Remember that Netflix drama where cars occasionally race? It's time for a new season, and we're making some bold predictions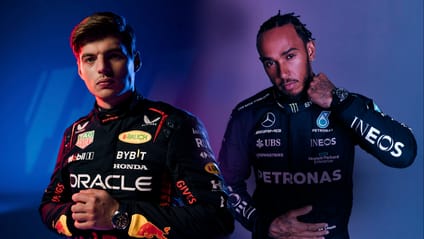 Most likely to deny Max Verstappen a title hat trick?

Lewis Hamilton

Red Bull's punishment for breaking the cost cap in 2021 is less wind tunnel time in 2023. Mercedes has apparently cracked its porpoising woes. George Russell beat Lewis last year because he's ace at dragging the best from a bad car, but in 2023 we reckon Hamilton will come out swinging for a deserved eighth title. 

Advertisement - Page continues below

Least likely to be on speaking terms by the summer break?

Fernando Alonso & Lawrence Stroll

A notoriously sensitive veteran world champion has gone to work for... a notoriously sensitive billionaire bankrolling an underperforming team. And his son just so happens to be the other driver. Aston Martin's not going to be a happy camp. 

Most likely to stab their teammate in the back?

Sergio Perez

The Mexican did his best to be a dream wingman during the sharp end of the last two title fights, but Verstappen's pettiness over Sergio's Monaco quali spin led to bad blood in '22, costing Checo second place. Revenge is best served with guacamole. 

Advertisement - Page continues below

Most likely to struggle to fill a DTS episode?

Alfa Romeo

Same nice but unmemorable driver line-up at Alfa, which has – brace yourselves – gone with black 'n' red instead of white on this year's livery. It's officially morphing into Audi F1 in 2026, which is when the team becomes interesting. 

Most likely to become a meme?

French civil war at Alpine

Allegedly, Alpine's all-French pairing of Esteban Ocon and ex-AlphaTauri man Pierre Gasly don't get along brilliantly. Both have one F1 win in their career, and something to prove as they try to escape the onset of midfield malaise.

Silverstone, Interlagos, Canada

Forget the Vegas and Miami razzmatazz. The best F1 events are the ones that combine overtaking hungry old tracks and raucous fans. Last year's British Grand Prix was a season highlight, and the Brits will be quicker this year, while Canada rarely avoids serving up a classic race.

Most likely to be grounded and banned from their PlayStations?

Lando Norris & Oscar Piastri

McLaren's nomex-clad toddlers have a score to settle. Norris has only had to see off an ailing Danny Ricciardo so far. Aussie Piastri mugged off Alpine to sign for Woking. Both have stellar potential, but we expect tears before bedtime.

Advertisement - Page continues below

Most likely to have a strategy meltdown?

Ferrari 

King of snatching defeat from the jaws of victory, Ferrari's insane tyre calls, bungled pit stops and team boss revolving door have left it incapable of stringing together a title run. Can ex-Alfa boss Fred Vasseur change that? Last time Ferrari was led by a Frenchman, it won five world titles...

Least likely to retain any credibility whatsoever?

The FIA 

The season hasn't even begun and already the sport's governing body is mired in mayhem, with barely-past-his-probation president Mohammed Ben Sulayem 'stepping back' from F1 involvement due to bizarre tweets and personal scandals. 

Advertisement - Page continues below

Weekends to spend in the garden?

Spain, Monaco, Qatar

The new regs haven't made Catalunya a decent track. The cars are far too big for Monaco, and there are now more forgettable Middle Eastern barrierdrome snoozefests on the calendar than restraining orders against Jos Verstappen. Do yourself a favour and get some fresh air.