Gaming
Seven cars we're excited to drive in Forza Horizon 5
Forza Horizon 5 is out now. Here's what we're looking forward to racing, and what we wish we *could*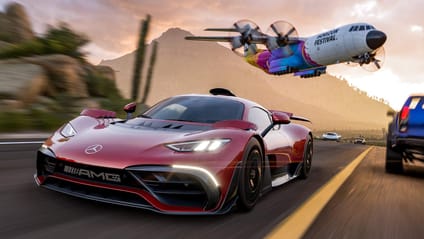 Mercedes-AMG One

It's the cover car, so it should be half-decent. It also has a party trick with an actual toggle-able race mode in game – the only one we could find. After some early testing, this race mode isn't purely aesthetic. Changing the car's aero on the fly actually makes a big difference to its handling, braking and top speed.

The stock AMG One will do 240mph easily on the new super-long Horizon 5 Mexican highway, but with race mode engaged the car will barely make 210mph due to all the downforce at play. When testing around speed zones, the race mode is unsurprisingly much quicker and easier to control so should be the go-to for any street racing in your open world adventures.

It's worth noting race mode is automatically turned on during actual races so you don't need to worry about accidentally starting a race in the aerodynamic mode.

Advertisement - Page continues below

Toyota Supra A90

The new A90 Supra is a divisive car especially coming after the iconic A80. A car that was so legendary that almost every Gran Turismo garage had to have at least one. And wasn't, y'know, a BMW underneath.

The new Supra in Forza Horizon 5 has a hugely wide HKS body kit available, which looks incredible if that's your sort of thing. It screams 'drift car', especially when combined with some of the ridiculously large wings available in the car customisation.

With the new differential settings and tyre compounds available in Forza Horizon 5 specifically designed for drifting, it should allow for some low-powered sliding in the Supra's stock engine configuration. But most will be looking eagerly at the engine swaps, hoping to slot in the fan-favourite 2JZ engine. Tyre smoke is more realistic in FH5, apparently. 

Perfect...

Lotus Evija

With almost 2,000bhp this is one of the most powerful stock vehicles in FH5 and compared with other electric hypercars – such as the Rimac Concept Two – it's a whole lot lighter, so it should be insanely fast.

The Lotus Evija looks beautiful, too. Will those wild Venturi tunnels make for clever aero performance in-game? Who cares? They look the business.

At the top of S2 class in stock trim, there's not much in terms of modification that you can do with the Evija to improve it without hitting X class. Early testing shows that the lack of a front splitter hurts the Lotus with understeer, but adding one on instantly propels this car past S2 class. We'll have to wait and see if this car can be competitive online. Or will something like the Ferrari F40 be the more meta choice?

Advertisement - Page continues below

Chevrolet Corvette C8

A car that appears in the opening race on Forza Horizon 5. It's not the new 2023 Corvette Z06 that revs to 8,600rpm like we covered last week, but we're sure it will still be fun to customise and race with. A mid-engined Corvette, you say? Yep, this needs much digital investigation...

On Forza Horizon 4 the Corvette was a decent S1 circuit racer running at around 750bhp with plenty of grip, but it fell off against the more overpowered cars like the 2005 Ford GT or Bugatti EB110. So let's see how the new layout affects performance.

Nissan Silvia S15

There arguably isn't a more iconic drift car to test out Forza Horizon 5's new tyre smoke than the S15 Silvia. The scaling and proportions of this car has often been criticised by the player base, so we hope and pray that this may be fixed for the release to really help preserve the cult classic status of the slidey Nissan sports car.

The thought of drifting down the twisting volcano road in a proportionally accurate drift-spec Silvia with our steering wheel and pedal set-up sounds like the perfect night in. Choose your snacks carefully: don't want to get crumbs on your gaming rig. 

Koenigsegg Jesko

Forza Horizon 4 had the Jesko, but 5 has updated the engine sound to make its ultra-powerful V8 sound a little more realistic. It's claimed to be a 300mph car and that long highway in Mexico looks perfect for testing that out.

With 1,600bhp stock from a 5.0-litre twin-turbo V8 powering only the rear wheels it can certainly be a handful. Some testing of Horizon 5 shows that rear-wheel-drive cars are more controllable, which is great news, and we should hopefully see more diversity in high-ranked online competitive play. No more all-wheel-drive dominance.

The Jesko is another car that is a little too easy to push into X class, which in the previous game was dominated by the Ferrari 599XX Evolution. That same cookie cutter configuration that kept the Ferrari at the top no longer works in FH5, so X class racing shouldn't just be filled with one car.

Mitsubishi GTO/3000GT

Solely for personal reasons, this one. Back on Gran Turismo 2 you could throw in an absurd amount and dominate every race.

It was too heavy compared to contemporary Japanese sports cars, and far too complex for its time with all of its electronics that inevitably went wrong. But when the twin-turbo kicked in, there was no car at the time that could keep up during its very short power band.

We'll be racing one in Forza Horizon 5 and hope it can compete in S1 despite its heft. Hope the reliability is better than we remember...

Advertisement - Page continues below

And the cars we'd *like* to see in FH5: Tesla Model S Plaid

There are some incredible electric hypercars in FH5, such as the Lotus Evija mentioned above, but there would be something even more special about making a lightweight Tesla Model S Plaid as a drag car to mimic one of those supercar-killing Tesla videos on YouTube.

Or maybe creating a cross-country Tesla Cybertruck is more your scene. Racing up the Mexican volcano without touching any tarmac sounds like a great challenge. Hey Elon, fancy a game?

Nissan Stagea

The Nissan Stagea is one of our favourite fast estates. Essentially an R33 Skyline GT-R recreated in a more practical, family friendly shape. And thus the perfect sleeper car to surprise unsuspecting victims online challenging you to a point-to-point race.

Advertisement - Page continues below

Polestar 2

Polestar make some of the most handsome EVs on sale. We'd love to tune a classy Polestar 2 into a circuit racer, perhaps putting an 850 BTCC livery on it to release our inner Rickard Rydell. Or turn the Polestar 1 into a slick circuit racing monster; it's time to beat those overpowered Koenigsegg CCGTs or Mosler MT900S online.

What cars are you looking to drive in Forza Horizon 5? Let us know in the comments below.