Le Mans 2023
These are the top six celebrity Le Mans drivers
Several famous faces have raced the 24 Hours of Le Mans, including actors, an Olympian and a World Cup winning goalkeeper…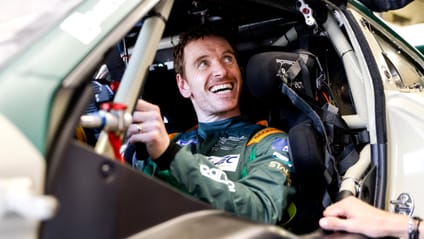 Not only was the late Paul Newman a multi award-winning actor, he was also a rather handy driver, having picked up the bug for racing while filming 1969's Winning. Four national championship titles in the Sports Car Club of America followed, and his one and only Le Mans appearance in a Porsche 935 saw him finish second overall and first in class. A decade and a half later, he won his class at the 24 Hours of Daytona aged 70.

Advertisement - Page continues below

Nick Mason, 1979-80, 1982-84

What do you do when you're the drummer of one of the most successful rock bands of all time and you've got time to kill? Collect cars of course. Nick Mason's enviable garage needs no introduction, but the Pink Floyd drummer was also a prolific racer too. He made five appearances at Le Mans and grabbed a couple of class podiums in a Lola T297 in 1979 and 1980. Bet those got his pulse racing… #sorrynotsorry

Patrick Dempsey, 2009, 2013-15

Best known for playing a neurosurgeon in Grey's Anatomy, Patrick Dempsey began racing as a hobby and became so all-consumed by it that he considered quitting life as an actor to race full-time. He didn't, but four Le Mans appearances (and one class podium) tells its own story. Like Newman, he's also raced Daytona.

Advertisement - Page continues below

Fabien Barthez, 2014 & 2016

Fabien Barthez (seen here on the left) is best known for winning the Champions League with Marseille in 1993 and the World Cup with France in 1998, followed by his (eventful) stint as Manchester United's goalkeeper between 2000 and 2004. After retiring from football he got into racing, making his Le Mans debut in 2014 and establishing a team with former F1 driver Olivier Panis to contest the 2016 edition in the LMP2 category. The team finished 12th overall and eighth in class.

Photo: Panis Racing/DPPI

Velodrome sprinter Chris Hoy is Great Britain's second-most successful Olympian ever, having won six gold medals and one silver across four Olympic Games. Like Barthez above, racing became a hobby post-retirement, with yet more success arriving in the form of a European Le Mans Series title in 2015. The following year he made it to Le Mans with a Nissan-powered Ligier: his first stint didn't start well as he struggled to attach the steering wheel in the pit box, but eventually the team finished 17th overall.

In 2022 - on the eve of his Le Mans debut - Michael Fassbender told TG about growing up in Ireland, messing around with old cars and watching Ayrton Senna and Michael Schumacher dominate F1 on the box. The racing seed was planted, and eventually he started out competing in the Ferrari Challenge series before graduating to the European Le Mans Series. He was unlucky at Le Mans: he was punted into a tyre wall through no fault of his own during the night, but gamely got the car going again and his 911 RSR-19 did at least take the chequered flag.