Mavericks
Nine of the most powerful production cars on sale
Need a high horsepower fix? Here are the machines that deliver haymakers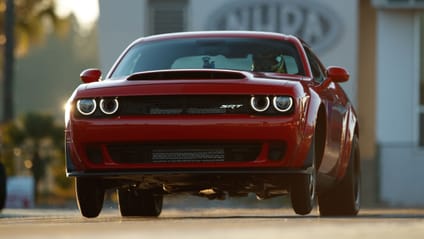 Welcome to what is, quite simply, a list of very powerful cars you can actually buy. The Porsche 918, LaFerrari, McLaren P1 are but three that have long-since sold-out, which is why you won't find them here. This list is reserved for cars available here and now to anyone with sufficient means, so if your favourite isn't in here - that's why. You also won't find tuner cars, because otherwise we'd have to do about a million slides. Clear?

Good. Now click on. And remember, this is not an exhaustive list, just a guide if you're seeking something ludicrously powerful...

Advertisement - Page continues below

Koenigsegg Regera - 1,479bhp

Potentially Koenigsegg's masterpiece. We know that it's only got one gear, and we know that it's absolutely brilliant at pulverising tyres into the middle of next week. Crushingly fast and complex, it boasts a very distinctive power output...

Bugatti Chiron - 1,479bhp

...which is the exact horsepower figure of the Bugatti Chiron. Funny, that. The successor to the Veyron clearly needed to have more power, and the Chiron has nearly 300bhp more than even the Veyron Super Sport. It's a smidge faster than that SuperVeyron, while a Chiron Super Sport is rumoured to be in the pipeline to defend the 'fastest in the world' crown against any opposition.

Advertisement - Page continues below

Rimac Concept S - 1,384bhp

Meet the bigger, racier brother to the Rimac Concept-Underscore-One. And it boasts some pretty spectacular numbers from an all-electric drivetrain: 0-62mph takes 2.5 seconds, while 0-124mph is done in 5.6secs. The electric car apparently has the big Bug pipped to 186mph, getting there in just 13.1 seconds, where the Chiron takes half a second longer. Top speed is another big number: 227mph. Sheesh.

In April Nio announced plans to build ten more EP9s, for £1.4m each. That means 16 total, the first and original six going to early investors in its parent company. Holder of lap records at the Circuit of the Americas and the Nurburgring. 

World's fastest car from zero to 60mph (yes, faster than the Chiron and any Tesla you care mention), the fastest-ever production car over a quarter mile, and the world's first production car that can pop a legit wheelie if you get the launch right. The big number is 840bhp. For the rest, click on these here words. An honorable mention goes to the 1000bhp Hennessey Exorcist.

Ferrari 812 Superfast - 789bhp

F12's successor gets 789bhp from its N/A V12, Ferrari's most powerful nat-asp V12 ever. 0-62mph flashes up in 2.9secs and the top speed is 'over 211mph'. 

Advertisement - Page continues below

Lamborghini Aventador S - 740bhp

Facelifted Aventador gets a 40bhp power bump - for 740bhp - and rear-wheel steering. In describing the changes on its website, Lambo actually uses the word 'whopping'. Such a Lambo word. Read our review of the Aventador S here. 

This is the first time McLaren has completely replaced one of its cars - the 650S. It says 91 per cent of the 720S is new, and that the 4.0-litre turbo V8 is 41 per cent new. You can read all about its newness in our full review. 

Advertisement - Page continues below

Bentley Continental GT Supersports - 700bhp

700bhp in a Bentley? Blimey. Conti Supersports is nearly 2.3 tonnes but does 62mph in less than four seconds, 0-100mph in 7.4 and 209mph. Limited to 710 cars. Read about it here.