Modified
700bhp BMW M4: five things you need to know
Modified BMW 'M4R' gets semi-slick tyres, 700bhp and carbon aplenty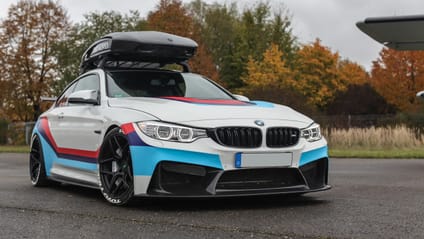 This BMW M4 has a near-300bhp rise. That's thanks to many modifications, including a menthol injection system, new TTE 6XX turbochargers, an Akrapovic downpipe and an Eventuri carbon/Kevlar intake, to name but a few.

The result is 700bhp and 637lb ft of torque, giving an Autobahn-friendly 5.9-second 62 to 124mph time. Keeping everything moving (or not) is a new 14-plate clutch (the original can't handle the torque), big brakes and Bilstein suspension. 

Advertisement - Page continues below

There's carbon everywhere

The whole point of the M4R (yep, that's its name) is to act as a kind of showcase for Dortmund-based Carbonfiber Dynamics, effectively a distributor/seller of carbon parts made by other, specialist companies.

As a result, the M4R doesn't really want for anything made of carbon. The front bumper, bonnet, side-skirts, diffuser, wing and, get this, roof-box are all made from the stuff. 

The roof-box is good up to 186mph

Yep. Speaking of that roof-box, it's been tested at speeds of up to 186mph – a speed at which most others would tear themselves free and blindside the ambitious biker trying to keep pace with you.

Its capacity Is 405 litres, which is enough to hold many useful things. 

Advertisement - Page continues below

It can't be much fun in the wet

Just look at those tyres. They're semi-slick Toyo R888Rs – 265s at the front and whopping 305s out back. They're mounted to 19in forged alloys, and they're very, very fighty indeed.

The ordinary M4 is known for being a bit tail-happy (especially in the wet), and we'd wager the addition of a few hundred horsepower and tyres with basically no tread hasn't helped things. 

It'll be at the Essen motor show

Indeed it will, beginning with a preview on November 25th. The Essen motor show is a bit like SEMA, insofar as its exhibitors are mainly tuners, only more German. We presume this means fewer pick-ups and more ludicrously powerful Bahn-stormers. Hopefully all with carbon roof-boxes...