Modified
Are these the greatest modified cars in the UK right now?
Check out all of the magical finalists from the UK leg of the Hot Wheels Legends Tour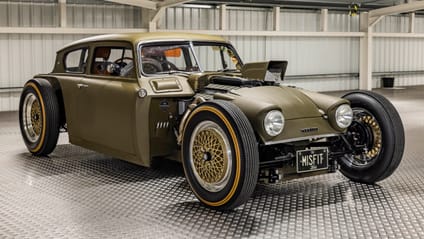 The Mexorcist

As you're probably aware by now, the Hot Wheels Legends Tour is a competition that scours the globe for the greatest modified cars, with the overall winner getting to see their creation turned into 1:64 scale and sold to kids – and big kids – across the world.

The 2022 final of the UK leg took place recently, with ten entries battling it out to go onto the next stage. Despite there only being one winner, we felt all of the finalists needed a shout out, so here we go…

First up is Andy Devine's Mk2 Ford Escort Mexico.

Advertisement - Page continues below

Yep, it is a genuine Mexico, only this one is running a modified Cosworth YB engine with 600bhp going through a six-speed Quaife sequential gearbox. There's plenty of 3D printed parts too, plus a cooling system from a BMW M5. Not one for the purists.

Vorsche

Next up is this Porsche 911 Targa. Yes it's lowered with some mad camber, but it doesn't look all that crazy right?

Advertisement - Page continues below

Well, the engine is the big news here, because it's running a supercharged 1.5-litre Beetle engine and really playing up to the old 911 punchlines.

Boris the Micra

This K11 Micra was bought by Jack McNeill for £300 off Facebook Marketplace and has apparently become a bit of a TikTok star. McNeill let his followers choose all of the modifications, hence why it's now turbocharged with a massive rear wing, and features pink flames down the side and those funny little eyebrows that make it look particularly angry.

This Mini and That Mini

A joint entry here from This Mini and That Mini, a pair of custom cars built by a pair of brothers in the late 1970s and early 1980s.

That Mini was actually built first and has recently been restored and put back on the road. This Mini is apparently running a V4 engine…

Advertisement - Page continues below

BMW E21 'Group 5'

How can you not love the old E21 3 Series Group 5 racers? We're not sure there's been a more outrageous bodykit.

This colourful tribute was built by Kustom Kolors and uses a 4.4-litre BMW-sourced V8 engine connected to a six-speed gearbox. We would very much like a go.

Advertisement - Page continues below

Citroen Saxo

When talking about modified cars in the UK, you'd be a fool to discount the sheer scale and brilliance of the Max Power era. 

Originally built in 2006, this Saxo is trimmed in snakeskin and green vinyl both inside and out. There's the obligatory mad bodykit too, plus hydraulic suspension, a massive speaker system and a NOS bottle. Classic.

Straight to the Point

This UK drag racer is based on a 1937 Ford design and features a paint job that apparently took hundreds of hours to get just right.

Oh, and it uses a turbocharged small-block Chevrolet engine that's making around 3,000bhp. Yes, you did read that correctly.

Motor Psycho

Only slightly outgunned by Straight to the Point is this mega hot rod known as Motor Psycho. With a supercharged 6.8-litre Donovan Hemi V8 dragster engine, it makes 2,500bhp.

Pair that with the body of a 1934 Ford 3 Window Coupe and you've got a rather striking creation.

Honda E

Fancy something a little… quieter? This custom-built Honda E has a bespoke bodykit and mega-looking Rotiform wheels.

We're told it's also been given a custom leather interior, although there's no word on what the extra downforce does to the E's already rather limited range.

Winner - The Misfit

And so here's your winner. And it seems a very worthy one looking at the images. Originally built by Rob Rashbrook and then refined by current owner Michael Charalambous, it's a chopped Ford Anglia with a completely open supercharged BMW engine up front and mad BBS wheels with cross-ply tyres down the sides.

The Misfit will now go on to the semi-final on 10 November, with the Global Final scheduled to take place on 12 November. Also, Hot Wheels maker Mattel has already confirmed that this year the Legends Tour will crown two winners, meaning more modified models in the near future. Hurrah!