Modified
Six things you need to know: the wild 900bhp+ Ferrari 599
Modified Ferrari drift car lit up Long Beach in more ways than one. Here's your guide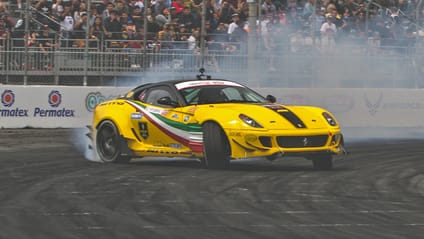 It isn't a kit car

As much as drifting is associated with fire-spitting tyre immolators, it's also known as a sport that features near demolition derby-like crashes, bashes and smashes. Drift cars routinely come into the pits looking as if they'd just been cast in the sequel to Mad Max: Fury Road.

As such, you'd likely come to the conclusion that it wouldn't be in a team's financial interest starting with a real-deal $200,000 supercar. Yet, that's exactly what Federico Sceriffo and his team at FFF Drifting Department did. Under the fantastically gorgeous body, and intertwined with a Formula Drift-spec roll cage, sits a real Ferrari 599 GTB Fiorano.

Words: Jonathon Klein
Photography: Keiron Berndt

Advertisement - Page continues below

Federico Sceriffo's Ferrari still uses Ferrari power to burn tyres

Underneath the long, yellow hood sits Ferrari's own thumping 6.0-litre V12. The high-revving howler, however, has been massaged, tuned and toyed with as the stock 612bhp simply isn't up to task in Formula Drift these days.

With Formula Drift cars routinely putting down anywhere between 800bhp to 1,200bhp, the Ferrari's V12 now features a pair of centrifugal superchargers, bumping the Ferrari's output to more than 900bhp. To cope with the power increase, the 599 GTB's stock flappy-paddle gearbox was binned and replaced with a sequential Holinger unit built to smile under the pummeling of a Formula Drift thrashing.

No, the superchargers haven't quelled its signature V12 yowl

Advertisement - Page continues below

Federico has been drifting for quite some time

While Formula Drift's Long Beach event was Federico's inaugural American outing, the Italian has been drifting for almost 14 years. In Europe, Federico has drifted professionally since 2004, while also competing in Japan and China.

He's also associated with one of the best drift teams of all time, Japan's Team Orange, and has even been one of the team's official drifting instructors. As such, before an incident you can read about here, Federico was having a great inaugural event, qualifying tenth overall and securing a spot in the Top 32 battles.

Almost every part has been customised or built by FFF themselves

Unlike other Formula Drift cars, which use more pedestrian automobiles as their basis — i.e. Toyota GT86, Nissan Silvia, Ford Mustang, and Nissan 370Z — finding parts that will be able to stand up to the rigours of a Formula Drift seaso, for a Ferrari 599 GTB Fiorano is next to impossible. It's the only one of its kind. Almost as mythical as a unicorn.

With that in mind, much of the car features one-off parts built by FFF Drifting Department themselves or sourced from manufacturers in Italy. One piece likely thought of as inconsequential to the average Formula Drift pro and his Toyota, but very much important to the FFF Drifting Department team and Federico, is the 599's wheel hub, which was built and welded by hand. Equally important is the custom suspension made by Tedak Racing out of Italy that features some of the wildest structural components we've ever seen.

Its rumoured price would make it the most expensive pro-level drift car

Federico and FFF have remained tight-lipped about the 599's cost. But given its one-off nature, the value of the Ferrari when the team started, the cost of modifying the 599's engine, including adding a pair of superchargers, and all the custom work completed by the myriad suppliers, the rumored price of £1.41 million doesn't seem as expensive as we would've first imagined.

There are easier, and far less expensive routes the team could've taken as Sceriffo's Formula Drift colleague Ryan Tuerck has shown with his Toyota GT4586. While that's not a real Ferrari, that doesn't mean we wouldn't love to roast its tyres.