Motorsport
Behind the scenes at this year's Pikes Peak Hill Climb
We were there for the 99th running of the 'Race to the Clouds'. Here's what went on behind the scenes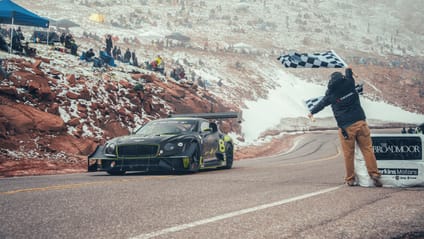 You probably already know the headlines. In case you don't, here you go. The race was won, for a second time, by Brit Robin Shute in a Wolf GB08. Second place went to all-time record holder Romain Dumas, but driving a Porsche GT2 RS this time, rather than VW's ID.R. Third was Paul Dallenbach in the first traditional open-wheel car, while fourth was Bentley's Conti GT Pikes Peak challenger, Rhys Millen nursing it over the line with a blown inlet manifold reckoned to have cost him over 20 seconds and a shot at overall victory. But that's not the full story of the race. Here's what else went on at the 99th running of the 'Race to the Clouds'.  

Advertisement - Page continues below

This was dawn at the summit of Pikes Peak. Utterly stunning. But also: snow. Colorado had been basking in temperatures in the mid-30s a week earlier, but overnight at the summit it had dropped well below zero. Which meant snow and ice. Unsurprisingly, the organisers decided to bring the finish point down from the 4302-metre summit to Devil's Playground, three miles and over 400 vertical metres lower down. 

Here's the pits first thing in the morning. The race always starts early, which means spectators wanting to watch from on the hill have to drive up overnight and jump around to keep warm for a while. The start line – just past the top right corner of this pic, is at 2862 metres. Walk around too vigorously and you'll soon find yourself gasping for air. And that's the start line. With 156 corners over 12.42 miles, it bears a close statistical resemblance to the Nurburgring. But instead of zero altitude gain over the lap, here it's not far off a vertical mile. 

Advertisement - Page continues below

The pits aren't big, though and there's no permanence to the set-up. Shipping containers doubling as offices are put down for the day, and the circus is erected on what's usually a car park. On the other 364 days of the year Pikes Peak is a big tourist attraction, and you get the sense that the hillclimb interrupts the usual procession of minivans, pick-ups and bikes slowly winding their way up the mountain. 

As you've already seen, E-Z-up awnings are de rigeur, but plenty of teams stick up tents and camp behind their cars. 

So this sight might have given the campers a bit of a start. The unexpected guests on race day where three bears – Mum and two cubs – who camped out in a tree in the pits and remained there, being cute but also lightly troubling, for the whole day. 

But anyway, cars. This was the first one to head up the hill, a 1974 Datsun 240Z, originally bought for $1100 and now boasting 450bhp. 

Advertisement - Page continues below

It looked magnificent, but it wasn't my favourite retro racer. This was. Tim Hardy's gorgeous E30 3 Series. It runs a BMW engine that still manifests itself as a straight six. About 2.9-litres and like everything else here, heavily turbocharged. 640bhp. Weighs about 1100kg. He only uses it for Pikes, due to the way you have to tune the turbos to give their best at altitude. 

The main news in the pitlane was electricity. Several Teslas (no other EV brand got a look-in) were in attendance, this the most notable. It's a new Model S Plaid, tuned by Unplugged Performance. Bog standard powertrain (cracking the code that manages all that is far, far too complex), but upgraded wheels, brakes, suspension, aero and more. Best of all was the tune it played on the way up (EVs have to make a loud noise to scare spectators off the course), because while the Model 3 of Dai Yoshihara simply had a siren fitted, this thing played songs. Not quite in the VW ID.R league for speed, but it finished tenth overall with a time of 6.57 in the hands of Randy Pobst. 

Advertisement - Page continues below

That made it two seconds faster up the hill than this, a Riley LMP3 car driven by Don Wickstead, the 'Fastest Pastor' here pictured heading off to get closer to God. The cars go up at about five minute intervals so there's a fair bit of hanging around. And only 55 entrants in total this year, of which three were DNFs. No crashes though, just mechanical failures. 

And when you consider the course, that's such a good thing. You only feel safe down in the trees until you consider the consequences of actually hitting one. OK, so you don't get the 'oh no I've gone off a cliff, this is going to really hurt' anticipation of what's about to happen to you, but trees are famously unforgiving. Even driving up the hill at the posted 25mph limit gives you the willies. Higher up the drops are utterly sheer in places, no barriers, just sky and your imagination of what lies beyond. And then you remember the top section used to be dirt. For spectacle and challenge it's a shame it still isn't, for safety…

And it's not like the weather is always perfectly clear on the way up. You really, really have to know the course intimately. Practice is done in sections over a few days ahead of the race, the course divided up so that teams focus on one area at a time. This is Frenchman Raphael Astier in a Porsche 911 GT3 'Turbocup' heading into the clouds on his way to a class win and fifth overall. 

Next up it's Romain Dumas in a Porsche GT2 RS on his way to second overall. And no, that isn't smoke coming from his car. That drift of vapour was more pungent. Colorado legalised cannabis for recreational use back in 2012… 

Paul Dallenbach's open wheeler is the historic heart of Pikes Peak. The open wheeler class isn't the force it once was (only 6 cars competed this year), but this car is still right at the pointy end of things, finishing third overall. Not short of power, though, the turbocharged Menard V6 developing about 1,000bhp. 

Wildest car in the event? Arguably this, given the reaction of most spectators. It started life as a Bentley Continental GT3 race car, before being uprated for Time Attack competitions in the UK by Roger Clark Motorsport. Now, with further modification (and a rumoured 750bhp at altitude from its twin turbo 4.0-litre V8), it was one of the favourites for overall victory, driven by Rhys Millen. As I mentioned up top, a blown inlet manifold a mile from the end scotched that. Bentley is hoping to send the car back to the Peak next year. Which is the 100th running. Before that though, it had another job to do. The day after the race, I got to drive it… watch out for that story coming soon.