Motorsport
Here are some of the world's coolest motorsport safety cars
Light bars, stickers and some additional menace: we approve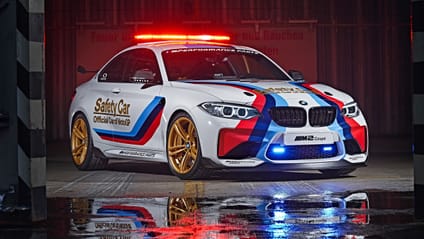 Moto GP - BMW M2

Oh yes. We've featured a full gallery of this one before. Moto GP has a pretty longstanding relationship with BMW, and one of its more recent safety cars was this rather pumped-up little M2.

Changes over the standard (and already brilliant) BMW M2 naturally prioritise safety, with a roll cage, harnesses and fire extinguisher on the inside, and a whopping great light bar on the roof.

Worried the lightbar makes too much of an impact on the M2's slippery profile, BMW has also stuck a ginormous rear wing on the back of the Moto GP pace car, and it's made out of nice, light carbonfibre reinforced plastic.

The M2's turbocharged 365bhp six-cylinder engine remains, making the car good for a 155mph top speed and 4.3-second 0-62mph time. And if you're worried that's a bit too exciting for a car focused on driver wellbeing, those incredible gold wheels shroud carbon ceramic brakes, borrowed from big brother BMW M4.

Advertisement - Page continues below

Moto GP - BMW M5

Yet, the 2018 Moto GP safety car is even more nutty: a 592bhp BMW M5. 

BMW's thrown the complete catalogue of optional M Division 'performance parts' at the MotoGP M5. Maybe they covered it in glue. Anyway, there's a new carbon fibre diffuser, carbon sills, carbon kidney grilles, carbon mirrors… essentially, anything that you would normally presume is plastic, is now carbon. You can spec all of these lightweight CFRP parts, and the lighter titanium sports exhaust, on your new 'G30'-gen M5 when it goes on sale later this year.

What you can't have is the MotoGP car's jutting front splitter. It's made of (guess?) carbon fibre, and is specifically saved for the motorcycle race series pack leader. And don't expect to spec the racing bonnet catches or the lightweight bucket seats from the M4 GTS in your new M5 soon either. Still, it's an interesting study of what a new BMW M5 CS would feature, no?

Formula 1 - Mercedes-AMG GT R

The most powerful and track-focused foundation for a safety car ever. You may remember that the GT R is AMG's most hardcore car and has componentry largely carried over from the GT3 racer.

There's four-wheel steering, carbon fibre body panels, moving underbody aero elements, 585bhp from a twin turbo V8, fully redesigned suspension, extra supports to boost torsional rigidity, nine-position traction control, adjustable coil over spring/damper units and sticky Michelin Pilot Sport Cup 2s. To make it fit for purpose, there's safety car stickering, a light bar and two iPads and radios to allow co-pilot Richard Darker to remain in contact with race control and watch Peppa Pig while the race isn't crashy.

While Merc has the F1 pace car deal all sewn up nowadays, it's not always been the way. Motorsport's premier series has a history of wonderfully odd and charismatic road cars at the front of its grid. How does a Ferrari 348, Lamborghini Countach and Renault Clio Williams sound?

And if you like obscure, then nothing beats the Tatra 623 that infamously hit Taki Inoue…

Advertisement - Page continues below

BTCC - Porsche Panamera GTS

The British Touring Car Championship: a gaggle of predominantly front-driven hatchbacks, all with circa 300bhp. The safety car that leads them all? A 434bhp Porsche with four-wheel drive. If ever there was a safety car with the potential to knuckle down and actually win the race it happens to be marshalling…

Porsche's tie-up with the BTCC works quite nicely with the Carrera Cup being one of the saloon series' support races, and Cayennes have previously put in a stint as safety car. But the Panamera is closer in size and shape to the cars it leads, making us wish for the day its driver loses patience and decides to start tussling with Focuses and Civics.

WTCC - Volvo V60 Polestar

The grander, World Touring Car Championship actually has a less powerful car, namely a 345bhp Volvo V60 Polestar. Because what could possibly be safer than a Volvo safety car?

On top of the standard V60's dozens of airbags and warning bongs, the WTCC pace car adds a roll cage (imagine the carnage if a safety car actually rolled?), rescue kit and communications tech. And perhaps mort importantly, eye-sizzlingly bright orange warning lights.

Volvo estates have history in the touring car arena, of course, with 1990s BTCC races featuring the iconic 850 Estate racer and its decidedly unsafe two-wheeling exploits. Given a few Volvo S60s run in the WTCC, perhaps this safety car will give the Swedes the taste for its tourers tearing around circuits instead…

WTCC - Alfa Romeo 4C

Alright, so we've deviated from plan and covered a car from the past. But we just wanted to draw your attention to the WTCC's wonderful change of tack. While this year's pace car is an undeniably safe Volvo, it comes after the infamously wayward (on roads, at least) Alfa Romeo 4C. Perhaps the pale faces of its drivers catalysed the change?

The Volvo is notably more powerful than the 237bhp 4C, and with its large, estate boot, nigh on infinitely more practical when it comes to carrying safety-related gubbins. Doesn't look as pretty as the spindly little Alfa, though.

British GT Championship - McLaren 570S

The 570S as Brit GT pace car is a nice coup for McLaren, as the Woking supercar maker also has cars on the grid in the shape of the 650S GT3 and 570S GT4.

The 570S purports itself as a safe car from the off, chiefly because of the strong carbon tub that comprises its core structure. Ensuring it doesn't create an undue obstacle for the racers behind it, the 562bhp, twin-turbo V8 engine from the 570S road car remains.

Our only qualm is this: why that colour? When McLaren has such vivid oranges on its paint chart, those flashing lights seem burdened with extra work when the 570S is painted such a subdued silver…

Advertisement - Page continues below

Formula E - BMW i8

Formula E, you're no doubt aware, is the silent, more environmentally friendly cousin of Formula 1. And yet its pace car undoes a bit of that hard work by having a petrol engine thrumming away inside of it.

Only just, though. The BMW i8 is a hybrid, with the fuel-supping part of its drivetrain a nice, titchy 1.5-litre three cylinder engine. Total power is 362bhp, which is nearly 100bhp more than a Formula E car in its most potent qualifying mode, while the i8's limited 155mph top speed outstrips the cars it leads by 15mph.

That's hardly the point, though. Formula E is battled out by young, exciting talent on tight little circuits where outright speed isn't key. But like in the BTCC, we sense the safety car could- should its driver feel mischievous - have the lot of 'em. 

Indy 500 - Chevrolet Camaro

Pub trivia fans! The Indianapolis 500 introduced the pace car to the world back in 1911, a device designed to lead the grid through some untimed laps to get the cars warmed and ready to go in a nice safe manner.

Nowadays, it differs from most major race series by using a different car and driver each year. The drivers are usually a famous face - past names include Jackie Stewart, Morgan Freeman and, um, Lance Armstrong - while the car is typically the latest, most exciting muscle car on the market.

For the past 14 years it's been a Chevrolet, and for the 100th running of the Indy 500, it was a 50th anniversary edition Camaro SS, complete with 455bhp V8. Four pace cars supported the race, but the car leading the grid was driven by Roger Penske, whose Team Penske was also 50 that year.

Advertisement - Page continues below

Bathurst 12 Hours - Mercedes-AMG C63 S

Australia's Mount Panorama circuit hosts two endurance races. At the beginning of each year is the Bathurst 12 Hours, is a race for GT-spec sports cars.

Its safety car is the latest Merc C63 AMG, naturally in its most potent, 510bhp S form. That means it uses, by-and-large, the same rip-snorting engine you'll find in the F1 pace car. Just housed in a more Antipodean-pleasing saloon car body...

Bathurst 1000 - Lexus RC F

We cast such aspersions purely because the Bathurst race that really matters is its headline V8 supercars event, which sees eight-cylinder saloon cars battle it out in front of one of the world's most appreciative motorsport crowds. V8 four-doors are synonymous with Aussie motorsport.

Ford versus Holden is the traditional, often tribal rivalry upon which the race revolves. So it's perhaps sensible that the pace car keeping order is from neutral ground, and so it is with the Lexus RC F. It's V8 powered, ensuring it's in keeping with the grid's core stipulation, while a similarly muscular GS F saloon acts as medical support.

Hurrah for V8s!

DTM - BMW M4 GTS

BMW's M4 DTM cars are lairy, big-winged monsters, but the safety car leading them (and their Audi and Mercedes rivals) isn't much saner. That's becuase it's based on the new BMW M4 GTS, a 493bhp, stripped-out track special that takes the standard M4 and makes it even more bezerk.

This we approve of. And to help its health-and-safety status, BMW even provides a Clubsport option on the GTS that brings a roll cage, harness belts and a fire extinguisher. All the DTM organisers have to do is bold on some flashy LEDs and some stickers, and they're ready...

World Endurance Championship - Audi R8

We end on the Audi R8 which led out the World Endurance pack in 2016's opening race. Given the snowy conditions that curtailed early practice, we imagine its driver was very thankful for the Quattro four-wheel-drive that lies beneath.

In recent years, the sight of Audi pace and medical cars in front of a Le Mans grid always topped 24 hours later by another Audi was a bit odd. But as Porsche's endurance racing success has risen, there's less all-consuming Audi-ness about the whole thing.

Still, we suspect even the most hardened cynics enjoy one of the few naturally aspirated supercars still in production, leading what is arguably the world's most exciting racing grid right now. A bunch of 1000bhp hybrid prototypes and screaming GT cars is already mouth-watering enough, but a 610bhp V10 R8 being driven close to its limits in front of them is the cherry on top it all. Safety cars rock.