Motorsport
What are the Malle motorbike events and why should you care?
Two cousins have created a culture and community that Car World can learn from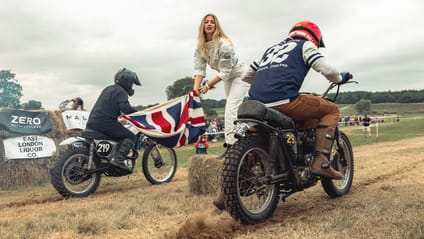 Cresting the hill of Grimsthorpe Castle felt like being a cowboy entering the New Frontier. Down in the grassy valley below, set against the unexpected and rare splendour of Lincolnshire, was post-lockdown carnage.

Custom motorbikes with engines that sounded like a crockery drawer in a car crash thrashed against their red line and roamed freely. Huge rooster tails of dust fired into the sky as knobbly tyres clung for grip. Madmen and women on motocross bikes clicked their heels over the handlebars like some adrenaline-fueled mating call. All while live music reverberated through the hard mud floor so everyone who was too drunk to ride had some sort of vibrations running through their body.

This place was new. It was exciting. It had atmosphere, energy and no sign of corporate oneupmanship. It was the Malle Mile. And felt a million miles away from the sponsored haybales and champagne tents of car events like Goodwood Festival of Speed. And all the better for it.

Words: Rowan Horncastle // Photography: Mark Riccioni & Shane Benson

Advertisement - Page continues below

Who is behind it?

Jonny Cazzola and Robert Nightingale. Two highly enthusiastic cousins who've spent their lives chasing each other (and crashing) around on two wheels. They're both into design and ended up working for big name brands on either side of the Atlantic. But they also realised they were doing too much work and not enough play. So they wanted to make a company where they could get out of the risk-averse corporate world and have fun. So they decided to join forces and get into… luggage.

Luggage?

Yep. Wanting some way of carrying their underpants and pencil cases on the back of their bikes that didn't look like a fisherman's maggot box (which most panniers do) on their out-of-work adventures, they created Malle. An expedition brand that had an eye on thoughtful design to match vintage motorbikes. So they made some bags. But needing to test their prototype expedition gear out, they did a 10k mile trip across America, Mexico and Canada – which beats endlessly pounding around Nardo. It was on this trip that they had an idea at Bonneville, the spiritual salt flat of speed. They wanted to create a motorbike race that nobody could win. They came up with the Malle Mile.

Advertisement - Page continues below

So what exactly is the Malle Mile?

A sort of three-day country wedding for oddball motorbikes with a sprinkling of a drunken fun fair, festival and grassroots motorsports thrown in for good measure. The large site is separated into different events where participation is highly encouraged. In fact, it used to be enforced. The first year was like fight club: you had to race if you turned up. But it wasn't about winning, it was about cultivating a community. What started as 37 bikes has now turned into thousands rip-roaring around and racing.

What's it like?

The atmosphere is infectious. There's no pretension and little skill required, so the barrier to entry is extremely low. Even if you've not got a bike, you want to go away and build one and race it the following year. I know; my mates and I have done it. But the main aim is to make motorcycling cool and accessible to a younger crowd. The average age of a motorcyclist is 53-years-old. They're usually male, white and drink warm brown beer. The Malle boys are trying to bring that age down by making motorcycles fun and inclusive. And it seems to be working.

How did it start?

A friend of a friend put them in touch with a young guy who liked to party and owned a stately home in Orpington that was used for weddings. Sat in the battlements of Kevington Hall at 3am after a couple of shandies they posed a question to him, "how do you feel about us tearing up your lawns for the weekend on old bikes?" Strangely he agreed. Then they outgrew that venue so had to find a bigger one, and Lady Willoughby invited them to her home – Grimsthorpe Castle – as she wanted motorbikes to roam free.

Looks a bit mad. What are the events?

Depends on what you're into as there's plenty to choose from. The most obvious and simple starting point is 'The Dash' an 1/8th of a mile head-to-head grass track sprint drag race. It's run what you brung rules with the competition split into classes of road bikes but a few can slip through the net: like the guy on a GSXR dressed as Tarzan racing against a pre-war bike. Then there's the hillclimb – an uphill slalom duel against another bike on grass… or mud if it's wet. Also where you can see a Vincent Black Shadow go against a Honda Cub and gravity. It's all pretty slow speed and manageable for novices but where courage is rewarded with victory rather than massive horsepower.

Advertisement - Page continues below

But I'm into team sports

Well, if you really want to see competitive spirit in its rawest form, I'd recommend the moto polo. It's based on Kazakh goat polo but instead of riding goats, you're on motorbikes. And instead of using a severed head, it's a swollen size five football. Then the rules are blended with ice hockey to make it more exciting. Tempers can flare mind, as one year someone punched their hand through someone's visor and got stuck. Which was awkward.

Very awkward. Anything else?

Yep. There's also a Le Mans style circuit sprint race – the Malle 100. That has more thrills and spills than a You've Been Framed compilation as 100 bikers go up against it until they're whittled down and one crosses the winner.

Advertisement - Page continues below

What happens if I just want to watch from the side lines?

Well, if you don't want to race you can always watch the FMX shows and the Art of Sprint, where nitrous fuelled drag bikes and cars race up the driveway. It's got a real old school vibe and lack of red tape to it.

It sounds like madness

It is. On paper, none of these should work. A couple of posh guys who make handbags and motorcycles hosting a wild motorcycle race but somehow it does. It's as informal as you can get and fantastic for it. "We're not looking for brand partners who farm out flyers and goody bags in exchange for insurance quotes," Robert says. "We need people who are bringing something interesting to the party."

What can enter?

Pretty much anything but all bikes are subject to approval to make sure variety is maintained. But the chaps are easily persuaded – people submit box of bits saying 'it'll be ready to race on the day', sketches, renders and dreams with many still spannering them together minutes before they race. But to play it safe, try to keep to the four Cs: Café, Classic, Custom and Choppers. However, it is meant to be the inappropriate motorbike race. So the weird and the wonderful are always favoured over out-and-out performance. Creativity and restoration is also heavily encouraged as there's loads of stuff for motocross bikes and GSs in the world.

Who can enter?

As long as you've got a licence and insurance, you're good to go. And we'd strongly encourage getting involved. Most people are amateur racers and everyone is there to have fun. People taking it too seriously stand out like a sore thumb and you can tell if they're keenos by the gear that they wear. But you can see most people cacking themselves on the start line, hand on helmet to stop false starts as they wait for the flag to drop.

I'm sold. Where and when is it again?

22 – 24 July, 2022 at Grimsthorpe Castle. Be there or be square. But if you can't make it, there's always the Malle Beach Race in Margate a few weeks later. It's the same deal just with more salt, sea and seagulls stealing your ice creams. We'll see you there.