News
New vs Used: Jeep Wrangler vs Mercedes G-Class
Sure you could buy a new Wrangler, but there's another way...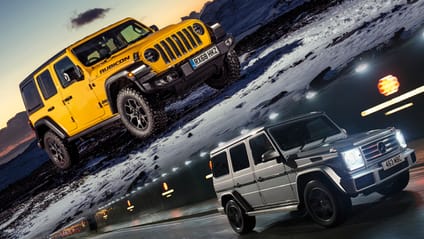 Let's say you have between £40,000 and £50,000 burning a hole in one of your camouflaged trousers' many pockets. You want to go as far off-road as is humanly possible, so a conventional SUV just won't do. But you still need to run errands, take the kids to school and so-on. A Land Rover Defender is too utilitarian, so you don't want one of those. This thing has to do double-duty - you want some mod-cons, and fewer sharp edges. So, let's look at the options…

Advertisement - Page continues below

New: Jeep Wrangler - £44,865 to £48,365

Good: Brand-new but still charming. Ace off-road

Bad: Image not for everyone. Reliability over time unproven

Jeep has finally announced prices for the new Wrangler. And it's not cheap. But it doesn't have to be - this will always be a niche car with somewhat limited appeal, so Jeep can afford to name its price. If you're into the Wrangler, you'll pay the monies.

This, remember, is a brand-new car. It looks the same as the old one because that's what Jeep's customers want. The newness is hidden underneath - the ladder frame, bodywork, interior, engines and eight-speed automatic gearbox are all making their debut here. The result is a much more pleasant thing in which to go about your daily business. It feels big and wooly through corners, but on-road the new Wrangler is actually pretty comfortable, so long as you don't try to drive it like the SUV it most definitely isn't.

Big transformation inside, too, where there's modern-day tech like active noise cancellation, a big infotainment screen and a 550-watt stereo. But that's all just window dressing, really, for the Wrangler is a proper off-roader at heart. You get solid axles, low-ratio off-road gears and locking differentials. Some versions come with colossal 33-inch tyres and detachable sway-bars. Serious stuff indeed - and in practice profoundly effective.

Owning? It's a new car. You get a warranty and everything, though we're not sure whether it covers damage caused by off-road escapades. A '5-3-5' option is on offer, which gives you five years of warranty, three years servicing and five years roadside assistance.  

You can read our full review of the Jeep Wrangler by clicking here.

Advertisement - Page continues below

Used: Mercedes G-Class - From £45,000

Good: Cool as heck, ought to go on forever

Bad: Not cheap to own or maintain

For the new G-Class, Mercedes wanted to keep the off-road ability, appearance and character  of the old car, but dramatically improve its on-road behaviour - just like Jeep with the Wrangler. It did a good job, too. But this isn't the new G-Class. Those start at over £90k. This is the old one, which can trace its mechanical roots back to the Seventies. Still tremendous, even though it handles with all the finesse of a moderately confused Labrador.  

If you need to be reminded of why we love the old G so much, click right here.

For the price of a new Wrangler, you're looking at a V6 diesel G350d from the early 2010s, which new cost over £80k. We found a few for sale at independent dealers for around the £48k mark, with between 40,000 and 60,000 miles on their odometers. But if you want to take Top Gear Maths to a whole new and frankly outrageous level, older, often left-hand drive V8s can be had for less money. Classic Gs are cheaper still, but that's not really what we're looking at here.

As for running a G - fuel economy is poor even from the diesels (think low 20s) because it's so big, heavy and flat-fronted - and servicing and parts are likely to be expensive. Not that you'll need to replace many parts, if the G's hardy reputation is anything to go by. Insurance and tax will sting a bit too, but Gs are notorious for holding their money, so when you come to sell up you ought to get a decent wedge of your initial investment back.

Where's your money going? Merc or Jeep? Or a Land Rover Defender for a fraction of the cost of either?