Retro
Progress report: 2023 Vauxhall Astra GSe vs 1994 Vauxhall Astra GSi
Head to head in two generations of Vauxhall hot hatches. What's changed?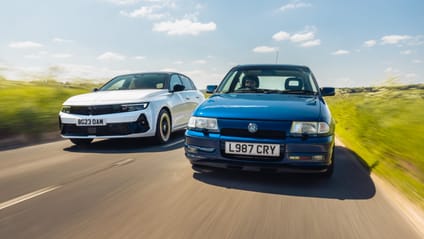 WHAT DO WE HAVE HERE, THEN?

To the right we have the third generation Astra GSi, Vauxhall's hot hatch hero from the Nineties and one sure to yank on the heartstrings of every boy racer from that era. To the left we have the eighth generation Astra GSe, the first car to wear Vauxhall's new performance sub-brand badge and a clear nod to its fast hatchbacks of old. FYI, the GS stands for 'grand sport', the i denotes 'injection' and the e 'electric'.

Advertisement - Page continues below

TELL ME MORE ABOUT THE OLD ONE

In the UK, very early GSis were powered by a 2.0 8V engine, with 1.8 16V and 2.0 16V engines introduced later. This is the latter – just in case the stickers hadn't given the game away – with 148bhp and 125lb ft of torque sent to the front wheels via a 5spd gearbox. Zero to 60mph takes a slightly leisurely 9.5secs on to a 122mph vmax, but it offered much improved refinement and safety over its GTE predecessors thanks to its MacPherson strut front suspension and electronic traction control.

WHAT'S THIS GSe ALL ABOUT?

The future, apparently. It gets a 1.6-litre four-cylinder turbo engine and electric motor pairing, giving a combined 222bhp and 265lb ft of torque. That extra power sees it dispatch 0–62mph in 7.5 seconds and head on to a top speed of 146mph. In addition to slightly sportier looks over the standard Astra, it gets recalibrated steering, a 10mm lower ride height, and a unique suspension set-up. Plus the ESP settings have been tuned to allow you to better show off your skills down the local Tesco car park.

Advertisement - Page continues below

WHAT'S THE NINETIES KID LIKE TO DRIVE?

A joy: a properly engaging, old school hot hatch. The steering weight is spot on, the manual gearshift oh-so sweet, the temptation to hit the redline in second and third overwhelming. When you do it comes alive, shifting along eagerly and the noise, smell and vibrations in the cabin a sensory overload. Sure, it's not the gentlest of rides and throwing it into a corner with too much gusto feels a little unnerving, but in these days of overly assisted, overly desensitised, overpowered hot hatches, the whole experience is a throwback to simpler times.

A bit lifeless. The steering is vague, and while putting it in Sport mode adds weight, there's still no feedback. The 8spd gearbox is very hesitant too and almost immediately overrides any input you give it using the steering wheel paddles. Granted, it's better at cornering, with tight body control and loadsa grip, but a true hot hatch? Not so much. No prizes for guessing which one got more attention, either...