Retro
Superman director Richard Donner's cars are up for grabs
Is it a bird? Is it a plane? No, it's a gorgeous Porsche, and nine other classics up for auction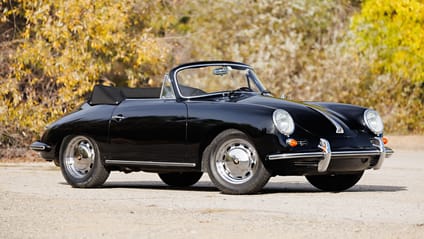 American filmmaker Richard Donner sadly passed away last year aged 91, but leaves behind him an eclectic and interesting legacy of… cars. Oh sure, he did the odd film here and there, but he also thoroughly enjoyed his beloved collection of classic cars, ten of which are coming up for auction at Gooding & Co's 'Geared Online' sale in Scottsdale later this month.

At this point, some of you might be wondering, 'What's a 'Richard Donner?'' Why, only the director of the original superhero movie, 1978's flawless Superman. (A script by Godfather writer Mario Puzo! Starring Oscar winner Marlon Brando! And Gene Hackman! And Christopher Reeve, for goodness sake!)

Anyway, he did loads of other hugely successful movies (Lethal Weapon, The Goonies) and top drawer TV work (The Man From Uncle, Tales From The Crypt and so on), but he's also got a fine body of automotive work. Scroll through to take a look…

Photography: Gooding & Co

Advertisement - Page continues below

1955 Rolls-Royce Silver Dawn Saloon

Look, if you've directed Christopher Reeve into the hearts of millions of movie-goers the world over, you can jolly well pootle around in a classic Rolls to your heart's content. Potentially a cheap one now – offered without reserve, this one's expected to sell for up to just $30k.

1962 Volkswagen Type 2 Microbus

Seems even Donner couldn't resist the charms of VW's classic fun bus. Offered without reserve, Gooding reckons on between $70k and $90k for it.

Advertisement - Page continues below

1948 Chrysler Town and Country Convertible

We're hitting a fine seam of classic American metal (and wood) now, including this postwar monster that was the last car Donner added to his collection. Yours for between $70-90k.

1949 Buick Roadmaster Estate

Pure Americana, right? This one's a tad cheaper, offered without reserve and expected to sell for up to $50,000.

1958 Continental Mark III Convertible

Yup, we're imagining it too – sunshine, PCH, gentle cruise. A steal at an estimated top sale price of $35k.

1957 Cadillac Eldorado Biarritz Convertible

This was apparently Donner's preferred classic to drive. Again, offered without reserve, it's expected to reach $50k.

Advertisement - Page continues below

1962 Crown Imperial Convertible

Anyone else getting the sense Donner was a convertible fan? This one's a V8, and a cheap one – Gooding reckons on a top price of $24k.

1939 Ford Deluxe Phaeton Convertible

Another potential bargain to be had – it's offered without reserve and estimated to go for between $20k and $30k.

Advertisement - Page continues below

1931 Ford Model A Deluxe Cabriolet

… but not as cheap as this: a really, really old Ford expected to sell for between $15k-$20k.

1965 Porsche 356 SC Cabriolet

Last but definitely not least is this gorgeous, period 356. Estimated to go for between $140,000 and $180,000, it's period because it's never been fully restored. Originally painted slate grey with a black leather interior, Donner bought it from the car's first owner back in 1971, and it's remained in the family ever since. We're assured it's been 'well kept' during that time, and was treated to a respray and a reupholster, but that's it.