Review
TG's big SUV test: Disco vs BMW X3 vs Merc GLC
Land Rover Discovery Sport faces its toughest rivals in town and country pursuits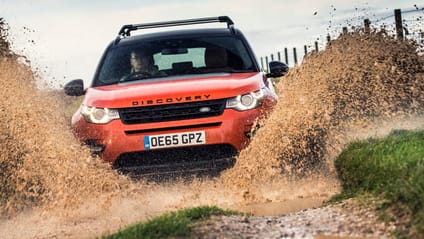 Suddenly, Land Rover, the great 4x4 specialist, looks a bit short on, er, 4x4s. Three Range Rovers and two Land Rovers is all it has. At Mercedes they're breaking out like the hives. Count 'em: GLA, GLE and GLE Coupe, GLS, plus today's subject, the GLC (and a GLC coupe to come). Plus, of course, the mighty GL to provide the pure-bred bedrock that brand Land Rover, in this post-Defender age, sadly lacks. Meanwhile BMW will soon have a range that encompasses every X number from 1 to 7.

This tectonic shift towards crossovers isn't happening because people's needs have changed. People still fondly imagine a 4x4 will get them through unexpected snow and floods, but it's not so. As soon as your high-traction, high-clearance vehicle arrives at the otherwise impassible road, it will find its way blocked by stranded non-SUVs. So the number of people who can truly make use of an SUV remains constant: the caravanners and livestock-trailer owners who tow through fields, mainly. And maybe the few who actually liv at the end of the sort of rough tracks pictured here. And if you do live up a green lane, maybe instead spend the price of the SUV on getting it resurfaced? Then your friends can come to visit.

Photography: Richard Pardon

This feature was originally published in the March 2016 issue of Top Gear magazine.

Advertisement - Page continues below

Nope, it's happening because SUV makers are addressing people's true needs while still allowing them their fantasies. The increasing buyability of SUVs is because they act more like cars, but can still undertake all the off-roading you'd want to do in a vehicle with polished alloys and carpeted interior.

The 'car' part of the Discovery Sport's job is to be a family wagon. That's despite – or perhaps because of – the third-row pair of seats being more straitjacket than armchair. The Discovery Sport is a packaging miracle compared with the BMW and Mercedes, especially since seats six and seven fold to produce the biggest five-seat boot of this group. It manages this because its engine bay is designed for a transverse four, not a longitudinal straight-six. Plus its tail end is taller and longer than the others'. But well-resolved, deceptively simple exterior styling means it manages not to look like a school hall.

As a Land Rover, the Discovery Sport has decent off-road chops, equipped as it is with tyres good for gloopy going, and Terrain Response to reconfigure the traction systems and powertrain for various conditions, plus relatively soft springs with plenty of travel and ground clearance.

As a BMW, the X3 does the opposite, especially in this M Sport trim. Its shallow-walled tyres are unabashedly for the road, the suspension is stiff and the ground clearance merely good enough. In our off-road testing, the BMW spun its wheels first, partly because the wide tyres couldn't cut into mud. This is a 3-Series Touring in platforms.

Superficially, the GLC is even more an estate, specifically a C-Class. The driving position is only just high enough to give you the sense of elevation that draws people to SUVs – the BMW sits you noticeably taller, and the Land Rover higher again. The whole GLC shape is relatively sleek and notably aerodynamic, and the test car's AMG Line trim gives it 19s and a stiffened chassis. But don't be fooled. You can order it with lifting air suspension, raised ground clearance and traction electronics, and then you've got something that could probably travel almost as far into the terrain as the Land Rover.

Having found that out, team TopGear set off on a much more typical premium SUV journey, beginning on the rural Wilts-Berks border, biting off a nourishing mouthful of B-roads, then settling onto the motorway into London.

Advertisement - Page continues below

The Land Rover comes with JLR's 2.0-litre Ingenium engine, which is home-grown and very fresh, having supplanted an older engine only a year into the car's life. Here, it's in 180bhp tune, running a 9spd autobox. The GLC 250d has Mercedes's near-omnipresent 2.1-litre diesel in 204bhp form. It too has a 9spd auto, though it's non-optional. The BMW is the oldest car but, like the Land Rover, has just got a new modular 2.0-litre engine. Its 190bhp sits neatly between the other two. The Mercedes is quicker, but not by much, and it's also noisiest. Still, you have to be paying attention to notice much difference between these engines. All are decent modern diesels: sanitary, but uninspiring to drive. If the tax office is asking, they all do an EU-cycle of mid-50s mpg. You'll get early 30s yourself, but the German cars will take you usefully further because they have 10 litres more in their tanks.

In both the Land Rover and Mercedes, the transmission calibration is infuriatingly beholden to on-paper fuel economy. They strand you in a high gear, engine groaning away at low revs even as you push the accelerator fairly deep. Then they suddenly change their minds, shifting down several gears in undignified commotion. Duh. But switch them both to Sport mode and their shifting behaviour approximates the attentive human operating the manual gears in the BMW (me).

The manual 'box, the 275-width tyres, the body kit, the M tricolour badges, they all point at the X3 being the car for the B-road section of the journey. Well, yes and no. Aided by accurate steering, tight springs and strong damping, it attacks every corner with stern determination. It'd doubtless keep up with a 3-Series Touring, but I know which one I'd rather be in, and it's not the SUV. The X3 dulls the fun, yields little communication and generally takes a monochrome approach.

The Land Rover shows there's another way. It's softer, and so you expect it'll flop around more. But no. It has a delicate fluency, staying as agile and as quick-witted as the BMW while providing a whole lot more comfort. The Mercedes feels like only a Mercedes can: the steering is deliberate, the motions predictable. It's relaxing and reassuring, so driving it smoothly at a decent lick gives reasonable reward for little effort. But when you push harder, things get soggy in corners and on quick, undulating straights the damping gives in to an unseemly float.

The test GLC does without the air suspension option, and the ride is a little thumpy on slow town potholes, but smoothes out nicely at speed. It also tracks well on a motorway, making it a fine tool for racking up big miles. Again, a real Mercedes.

When I last drove a Disco Sport, I grumbled about the ride's mild high-frequency turbulence and wondered if Evoque-type adaptive damping would've helped. But, to be fair, I'd just stepped out of a Jag. Compared with its rival SUVs in this test, the Land Rover is the most pliant-riding on all surfaces at all speeds.

Seven seats have got to cost more to make than five, and a suspicion hangs over the Discovery Sport's interior that money was pared off the dash fittings and switchgear to free it up for the third row. Slabs of hard black plastic are too prominent, and there's a grid of switches around the climate knobs that leave you thinking "Are these supposed to be flush or raised?"

OK, it's a #firstworldproblem, but the three-dimensional surfaces and plusher materials in the Mercedes seem to have been chosen with more care and less regard to money. Land Rover's main central screen has several apps and very much does the job, but the quality of the graphics and animations is an entire geologic era behind the Mercedes's equivalent.

Though you sit upright in the approved SUV fashion in the X3, you'd otherwise be hard put to tell you weren't in a 3-Series. Specifically, the old-generation 3-Series. The GLC's cabin is more or less identical to a C-Class, but because of the accident of Mercedes's model cadences, at least it's today's C-Class. (More importantly, that's why the Mercedes is so modern to drive: it's on the latest, strongest, most aluminium-intensive Mercedes RWD platform.) Sure the Discovery Sport shares some switchgear with some Jags, the very fact that Land Rover doesn't make cars means there's no car with the same dash or seats, and that's part of the attraction: you're always reminded you bought an SUV, not a car. The Mercedes and the BMW are all about reminding you not that you bought an SUV, but that you bought a Mercedes or BMW.

Advertisement - Page continues below

Which is why the M-Sport BMW comes with deeply contoured seats, the side bolsters electrically adjustable to clamp your torso during max-lat cornering. The Merc's seats are big and flatter, the sort that don't seem all that welcoming at first but are still keeping you alert a few hours down the road.

Our test Land Rover's seats have fewer electrical adjustments, but they're comfy enough. It's the top spec, giving it the most preposterously engorged name: Land Rover Discovery Sport HSE Luxury. In a peacock display of vulgarity, all that wording is on the rump badges in a babel of different fonts, sizes and colours.

That trim level starts at £43,000, a pretty steep increment over the X3 xDrive 20d M Sport at £36,795. But by the time you add options to approximate the Land Rover's spec (among them £2,640 for an auto), you'd be right in the Land Rover's ballpark figure. The Mercedes in this AMG Line trim is a smidge above £40k to start with, but it's slightly harder to adjust it to the Land Rover's spec because many options come in packages. Load them all with glass roof, auto, 20s, up-level connectivity and hi-fi, and adaptive headlamps, and you're knocking on £50k.

Advertisement - Page continues below

For which they're all good cars. But the BMW is the first of this trio to get struck off. It's not good enough off-road to justify being an SUV, so it stands or falls by its driving qualities. But if good dynamics are what you want, then get a 3 Touring with xDrive – more fun, better-riding, newer. The Mercedes works off-road, justifying itself for some users over a C estate, and the dynamic penalty is smaller than in the BMW, and also less important because neither the C nor the GLE encourages you to hoon. The GLC, like the C, is a true Mercedes, taking the traditional strengths of the name – long-distance comfort, refinement, deep quality, safety – and making them modern.

The Land Rover wins, though. On the road, it both corners and rides remarkably. Yet when there is no road, it's unmatched. It's the roomiest and most versatile, but still looks superb. It climbs over the contradictions that bind its rivals.