TG's Toyota Supra mega-test pt5: Supra's numbers
The Supra and its rivals aren't about numbers... but here are some numbers
We spent a large part of this week telling you the Supra and its rivals (Cayman, Alpine A110, M2 Competition) were great because they weren't about the numbers. To compensate, we thought you might like to see how fast they go with some actual real-world, data-driven numbers. Plus some words to explain what you're seeing.
Let's start at zero mph. These cars, although similar in price and philosophy, cover a broad range. There's over half a tonne between the lightest (the 1,103kg Alpine) and the heaviest (the 1,625kg BMW M2 Competition). The latter weighs one and a half of the former, but actually actually has over 1.5 times the power – 404bhp plays 248bhp – giving it a better power-to-weight ratio.
But not the best: the 1,375kg, 360bhp Porsche Cayman GTS beats it with 262bhp/tonne, where the BMW musters 249, the Alpine 225 and the all-new Toyota Supra 224. Still, considering the huge power and weight differences, that's only a 17 per cent difference.
Even so, accelerating away from zero mph, why is the car with the best power to weight ratio (the Cayman) not the fastest? Because it has a manual gearbox, which means you lose at least 0.2-0.3secs on each shift, and an engine which has a tendency to either bog or wheelspin (with vigorous axle tramp) when getting away fast. Apportioning torque is not easy off the line. The Alpine is hamstrung by its narrow tyres (235s out back when everything else is at least 265) not finding enough grip, the BMW by truly dreadful launch control through its DCT gearbox. Faster in the end to just drive it off the line after building up the power a little against the brake. Same for the Supra, although it was much more effective thanks in part to its softer suspension squatting and transferring more weight onto the back wheels.
Anyway, the Supra went off like a flicked pea – fastest to both 30 and 60mph, nicking past the latter in a smidge under four seconds (they claim 4.3 to 62mph). The M2 Comp, having discovered traction (if you're not careful that can take as long as Capt Cook did to discover Australia), then hooks up and goes. From here (roughly 40mph) on, nothing can touch it.
Let's put traction to one side since that's not really relevant to most of us. 30-70mph is though. That's acceleration we can use everyday, on motorway sliproads or A-road overtakes. Now at 30mph in our tests all except the Alpine were still managing varying degrees of wheelspin. In fact you don't hit 100 per cent throttle in the BMW, Porsche or Toyota until well into second, because even if they will hook up towards the top of first, when they kick into second they'll instantly spin up again. Anyway, with that proviso, the BMW smashes from 30-70mph in 3.26secs. The slowest, the Alpine, is just 0.38secs behind. Which is about the time it takes to say 'the slowest' out loud. Not much in it. The lightweight/low power approach works. Although most modern car manufacturers seem amazingly oblivious.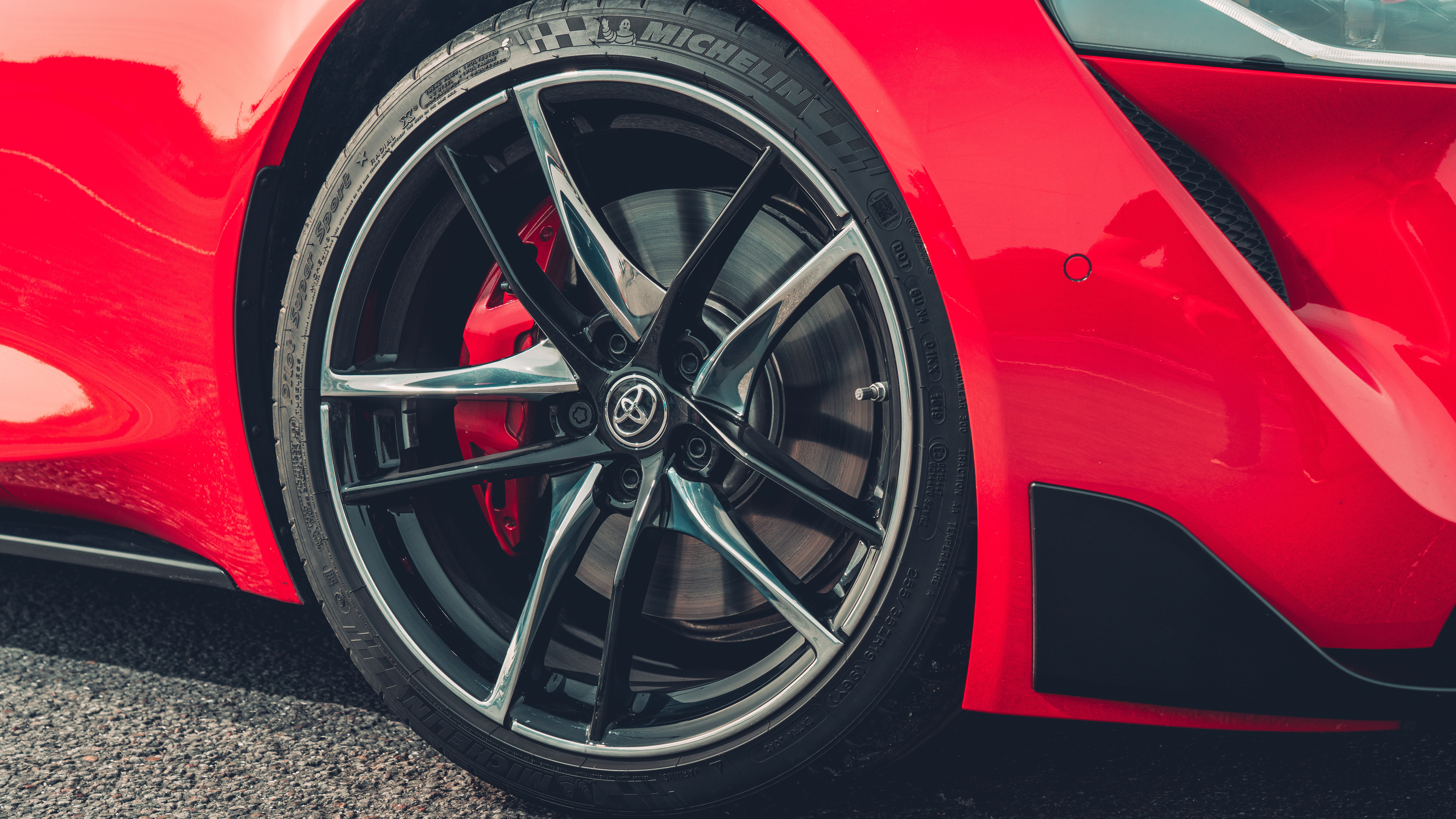 Anyway, as the speeds rise further and despite its small frontal area, the Alpine starts to slip back. We're now in the realms of stat talk, only relevant to those doing runway run wot ya brungs and autobahns. Take 100-120mph. The A110 does it in 5.13secs, which isn't slow, but the BMW? 3.46secs. About 1.5 times faster.
The Porsche, having struggled to put daylight between itself and the Toyota at lower speeds when there's too much frantic gear-changing involved (they post identical 30-70mph times of 3.43secs), hits its stride above 60mph, getting from there to 120mph over a second quicker than the Supra (9.44secs against 10.55secs). Still, only a second faster to pile another 60mph on top of the national speed limit, so on the ground it'll probably be no more than a car length, maybe two, in front.
They're all fast of course. And most of them will soon be getting faster. A second gen Cayman GT4 will be here before the end of summer, Alpine has pulled the wraps off the 288bhp A110S, it's widely acknowledged there'll be a faster, harder Supra. And in due course BMW will have another stab at an M2. It won't be slower, because they never are.
                        Alpine            BMW M2 Comp     Porsche Cayman GTS   Toyota Supra
0-30                 2.07                 1.89                             1.98                             1.72
0-60                 4.62                 4.12                             4.45                             3.99
0-100               10.32               9.07                             9.58                             9.56
30-70               3.64                 3.26                             3.43                             3.43
St ¼                 13.02s             12.45s                         12.78s                         12.51s
                        @111.7mph    120.0mph                    @114.3mph                @112.9mph