Speed Week 2021
Speed Week 2021: how does Bowler turn the Defender into a rally car?
The Bowler Defender Challenge explored the limits of the TG test track at Speed Week. How do they make it?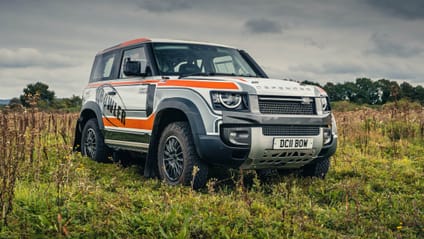 Hang on, remind me what this is?

This is the Bowler Defender Challenge, and it's utterly brilliant. It's Bowler's first attempt at modifying the new Defender, so naturally they went all-out and created a full blown rally car.

Advertisement - Page continues below

As the name suggests, Bowler's Defender has been designed to compete in its own one-make race series – the Bowler Defender Challenge. Not complicated to understand this, is it?

That series will run throughout 2022 with 12 teams taking on seven different rallies across the UK, and it doesn't matter whether you're a complete novice or a rally veteran; if you buy the car you get to take part. 

Bowler used to run the Challenge with old diesel Defenders that had a penchant for rolling onto their roofs – this new car is much more friendly and even more impressive off-road. The series will still be tough though – Bowler sees it as a feeder to get competitors into things like the Dakar Rally. Blimey.

Ah yes, it's not a V8. Not yet anyway. The Challenge is actually based on a Defender 90 P300, so it uses a 296bhp turbocharged 2.0-litre four-pot petrol engine connected to the standard eight-speed auto gearbox.

Advertisement - Page continues below

What other changes does Bowler make?

Many. Probably too many to list here actually, although most of them you can see for yourself. Exterior wise there's mostly standard body panels, but there's also 6mm-thick aluminium underbody protection, a small new rear spoiler, rally-spec 18-inch wheels, chunky off-road tyres, a Bowler-designed front bumper and grille, additional lighting, plastic windows and extra shark-fin-style windscreen washers from a Disco 5. Access to the parts bin is one of the major benefits Bowler has found since joining the JLR stable in late 2019. 

Oh, and the Defender's traditional spare wheel has been removed from the boot and shoved in the back to help the weight distribution. 

What about mechanical changes?

Ah yes, plenty of work has gone into the Challenge that you can't see of course. Underneath there's a new Bowler-engineered sports exhaust (this one has had a little ding), a bespoke suspension setup with stiffer springs, Fox Racing dampers and a new cooling setup with two auxiliary radiators removed. There are also beefier engine, gearbox and radiator mounts, plus a rally-spec gearbox cross member, braced front and rear subframes and that full FIA-approved roll cage. 

Working on new Defenders means far more electrical trickery for Bowler to sort out too. The traction control and stability control are permanently switched off, whilst the terrain response system is disengaged to stop it switching between different modes as you fly through a rally stage. 

It may have the same engine, gearbox and brakes as a standard P300, but this really is a whole different animal to a road-going Defender. 

This also helps with the whole rally car feel. Almost everything has been stripped out to ensure that the Challenge weighs around the same as the car it's based on, despite the additional scaffolding inside. 

You get proper racing seats, many new and important-looking switches, an OMP Racing steering wheel and a column-mounted paddle shifter mod for the gearbox. Lots of fire extinguishers too, which is in no way alarming…

Is it more expensive than a standard Defender?

Of course it is. A coil-sprung 90 P300 road car will set you back somewhere in the region of £50,000. The Bowler is twice that at £99,500, but now you know just how much work goes into building each one. Plus, that price includes entry into the Challenge and race support at each of the seven events. It also means you get to introduce yourself to people as a rally driver, and that's very cool indeed.

Advertisement - Page continues below

How did it fare at Speed Week, then?