Motorsport
Supercars in fields? TG meets TaxTheRich
Beautiful classic metal hurtling through mud in farmyards. Sacrilege or inspiration? Discuss...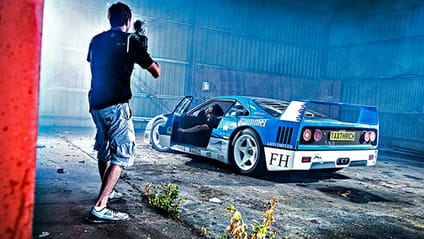 We meet in an abandoned chicken shed in the English countryside. We can't tell you exactly where, so let's just say it's somewhere in the eastern half of the country and not a million miles from London. In any case, it's not the sort of place where you'd expect to find an exotic Ferrari F40 GT with a price tag as long as this sentence. Let alone watch it complete a number of lavish donuts in a farmyard coated in loose hay and animal slime.

Story: Dan Read and Rowan Horncastle
Pictures: Rowan Horncastle

This article was originally published in the September 2014 issue of Top Gear magazine

Advertisement - Page continues below

Why the secrecy? Because we've agreed not to reveal the identities of our hosts who - in the last year or so - have become a worldwide YouTube hit. They call themselves TaxTheRich, and you've probably seen them doing unspeakable things to posh cars. They've gone rallying in a Rolls-Royce. Played tug of war with a pair of Ferrari F50s. And recreated a Ken Block-style gymkhana on a muddy farm with an Enzo. It's the Farmkhana for which they've become best known.

Their videos have had nearly 30 million views through their YouTube channel, with help from many sites (including TopGear.com). Some watch 'em and wince. How could they do that to such rare and precious metal? And who the hell's paying? But most people can't get enough of it. Nice to see the cars being used in the wild, rather than stashed in some city boy's bunker, they say. Either way, they have almost 100,000 subscribers and rising.

Advertisement - Page continues below

There are theories about who they are and why they do it. Their name might lead you to think they're some sort of vigilante squad, dishing out social justice to millionaires and their shiny cars. Some say they're just rich kids with an ironic logo and too much time to spare. Who else could lay their hands on a million-pound Enzo plus a private estate on which to abuse it? Both of which are fairly harsh - and mostly false - assumptions.

Some facts, then. There's one cameraman and one driver, who isn't pro but knows how to hold a slide or two. They've been making Jackass-style vids since they met at school, and only recently decided to shoot cars. They're definitely not teenagers, nor do they have many grey hairs. And while neither is from the wrong side of the tracks, they both know the meaning of an honest day's work. They do, however, have the sort of friends who might lend them a priceless supercar for a day.

Most are borrowed from an 'associate', who trusts they'll be returned unharmed. We've promised not to say who he is, but going by the cars in his collection - many of which are featured in the vids - he knows his stuff and doesn't survive on beans on toast alone. Occasionally, though, a car is sourced from elsewhere, which is where things become a little controversial.

Take the Phantom. It was loaned to a friend for a weekend, by a Rolls-Royce dealer who believed he might buy it. The friend then loaned it to TaxTheRich, who skidded it around a wet field and gave it a rather ungentlemanly seeing-to. They then went through the video frame-by-frame, blurring the numberplate. Could be any old Phantom then, eh? Nope. Turns out it was the only blue LWB version in Britain. When Rolls-Royce bosses saw the video online, they hit the roof.

Advertisement - Page continues below

Then they watched as the views went up, and up. Within a month or so, it had been seen more than five million times around the world. Which is when the bosses changed their attitude somewhat. According to the TaxTheRich crew, Rolls-Royce has since offered to lend them a new Wraith for use in a future film. After all, the Phantom suffered no damage apart from a grubby underbelly. Despite having been washed five times to remove evidence, they obviously missed a bit.

A lucky escape? We'd say so. Because as much as we enjoy seeing cars doing silly things - this is Top Gear, where we go rallying in Bentleys - you must first seek the bill-payer's permission, or risk a large fine and banishment from the Big Circle of Trust. It's a golden rule. Reassuringly, we're told it was a one-off, and that the lesson was learned.

Advertisement - Page continues below

Despite that, the guys claim never to have damaged a car. Even the clutches survived the F50 tug of war, and the more demanding shots are nailed in one take to avoid prolonged punishment. Of course, they've had a blooper or two, especially in the Enzo when the car aquaplaned along a greasy lane and skidded towards the camera. You can hear the horn beeping and watch the road turn to sky as the cameraman dives and knocks over the tripod.

But if it weren't for the fact it was a bit sketchy, would you still watch? And isn't it better than seeing a bunch of Gumballers speed around on public roads while putting everyone else in harm's way? TaxTheRich, as far as we can see, is a few blokes messing around in cars. On private land with an approving owner.

If you're reading this website, you'll enjoy seeing a 288 GTO circle around a pair of giant sparklers as much as we do. And that, say the guys, is what it's all about. They choose to stay anonymous because a) they've no interest in being famous and b) it's supposed to be about the cars. Of course, by concealing their identity they surround themselves with mystery, which attracts a cult following not unlike that of our own tame racing driver. Think about it: if you found out they were Keith and Barry from Cleethorpes, it might ruin the illusion.

Even so, you can't help but feel they didn't quite know what they were creating. Maybe the TaxTheRich name - borrowed from a bumper sticker spotted on a Maserati - has become more subversive than they intended. Could it be a swipe at the new supercar establishment? At the posers who keep Bugattis trapped in the city, polished and barely used? Or is it just two lads having a good laugh in someone else's cars while making videos?

After a day watching them film the F40 for an upcoming video, we're not sure it really matters. Because anyone who drifts one of only seven twin-turbo, 590bhp, race-spec Ferraris around a rotting barn for your viewing pleasure is fine by us. So long as the owner doesn't mind a bit of pig goo, that is.