Supercars
Stare at this blue Ferrari F40 LM that just sold for £4.2m
700bhp in a near-one-ton featherweight equals words we can't publish here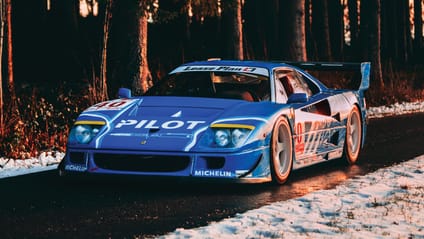 This is a 1987 Ferrari F40 LM. It has just sold at RM Sotheby's Paris auction for a whopping £4.2m – or €4.8m – which is a lot, but a shade under its top estimate of €5.5m.

Advertisement - Page continues below

It matters not. It is a chance to ogle a stupendously hardcore, stupendously blue Ferrari F40.

This particular car is the third Ferrari F40 built, and just one of 19 Ferrari F40s converted to 'LM' or 'Competizione' specification by Michelotto. And it is here we need to quickly run through what it takes to earn that 'LM' badge.

Advertisement - Page continues below

The road car version's twin-turbo V8 produced 471bhp. With bigger twin IHI turbo and intercooler units and better fuel injection, the LMs built by Michelotto produced over 700bhp.

It was also lighter – weighing a scant 1,050kg – and benefitted from a stiffer chassis, a race-spec transmission, better brakes (a fine idea) and modified bodywork.

And no, you're not hard enough to drive one.

Former Le Mans and IMSA racer Rene Herzog, however, was hard enough. He bought the car (originally used as a pre-production prototype by Ferrari), and sent it over to Michelotto to earn its LM stripes. He sold it soon after the conversion.

It eventually ended up in the hands of one Stephane Ratel – who founded SRO Motorsports – and at the European GT Championship of 1995. The car would race at the Le Mans 24 Hours too, finishing 12th overall. That's not bad at all given the F40 was effectively eight years old.

Advertisement - Page continues below

Racing boots were duly hung up at the end of 1996 after a mixed set of results, but whatever – here's a Ferrari F40 that actually raced. No garage queen. That would come next.

It then passed through a series of collectors, and the owner who had it most recently owned the car for over ten years. As sold, it wears the colours it wore on its final ever race at Nogaro (in France), and even today, is eligible to race in vintage motorsport. Training beforehand would be highly advised.

Advertisement - Page continues below

RM Sotheby's reckon it's "without doubt the most significant F40 LM and amongst the most significant privateer-campaigned Ferrari racing cars". Yeah, but it's also a blue Ferrari F40 LM. That's just simply cool.