News
What's it like to live with an Alpine A110?
We spent a month with the Alpine A110 to see how it handles daily use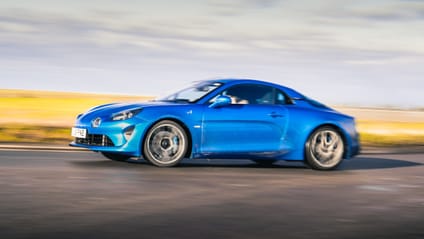 Here's the A110 doing what it does best – going around the corner. It's plain brilliant at this: lighter, nimbler and more engaging than a Porsche Cayman, dances where heavier cars stomp and thump, is way faster than 248bhp suggests, is gentle on its brakes and tyres. It's the wheeled epitome of the word 'deft'.

We've written about that side of the Alpine A110 many, many times. Here's a full review. Here's it beating a BMW M2, Toyota Supra and Porsche Cayman in a group test. Here's one mucking around on an ice track. But what we've never done is live with one for a while. Here's what we learned after a month.

Advertisement - Page continues below

It fits in parking bays

Even if they're small. It's only a little over four metres long and 1.78 metres wide, so you always have space to move. Actually, that isn't very narrow (only about 20mm less than a Porsche Cayman), but what helps the Alpine is that the doors are short (so open wider in a given space) and the seat is directly inside. You just drop down into it. You never feel like you're ducking below the A-pillar or posting yourself into the nose or heaving feet over high sills. You just get in.

And here is the 'in'

Yes, this is an A110S, but the point stands. Access is good. So too forward visibility – those A-pillars are relatively upright and a long way ahead. They don't get in the way at junctions. Rear visibility is more compromised. The rear window is a letterbox, but actually it doesn't crop the view too badly – you can see what you need.

Now, personal bugbear. You see the steering wheel? I find it too angled away at the top. I'd like it to sit lower and more vertically in my hands. It's a minor thing, and by no means as irritating as the fingertip stereo controls you can see below the column stalk. They're a pain. I'll tell you what isn't though: the seats. Made by Sabelt, they are absolutely brilliant. None of us ever had a moment's pain, or found them short of support.

Advertisement - Page continues below

It commutes well

I'm in a position to talk about the seats because I did spend a spend a lot of time in them. Upwards of three hours a day commuting 60 miles along the M4 into London and back. Yes, on blustery days it does get buffeted on motorways, but otherwise its road manners are close to impeccable. Less road noise than a 4cyl Cayman, sweeter engine and then there's the economy...

It's quite economical, considering

This was the result of the very first night's drive home. Yep, an indicated 50.3mpg. To be fair I never bettered it, and it was heavily assisted by roadworks and average speed cameras. But still, over 50mpg from a sports car capable of 0-60mph in 4.6secs is borderline brilliant.

The overall figure settled in at about 10mpg less than this. That was mainly commuting, plus short hop weekend use and the occasional fun fang. So yeah, 38-42 was average. And the trip computer was pretty accurate.

It wasn't all sunshine and drifts...

We shot the cover of the last issue of the magazine in a giant, freezing cold hanger. If you haven't picked up a copy, have a look here. But at the end of the day the Alpine, er, failed to proceed.

It had intermittent starting issues

This one image doesn't really tell the story. The Alpine refused to start. Plenty of battery power in it, but a frantic clicking and buzzing, plenty of random lights on the dash, but nothing else. Tried locking and unlocking, but that wasn't happening. Left it a couple of minutes. Thing improved, the engine would turn over. More of this and after five minutes we had success. And then it didn't miss a beat.

Until it happened again. Which it did several times over Christmas. It became a bit of a lottery. It never failed to start eventually, but you could be there in the cold, cursing for a little while. But I couldn't work out a pattern. I thought it was if it had stood still for a few days. No. Or if it was only driven short distances. No.

Then I got back to work and talked to Stephen Dobie who reported that his Renaultsport Clio Williams has almost identical issues. We never did get to the bottom of it. Temperamental immobiliser? Dodgy alternator connection? Clearly not something that only affects new Renaults though…

Advertisement - Page continues below

Something else happened too...

Was this. I got condensation build up on the underside of the boot lid, which did succeed in making some bits and bobs in the rear load bay a bit damp. Couldn't see a leak anywhere, so suspect I put something wet in there earlier, heat soak from the engine caused some evaporation and then it manifested itself later.

It doubles up as a bottle bank

I did use the boot quite a lot. Well, there's barely anywhere to put anything inside, so you have to. There is an external release for the Tupperware container-sized lid, and the area does retreat under both flanks, but it's limited. 500ml bottles do fit standing up, and on the day that was literally the only thing that mattered.

Advertisement - Page continues below

Meanwhile, up front

Here's the front boot. You don't tend to use it because the release is inconveniently located in the passenger side footwell. It promises to carry two aircraft overhead-locker carry-on bags, but they'd have to be curiously shallow. It is bigger than the rear boot – 100 litres plays 90, but it's not quite big enough to take a mountain bike's front wheel. You might be wondering how I know this...

Bike habit

Here's my bike rack on top of the car. It suctioned on to the roof a treat. I even got as far as putting the bike up there too. But since the front hub locks into the rack and I don't have a separate carrier for the wheel, that would have to travel indoors. And it wouldn't fit.

Penguins!

Here is the cabin storage. There's nothing in the doors, no glovebox, and although you can have an optional leather pouch mounted on the rear bulkhead, basically this is where wallet, phone and keys are going to live. And Penguins obviously. They're compulsory on TG shoots.

Now, it's actually quite hard to get your hand into this area – unless you're tall and have the seat slid a long way back. Plugging in a cable requires even more wrist contortion. See the slot just ahead of the gearlever buttons? Your phone can live in there with the key-card.

Breaking the entering

This is the key. It lives in a soft leather pouch of its own, which is tactile and all, but you try pressing the right buttons when it's dark. Of course, you shouldn't need to press the buttons on an Alpine's key, because it has the little black nipples on the door handles and keyless as standard.

Renault does this system better than anyone – it locks automatically when you walk away, and usually operates flawlessly. But for some reason it hasn't transferred happily into the Alpine. It was hit and miss. So you had to use the key.

Screen time

I'm going to use this picture to tell you about a multitude of minor sins. The Alpine has Sport/Track modes. You press the button on the steering wheel briefly for Sport, longer for Track. It sharpens the throttle, alters the stability control and changes the dash display. This is Tacky mode. Sorry, Track. The other displays, with round dials, are neat and unobjectionable, but this is plain ugly and confusing.

As is interacting with the infotainment. It's touchscreen only and fiddly to operate. The menus don't make much sense and although you adapt the screen's small fonts and touch areas mean you'll be making regular mis-presses.

Tunes

Alpine boasts proudly of its association with premium audio company Focal, but on this evidence, there's not much to get excited about. This is the premium sound system, but the sound is tinny and weak.

Which to have?

We've already covered the question of which A110 you should have. Can't be bothered to click through? Have the blue one. The S doesn't address any of the drawbacks that we've covered here, just alters the dynamics of the thing.

Yes, we had one or two frustrations with the A110 – refusing to start being the only real issue, but the infotainment was disappointing and the door locking didn't work as well as it should. But none of this, even the electrical glitch, fundamentally undermined our opinion of the A110. Everything was surmountable, even the practicality. It is small and poor at carrying stuff unless it's stuffable. But it's amazing how adaptable you become when you have an Alpine A110 parked outside. You want to drive it, so you find ways to make it work for you.