Review
Alpine A110 vs Alpine A110S: which one's better?
Alpine sharpens up the supernaturally good A110, but is the S the one to buy?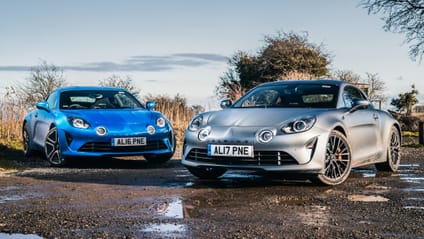 You want to buy an Alpine A110. Of course you do. It's the coupe that does things differently – bucks the trend for more power and weight, spins the virtuous circle back the other way. You've already decided it's the right coupe for you, over and above a Toyota Supra, Porsche Cayman or Audi TT, which means you've justified the minuscule stowage, the fact it's both French and £50,000 and hopefully already experienced the infotainment (if you haven't, do).

Those are the chief drawbacks, and you've decided they're outweighed by the potential enjoyment. But now, a curve ball. Which A110? The standard version, or the newly arrived S? TG is here to help.

Advertisement - Page continues below

A quick lowdown then. The standard car's key stats read as follows: 248bhp, 44mpg, 146g/km, 155mph, 4.5secs to 62mph. The S gains 40bhp, loses 1mpg and no g/km, gains 6mph and achieves 62mph a solitary tenth faster. It's also £10,000 more expensive. OK, a five grand mark up over the Premiere Edition it's pictured with here, but prices start at £46,910.

As with so much about Alpine, the numbers don't tell the whole story. This is a sharper Alpine, a fundamentally redirected car, a change akin to the difference between a standard 911 and a GT3. The extra power (now 288bhp) comes from a 0.4bar turbo boost pressure increase. Torque remains at 236lb ft, still on tap from 2,000rpm, but is now maintained until 6,400rpm – 1,400rpm longer. There's an active sports exhaust.

The extra power is there to work the modified suspension harder. The ride height drops 4mm, the tyres are 10mm wider front and rear. These are details changes. Coil springs that are 50 per cent stiffer and anti-roll bars 100 per cent firmer are not small tweaks. They're there to give the S a fundamentally different character. Here's Alpine's chief engineer, Jean-Pascal Dauce, on the matter: "Earlier versions of the A110 were pitched very much in line with the original 1970s A110 – they're playful and fun to drive. The A110S… is a very focused sports car. High-speed stability and handling precision are two of its defining characteristics."

Here's the crux of the matter then. Are the changes necessary? Do they make the A110S more fun to drive? Before we get on to that, I ought to finish the list of modifications that help justify the hefty price uplift, so here goes: uprated Brembo brake calipers, recalibrated ESP, an optional carbon fibre roof (a 1.9kg saving for £2,208), this Thunder Grey matt paint (an extra £4,440), and various little trim adjustments (an orange band at midday on the steering wheel, darker exterior badging, aluminium pedals).

Advertisement - Page continues below

Those questions then: Yes, the changes are necessary because they give the Alpine range more breadth and alter the A110's character. Now, do they make it more fun to drive? Worms, meet can.

Let's answer that with an important, if prosaic, question. How are you planning on using your Alpine? Just for the weekends? Or every day? You know what comes next. The S is more compromised. You'll enjoy it on good blats, but if you're crawling about it's busier, more buzz through the suspension, sharper over bumps, more distracted by ruts, a little more fidget. I find myself looking forward to the low speed ride in the standard A110 because it's so dextrous. You might be crawling to work, but you'll marvel at the way it absorbs the surface, how it treads so lightly.

The standard car does the daily stuff better, but more than that, it does it differently. There is nothing else quite like it. Nothing that embraces softness and lightness of touch in the same way. Get on a good road and that gives the A110 a very particular flavour. It flows. The wheels seem to reach down from above, to only lightly brush the surface. You guide it along and relish the signals it's sending you. There's great communication, but the overall impression is that the car does its job and you enjoy the sensations it delivers.

The S asks more of you. It gives you more reason to use high revs because that's where the extra power is tucked away, and when you go there it not only hits harder, but sounds crisper, there's more gravel in its vocal chords. It tells you more about the road surface, reminds you how strong the chassis is, how exceptional the wheel control, how accurate the damping. And because of this extra information, you rise to the bait, start concentrating more and driving harder. Then you notice the extra directional stability, how it's easier to control your trajectory, that there's less delay between input and response, how, although you might get bucked around a bit more, body control is absolutely peerless.

Neither is completely flawless. I hoped the S's alterations would give the steering more turn-in bite and aggression, but the improvement isn't quite as marked as I hoped. I'd also like to sit lower with more under-thigh support and have the steering wheel extend more and tilt upright. The brakes aren't as lovely to operate as a Porsche Cayman's, but you won't mind because the Alpine carries so much speed around corners you rarely use them.

But in sharpening the A110S, Alpine has also made it feel more conventional, more like every other fast car in its stiffness and control. What I love about the standard Alpine is that it feels so unlike anything else. Ultimately it doesn't draw you into the experience, the process of driving as much as the S, but if I had to have one to live with, it would be the standard A110. And yes, that's true whether I was going to use it daily or more occasionally.

Beyond that, I think the standard car is a better flag-bearer, a clearer representation of what Alpine stands for and the benefits of light-weighting. Look, this is as much an opinion piece as a review - I'd be really interested to know what you think.