Best of 2020
Progress report: Alpina B6 2.8 vs Alpina B3 Touring
Alpina's E21 3 Series coupe takes on an estate car with Rolls-Royce leather. Really
Cor.
Exactly. If you want a BMW without any of the iffy image, you get an Alpina: the Bimmer that's been to Buchloe for a Queer Eye makeover, emerging a bit less pugnacious and wearing more fabulous accessories.
Advertisement - Page continues below
Questionable font on the B3's number plate aside, these two have nailed it. Up front, we have the glorious and quite dinky Alpina B6 2.8, time warped from Eighties Bavaria onto a Northamptonshire B-road looking as perfect as the day it was born. Skulking behind it, a brand-new Alpina B3 Touring. Different badges – and wholly different body shapes – but the same principle: take a 3 Series and give it snazzier trim, a gutsier engine and a comfier ride.
Coupe vs estate doesn't seem a fair fight.
It's a representative one, though. Back in the good old days, people loved a little two-door saloon car. Now, Tourings account for more than 80 per cent of the Alpina B3s imported to the UK. Perhaps that can be blamed on the absence of an M3 Touring in BMW showrooms, something that's about to change. We suspect the B3's more petite grille may still edge it for some.
Surely there's a gap in their performance…
Advertisement - Page continues below
They're separated by 40 years, and the numbers betray it: the older car's 200bhp, produced at 6,200rpm by a 5 Series straight-six squeezed into the engine bay with nary a millimetre to spare, plays the 462bhp and effortless turbocharged punch of the B3.
Its 3.0 6cyl engine is a relation of the new M3's but produces more torque thanks to Alpina's smaller, more responsive twin turbos. At a whisker under two tonnes, it weighs almost twice as much as its 1,275kg ancestor, yet its 3.9secs and 186mph claims are three seconds and almost 50mph better than the B6's.
Aren't Alpinas meant to be comfy?
Everything about the dinky B6 suggests it's going to be a highly strung little sports car, the distilled spirit of M3 before BMW made such a thing. Yet the most overwhelming thing about it is just how plushly it rides – and how smoothly it steers. It's like a tiny GT that just so happens to possess neon seat fabric and a willingness to rasp its way to the redline when the driver shakes off any pretence of maturity.
Top Gear
Newsletter
Thank you for subscribing to our newsletter. Look out for your regular round-up of news, reviews and offers in your inbox.
Get all the latest news, reviews and exclusives, direct to your inbox.
It's got five gears, fifth basically being an overdrive that pops it into 'country-swallowing mode', assisted by an optional 100-litre fuel tank. How I'd love to leave its kind-hearted owner Alun in the layby and use every last drop.
Please don't.
I won't, not least because he's doted over this car for 25 years. Made in 1981, it's number 278 of 533 examples of the B6 2.8, of which just 80 remain. A mere three of those are in the UK, all left-hand drive, betraying the fact it was never officially brought here – Alpina imported a different tune of the E21 3 Series to these shores, the C1, which had a smaller engine and more hardcore nature. The fact most Alpinas since have tended towards comfort might suggest the B6 is the one we should have had…
Is that a segue into a description of the B3?
You betcha. First impressions might suggest this Touring offers only a surface-deep nostalgia trip, the B6's blue and green dials now replicated in TFT while its crazy trim is echoed merely in the B3's steering wheel stitching, the seats instead wearing creamy, Rolls-Royce-grade leather. Seriously.
But once you've experienced its otherworldly acceleration, aided by the standard (and occasionally mischievous) xDrive AWD, the B3 will play the gentlemanly GT just as convincingly as its ancestor. Though while its (and your) natural inclination is to relax, there's a sense of humour entwined through its complex chassis tech that means you'll worry about neither its kerb weight nor its lack of purist RWD in corners, which it negotiates with a veracity that had me repeatedly searching its spec sheet in vain for four-wheel-steering. Proper 3 Series talent, then, but with a classy veneer (and nattier detailing) pulled snugly over the top. Just as Alpinas always were.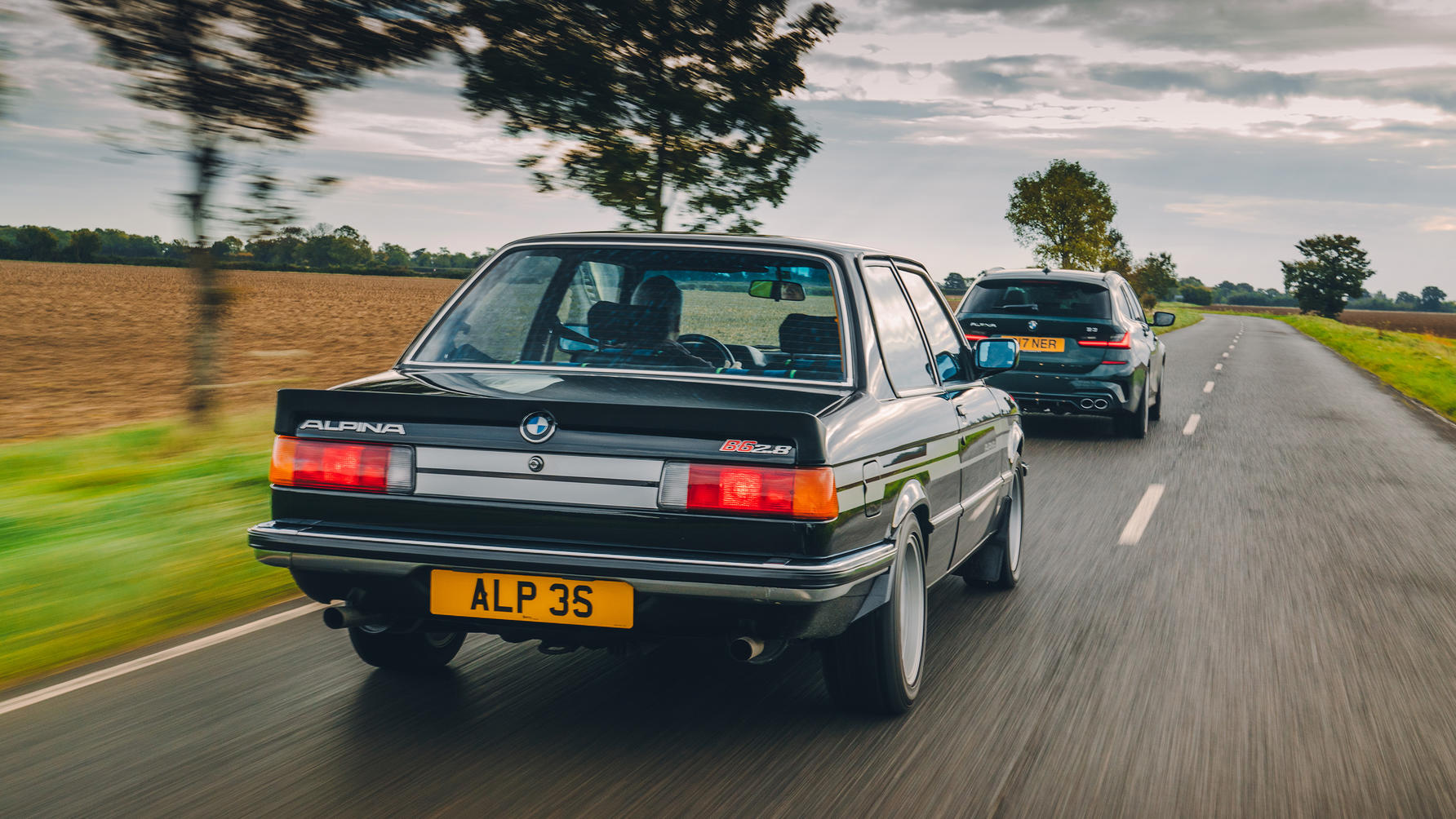 Photography: Mark Riccioni
With thanks to Alun Parry for the loan of his wonderful B6 2.8