Big Reads
Can this flat-pack truck save the world?
Top Gear drives the unbreakable Gordon Murray-designed 'OX' truck
Do not write off this planar-sided truckette as an unwelcome gatecrasher among the power-crazed pages of TopGear.com. Its purpose is noble. Its pedigree exquisite. And its capability extraordinary.
"It's a crime, almost, that only 20 percent of the world's population has access to a motor vehicle," says Sir Torquil Norman, ex-fighter pilot, lawyer, economist, banker and retired toy magnate. But he didn't just rant about it. He set down the criteria for a new kind of vehicle for the developing world. It had to be ultra-simple, ultra-cheap, ultra-robust and ultra-repairable.
Advertisement - Page continues below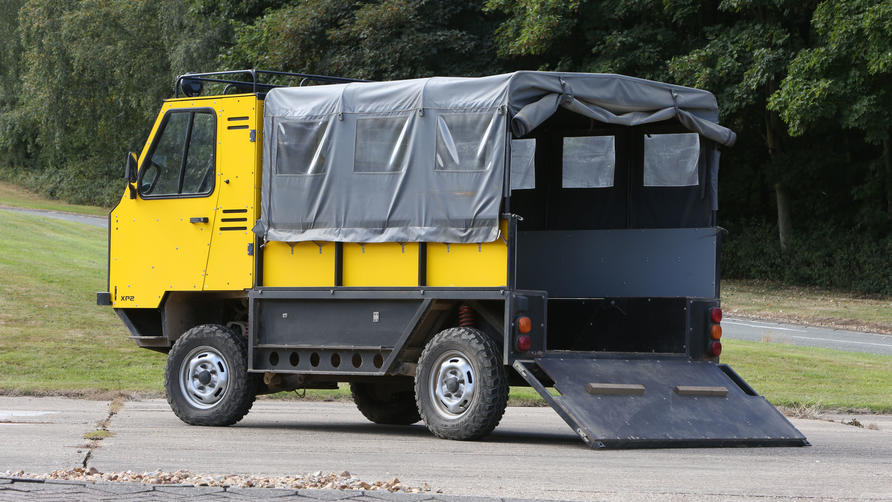 Words: Paul Horrell
Photography: Peter Robain
Then this serial philanthropist spent around £3 million to get the vehicle designed, prototyped and much of the way to production. Another similar amount, its creators reckon, would finish developing the OX, and build the factory. Then it could be sold for perhaps £10-£15,000 to development agencies, the UN, even to village co-operatives.
For design and development, he engaged Gordon Murray. Yes, Murray of five championship-winning Formula One cars and the McLaren F1. "I'm more proud of this than any other vehicle I've done," says Murray. Better have a go then.
Advertisement - Page continues below
The OX has been designed with rough, rutted, washboarded gravel roads in mind. It has only front-drive, for simplicity, ground clearance and lightness. But supple suspension and helpful weight distribution give it immense traction, as Top Gear found on a test track normally reserved for 4x4s.
Murray says the inspiration for the dynamics came from the Renault 4, once a much-loved off-roader in Africa and Southern Europe.
Like a McLaren F1, the OX has a central driving position. Driving down tree-bordered tracks, it helps you place the thing very accurately.
The cabin is as uncompromisingly basic as the outside. Nothing to learn then. Just climb in, slide to the middle and strap in. The pedals are below rather than ahead, so there's no need for seat or wheel or pedal adjustment. One size fits all.
From directly below your backside the clatter of the Ford Transit engine courses into the cabin. But it's not ridiculously loud. Certainly not considering that there's no added sound insulation at all. You can thank the intrinsic absorbency of the wooden-composite construction.
The rear bench seats double as sand ladders. The canopy can be taken off and used as an emergency shelter. The tailgate is a ramp.
I'm driving the prototype with a six-speed box, standard from European Transits. The OX team has now found a five-speed from the Chinese version, and it'll make more sense because you will never need sixth. The shifts are heavy and imprecise, and the steering heavy. You bounce around on the sweaty plastic of the zero-support seat.
Top Gear
Newsletter
Thank you for subscribing to our newsletter. Look out for your regular round-up of news, reviews and offers in your inbox.
Get all the latest news, reviews and exclusives, direct to your inbox.
But you know what? It's fun. It just romps along, pretty well unstoppably, and feels uncannily stable. Ground clearance and approach angle are extraordinary.
Murray is especially proud of the ride. It doesn't have that exhausting and destructive shudder of trucks with heavy live axles. Which means this will be great for transporting sensitive medical equipment, or even patients as an ambulance. Never mind 10 people on simple hard benches in the rear.
The side exhaust and under-seat air intake are well-protected, and they mean the wading ability is a belly-button-deep 1,300mm. "We tried going deeper but it floated," says Murray.
Having three separate windscreens means they can be swapped. If in a remote place the driver's gets smashed by a rock, he can borrow a passenger's.
Such parts-swapping is central to keeping an OX on the move in remote places. The left and right suspension arms are interchangeable. Every one of the left-hand body panels simply flip over to fit on the right. All of which keeps the inventory low. And all the body panels are flat, so they're cheap to make and compact to ship.
Meanwhile the diesel powertrain, the brakes and wheels come from a Ford Transit, so they're easy to get hold of. The OX runs on 16-inch wheels, as per a Land Rover, so tyres are everywhere too.
The 16s might look like castors, but that's because the OX is a tall and wide vehicle. The bench seat is designed for three, but five mates could squeeze abreast. The rear bed is huge. It'll take three pallets, or eight 200-litre drums, or 13 people. You just know, from looking at pictures of groaningly overloaded Hiluxes, that it would be used for much, much more.
The OX is designed to be manufactured in the UK but assembled locally, avoiding import duty in many countries.
All over the OX, parts play double use. The rear bench seats double as sand ladders. The canopy can be taken off and used as an emergency shelter. The tailgate is a ramp. Best of all, the OX comes with a blockable front brake on one side. You can jack it up, attach an output flange in place of the opposite wheel, and it becomes a six-speed power take off for generators and pumps.
And most of all, despite its strength, the OX has an extraordinary weight-to-payload ratio. It weighs just over 1,700kg ready to roll, but can carry another 1,800kg. Most pickups weigh much more yet will shoulder much less. A standard Ford F150 or Toyota Hilux takes barely 1,000kg.
And because the OX is much cheaper, a buyer could have a bigger fleet. "There is just no competition, anywhere," says Murray. "OXen would have a five times ratio of carrying capacity to cost versus Hiluxes."
Key to the OX's ability is the outstanding stiffness of the chassis construction. It uses steel tubes bonded together by plates – Murray's iStream philosophy. In this case the plates are 'engineered plywood', a material that's almost infinitely weather-resistant and staggeringly resistant to dents. Murray tested by dropping a 200-litre steel drum of water from two metres onto the wooden truck bed. It shrugged it off. Even if a panel is bashed to smithereens, a new one can be bolted and glued into place in the field.
In fact one of the prototypes has undergone Millbrook Proving Ground's full durability programme. With most trucks this leaves (most) of the mechanical parts intact, but reduces the chassis and body to scrap. When the OX did the test, it came up pretty much as new and returned to life as a demonstrator.
The OX is designed to be manufactured in the UK but assembled locally, avoiding import duty in many countries. All the welding and bonding, and safety-critical stuff such as connecting brake lines and electrics, is done in the main factory.
But kit assembly means it has to be shipped. And in another magical flourish, the whole thing turns more-or-less inside out, the main assembles nestling inside the chassis. Six of these, plus the six powertrains, fit inside a standard shipping container.
When the OX kit arrives in the field, three people can put it together in about 12 hours with remarkably few tools and no crane. Murray is proud of the build manual, which is all pictograms. Top Gear mentions the Ikea cartoon Allen key. He says his book is a lot better.
I'm more proud of this than any other vehicle I've done
The iStream process is what makes the factory so cheap. There is no steel pressing, no expensive robot assembly. The body and frame are made on simple jigs. The expensively tooled assembles – mechanical and drivetrain parts – come from the Transit parts catalogue. So overall investment in plant and vehicle setup cost is staggeringly low. "It's about five percent of a conventional vehicle," Murray says. He adds it's a fraction of what the mainstream industry would spend just on a new seat design.
"I had no idea how good the OX would be, until I'd driven it." says Murray. "The ride is great. I had been quietly terrified something with 2WD wouldn't work that well."
Which means his ambitions have grown. "Above the core humanitarian concept, I now think there's a huge commercial opportunity for a farm vehicle in the developed world… just as the Defender goes out of production."