Electric
Urban Legends: electric Jeep Avenger takes on the Citroen Ami
Is a bespoke electric city car the best car for the city? The Ami and new Jeep Avenger go head to head
A 'city car' defies easy definition. Given how many there are in London and how few on motorways, you might assume the best one is the Mercedes-AMG G63. 'Justifying' the mad expense of buying and running it, drivers cherish long travel suspension for speed bumps, tank-like robustness, a driver's seat high enough to prevent feeling intimidated. And it probably intimidates everyone else out of the way. But it's not for me – it's too bulky for narrow streets and too cumbersome for parking. Plus I don't fancy being thought an idiot. The Citroen Ami is the G63's absolute antithesis. Tiny, friendly, light on cost and resources, it feels as slow and fragile as a snail.
It's like getting around in a bento box. (Sorry, can't think of a French equivalent: it's a nation that prides itself on not doing takeaway.) But think of the Ami's advantages. No street is too narrow, no parking space too cramped, and the turning circle is shorter than the overall length of some panel vans.
Advertisement - Page continues below
It's £7,695 for the no hubcaps one, or just over £8k as dollied up here. Put down a £1,000 deposit and the repayments over three years are £25 a week. A London travelcard, to use public transport within roughly the area of the North and South Circular ring roads, is almost double that. And trust me, that's the Ami's geographic comfort zone. Its top speed is 28mph and you really wouldn't want to take it on a ring road. It's a city car with the emphasis on the city. Point of fact – and this is clear the first time you clap eyes on it – it's not a car at all.
Photography: Jonny Fleetwood
It's a quadricycle. That's the same sort of thing as, impelled by lawnmower engines, you see smoking slowly around urban and village France. But here the engine is replaced by a diddy battery and motor. Quadricycles don't have to pass so many safety rules. But then, power is capped at 8bhp (yes, eight) and the top speed at 28mph, so they won't be having high speed crashes unless driven off a cliff.
Advertisement - Page continues below
The Ami further reduces the cost of construction by cleverly using symmetry to avoid tooling up the usual number of body panels. So the nose is the same as the tail and the left as the right. The glazing follows that pattern too. This all has the amusing effect that the driver's door is rear-hinged and the passenger's front-hinged. You tug little woven straps to open them – like a 911 GT3 RS, but for different reasons. Against this cost saving backdrop, a right-hand-drive conversion would be a mad decadence. You sit on the left, but actually that's just fine because it's so narrow and so unable to overtake that you don't need to sit towards the centre of the road, and it's better to be able to hop in and out from the kerb.
Inside it's not at all cramped. It's wholly unlike anything you've driven before, but takes little time to learn because the controls are so few, beyond of course two pedals, a steering wheel, one stalk (wipers, indicators, horn) and a handbrake. Three buttons by the seat are marked D, N and R. Another pair of buttons take care of fan and heat. A mysterious orange blob resides on the steering wheel spoke. It Bluetooths to an Ami app on your phone, held to the dash by a twangy clamp, cycling through navigation and music. The phone in turn Bluetooths to a can shaped speaker in the cupholder.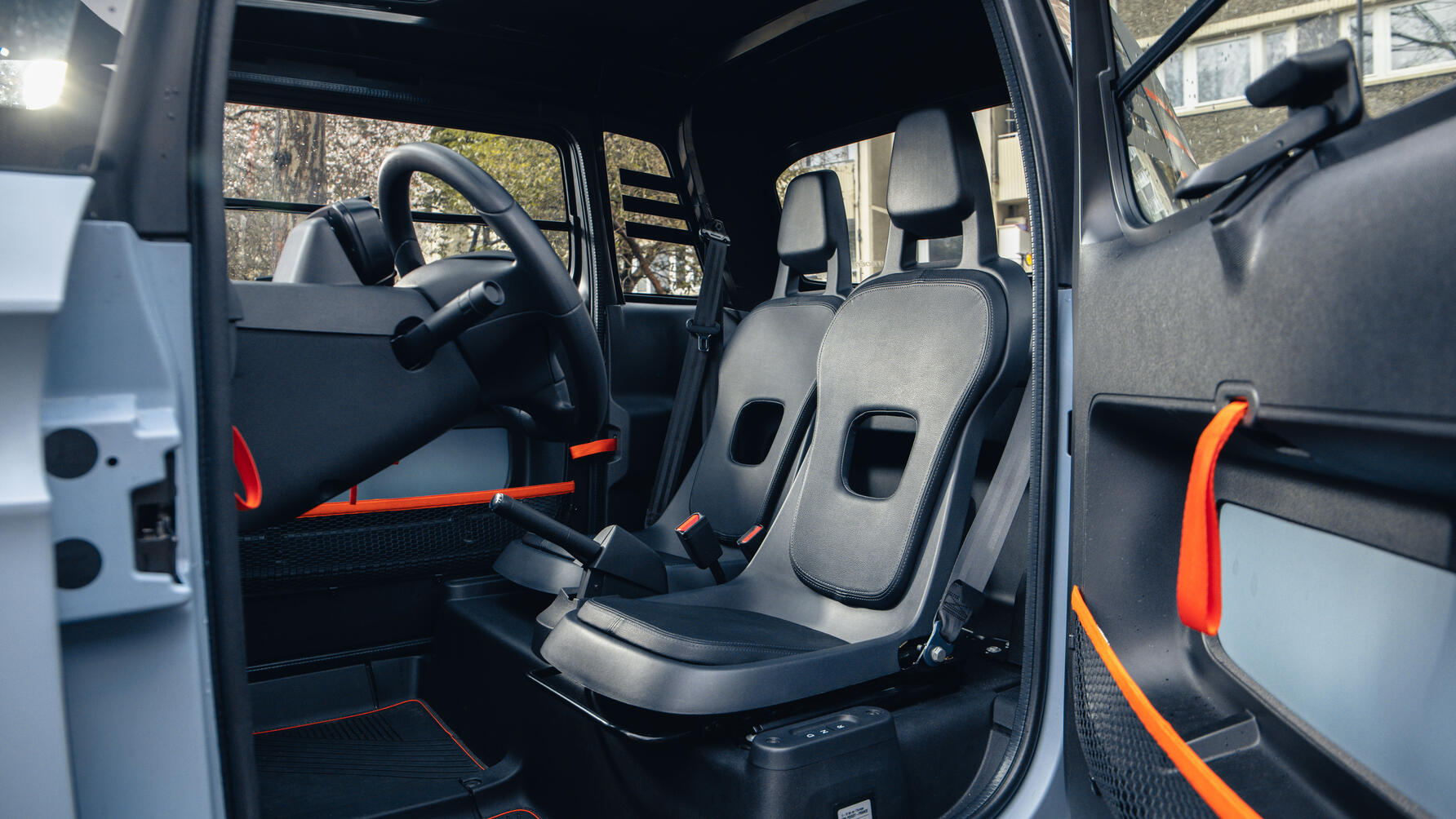 It feels airy because of the glassy front and roof. There are no visors so you need a wide brimmed chapeau for low-angle sun. If on the other hand it's wet, the demist fan will struggle. Every surface bar the seat padding is Tupperware-hard. The welded square-section steel frame is naked all round the perimeter. The seats themselves might have been lifted from an airport departure lounge. The passenger one is fixed a long way back, which makes space ahead of their feet for luggage. A wheeled airline carry-on will fit. Feeling in the holiday mood yet?
It's charming but basic as can be, probably more basic than you imagined. You certainly didn't imagine the crude noises at 20mph. The motor and its reduction gear whine prominently, the suspension clonks and the superstructure rattles. The ride is so stiff I actually wondered if there was suspension at all or if it was just tyre squidge doing the absorbing. But no, there is a bit of actual travel. So why isn't it softer? Search me.
It doesn't so much accelerate as accrete speed. Never mind. In the really confined bits of a city it can out-accelerate pushbikes and easily keep up with that Lambo in front of you in the jam. The steering is sensibly geared and rather instinctive because it's unpowered, and the brakes do what they're asked. Also remember every city trip ends with parking, and parking the Ami is smug joy.
It doesn't so much accelerate as accrete speed
The Jeep is also all-electric, but it's so different and so much more expensive you might wonder why we have the two side-by-side. It can be your only vehicle. Indeed that's one of the best things about the Avenger. Out on country roads and motorways, it doesn't even feel like a small car. It's got the refinement, stability and comfort of something really quite a lot bigger than it is.
Yet the Jeep feels well at home in a city. It's still small for an actual car – shorter than most little crossovers, even the related Vauxhall Mokka. Its blocky outline makes it easy to thread down narrow streets, and all-round black plastic protection will save the day when you get it slightly wrong. Because it's set up for mild off-roading, the short overhangs and long suspension travel make light work of speed bumps and potholes. Its height means it'll carry adults in the back. There's a proper boot. In those senses it has the advantages of a mini-G63 AMG. So for any city work carrying more than one passenger and more than a little luggage, it's the no-brainer choice versus the Ami.
Top Gear
Newsletter
Thank you for subscribing to our newsletter. Look out for your regular round-up of news, reviews and offers in your inbox.
Get all the latest news, reviews and exclusives, direct to your inbox.
It's also rather pleasant to be in. It's one of those cars that seems to have been designed by people who enjoyed their job. It's not tricksy or cute, and it's not overwrought. It's just that the shapes, textures, colours and graphics are modern and cohere really nicely.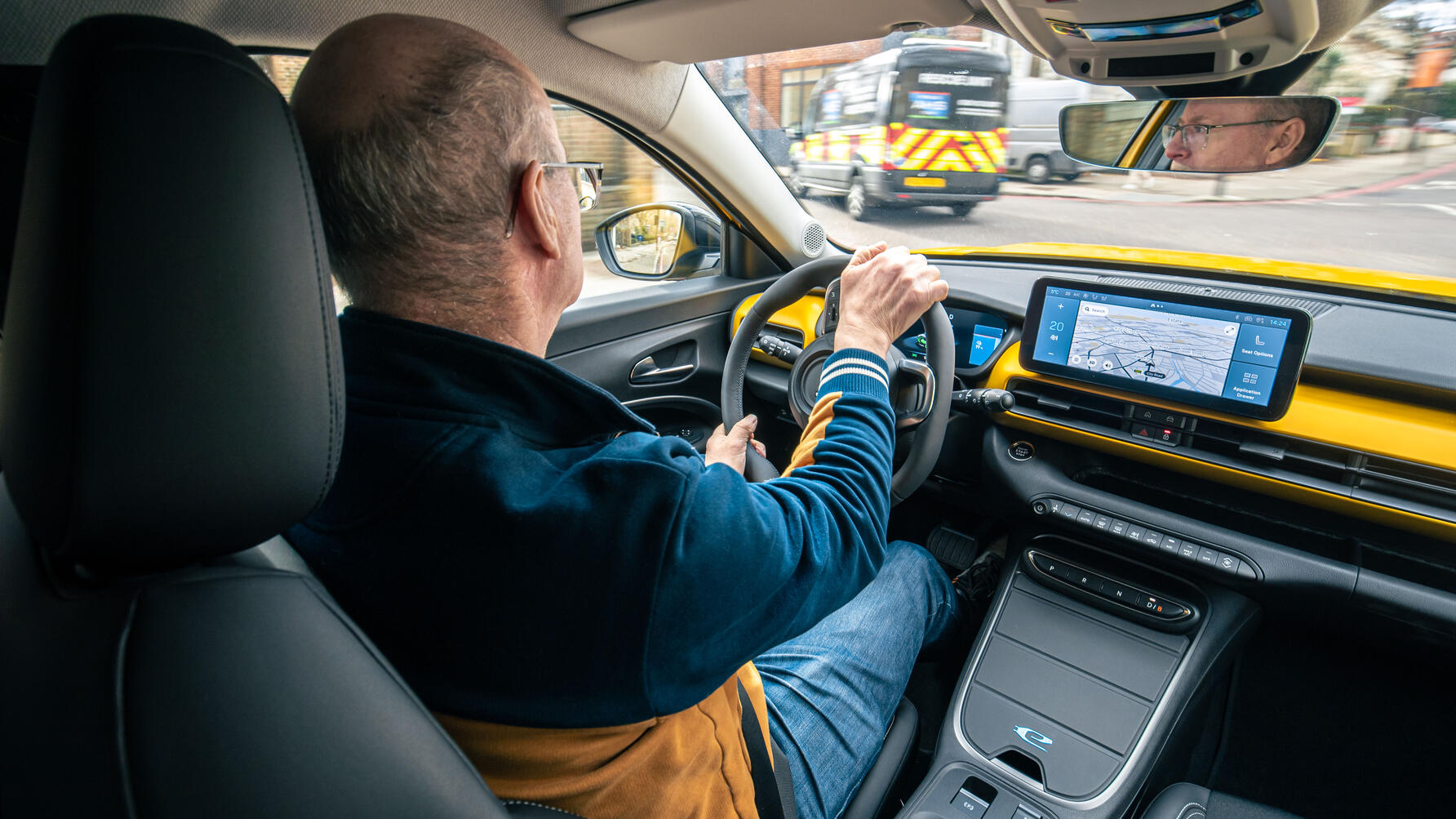 So the Jeep does well in the city. Now please don't think of the Citroen as a cheap alternative to a car. Rather, it's an expensive alternative to an electric bicycle: warmer, drier and able to carry a passenger. Its 40-mile range is just fine, as that gives you five hours of solid driving in London. Take an Ami beyond the 30mph zone, though, and you're stuffed. Whereas the Jeep is literally just getting going.
If your life philosophy says any more than just enough is too much, then the Ami is your city vehicle. In that context it's well focused, cheap, low-impact, personal transport. Trouble is, its argument collapses for most because an Ami will be an additional rather than substitutional vehicle. The Jeep could be your only car. It's four times as expensive, but I guarantee you'd use it at least four times as much.