Big Reads
Will Charles Leclerc be Vettel's worst nightmare?
Is this Ferrari's next F1 World Champion? We might not have to wait long to find out
It's a sticky, airless day in Yas Marina, a 45-minute drive from downtown Abu Dhabi, a city whose skyline glitters with the UAE's eye-popping billion-dollar architectural ambition.
Since the inaugural Grand Prix here in 2009, this race has joined Monaco and Singapore as the magnet for mega money on the F1 calendar. Preposterous super-yachts bob cheek by jowl in Yas Marina, much of their human party cargo equally extravagantly proportioned.
Advertisement - Page continues below
The Yas Hotel straddles the circuit, at Turns 18 and 19, another spectacular edifice, but a place that fails in its primary function unless you're one of the nocturnal party animals who treat sleep like an allergen. "You're staying there?" Charles Leclerc asks wide-eyed. "I was warned against it, by Fernando actually. He stayed there a few years ago, and barely slept all weekend."
He's a little weary himself, he says, as we wander out of his hotel towards the waiting blood-red Alfa Romeo Stelvio QV. It's been a long season, and the F1 circus is ready for a break. Even its rookie star. It's no distance to the track, but it's a funny thing chauffeuring a driver many reckon could be Ferrari's next champion. We're not really meant to bring up the 'F' word, but the elephant's in the room and it's big and red. We'll circle back there later; for now, TG has been given privileged access in this last race weekend before the Scuderia force-field is fully erected.
Advertisement - Page continues below
The future champion wears his promise lightly. I spent a day with him in Portofino a year or more ago, when the wheels were already turning and the Sauber-Alfa Romeo drive was 95 per cent in the bag. He'd driven over alone from Monaco for the shoot, and was by some margin the most relaxed, gracious, and insightful young racing protégé I've ever met. Funny, too. Leclerc has an aura, no doubt about it, acts like he knows something maybe you don't, but without a trace of superiority or impatience.
Not then, and not now, 16 months and a hugely impressive debut season later. "You've got your own place now in Monaco?" I ask. "Yes. I don't live with my mother any more," he laughs. Leclerc's mum, by the way, is a hairdresser and counts David Coulthard among her customers.
Her son is a graduate of Ferrari's Driver Academy, and those in the know say his ability, speed and consistency is eclipsed only by an urge to win. But don't all F1 drivers have that? One of only three Monégasque to make it to F1 (along with Louis Chiron and Olivier Beretta), Leclerc began karting aged just four, urged on by his father Hervé, a sometime F3 racer. He bunked off school one day to visit a kart track somewhere near Nice owned by the late Jules Bianchi's father, a close family friend, and that was that. Bianchi, his godfather, also became his mentor, as he ascended through the motorsport ranks via Formula Renault 2.0, European F3, and Formula 2 – six consecutive poles there – his innate gifts assisted by some personal DRS. Each season he raced with a different team.
"It's helped me to know a lot of different nationalities," he says of this peripatetic existence. "Actually, there are some similarities between the English and the Swiss. They are extremely pointy, by which I mean they look at every detail – they're very strict with everything. Without going into all the differences, it has helped me grow as a driver. And to learn the politics."
Ferrari's intervention brought with it not just top-level driver coaching but access to the best simulators, physicians – the rigmarole of the top-flight racing existence bankrolled by the biggest name in the game. The Academy's young guns (including Giuliano Alesi and Enzo Fittipaldi) train together and even co-habit, something that calls to mind Professor Xavier's X-Mansion in the X-Men. Part of the programme sees the drivers wearing an apparatus that measures their neural activity while doing a race simulation. (This even sounds like Xavier's mutant-networking Cerebro.) Then they're told to repeat the feat using less and less mental energy. Incredible.
"Before I started doing it, I'd think I was concentrating 100 per cent and then you look at the graph and you're not at all," Leclerc says. "It's telemetry for your brain. Not of what you are thinking, luckily, but they know whether you are anxious, relaxed, too relaxed. It's about finding a balance. We're all different, but I think I found my setting, a compromise between concentration, relaxation and the adrenaline you get in the car. You've got to find it and manage it again to be in the best mental state for quali or the race… it's different for these two situations."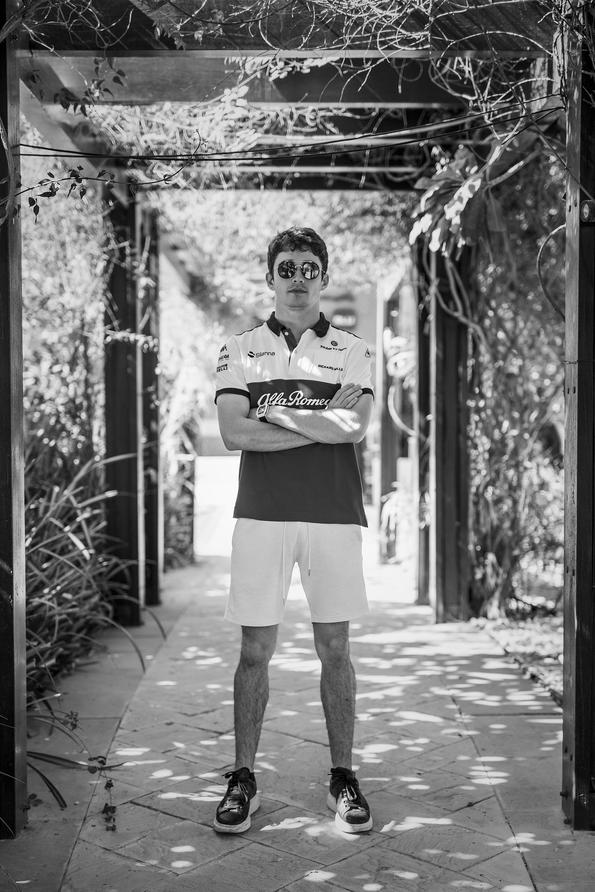 All the while Nicolas Todt, son of former Ferrari team principal Jean Todt, driver manager and co-owner of F2 team ART Grand Prix, has smoothed Leclerc's path to glory, ironing out any contractual creases and finessing relationships like you have to in this sport (speed isn't enough). This guy sounds like he's one step away from having been genetically modified to race.
Top Gear
Newsletter
Thank you for subscribing to our newsletter. Look out for your regular round-up of news, reviews and offers in your inbox.
Get all the latest news, reviews and exclusives, direct to your inbox.
But a parallel narrative is at work here, and it's all too human. Although modern F1 is in another world when it comes to safety compared to how things used to be, it's still capable of springing freakish surprises. Jules Bianchi died following his terrible accident in the 2014 Japanese GP, the first racing fatality since Ayrton Senna's in 1994.
Life, the biggest race of all, can also deliver devastating blows. Leclerc cites Senna as an inspiration, a driver whose ability to deliver superhuman performances in the high-pressure moments of qualifying he's already emulating. Poignantly he recalls discussing the Brazilian star with his dad when he was a child. Leclerc's father died, aged just 54, three days before the fourth round of the F2 Championship in Baku last year. His son went on to take pole position, win the first race, and finish second in the second. Not many 19-year-olds have that sort of emotional and mental maturity.
Leclerc, however, refuses to see it as anything particularly special. "It was difficult, because whatever I have done to train myself mentally could never prepare you for losing a father. I tried to deal with it in the best way I could. I asked myself what my father would have wanted if he had been there, and the answer I came up with very quickly was to do well. It was impossible to reset, but I tried to focus on the weekend, to get a good result for him. In every important step that has happened since he has gone, I wish he was here to see it. I think about him every day. But I'm pretty sure he's watching."
"I have serious problems saying anything positive about myself," he continues, "because I just want to get better than I am now. So, saying that I have talent is something that is just impossible for me."
Fred Vasseur, Sauber-Alfa Romeo F1 team boss, has known Leclerc since his formative years. Having run Nico Rosberg in the ART GP2 squad in 2005, and some guy called Lewis Hamilton in 2006 (whatever happened to him?), this is a man who can unpick talent forensically, even if his current driver won't. Preternatural speed is just the start of it.
"Being fast is the purpose of the whole business. These are 20 of the best drivers in the world, so of course they are fast," he says. "Charles has the skills to be a real leader of a team. What you can compare [with other great drivers] is the approach, the way they deal with issues that arise, and so far Charles is a very strong competitor. He's very charismatic, and he's able to bring the team along with him. In F1, when you have 1,000 people around you, it's not easy to motivate all the mechanics and engineers – it's a huge skill.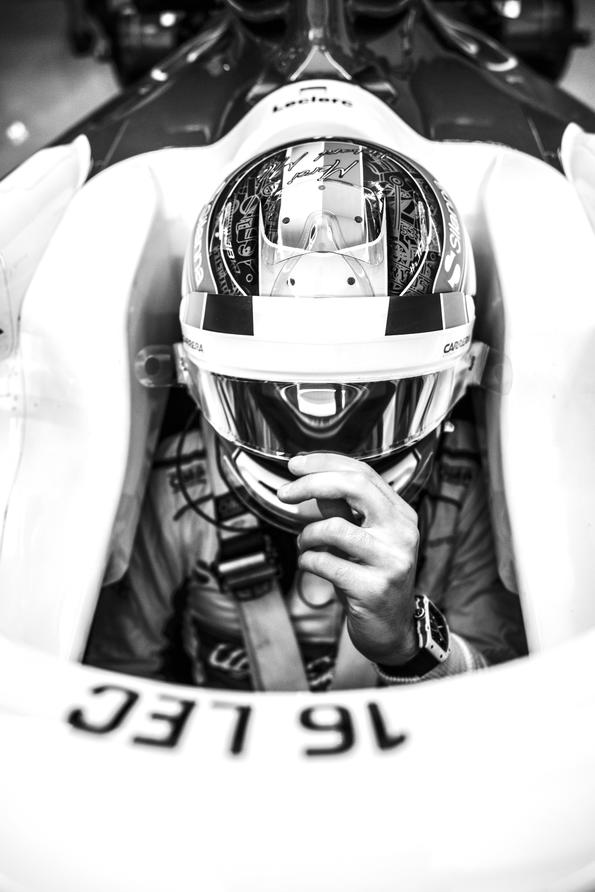 "I would love to see him flourish. But I also know the most difficult step is not the first one. It's the next one that counts. You can do whatever you want up to this point, but if you f**k up the next one… His move to Ferrari means that collectively we did a good job. It's part of our mission, but, of course, it's a bit frustrating to see him go."
No kidding. Leclerc took his time getting to grips with the car, but amidst the chaos of a brilliant Azerbaijan Grand Prix, you might have missed a lone Sauber-Alfa Romeo picking its way through the debris and shattered egos to a sixth-place finish. From then on, his progress has followed the sort of pattern set by the likes of Alonso, Schumacher and Senna, even if direct comparisons are impossible to make. Let's just say he outperformed his car – although the C37 evolved into an extremely impressive machine – and his team-mate. F1 noticed.
The late Sergio Marchionne decreed that the time was right to promote him to a Ferrari race seat, a decision that might have been derailed by internal politicking following the CEO's untimely passing in July, and Kimi Räikkönen's mercurial yet ultimately consistent performances. It adds yet more tension to the move. As it is, Leclerc will be the youngest Scuderia Ferrari driver since Ricardo Rodríguez drove for the squad in the 1961 Italian GP. It's partly preparation for the next era, in parallel with the arrival of George Russell, Lando Norris and the growing might of Max Verstappen, but also surely sends the sort of signal to Sebastian Vettel that Enzo Ferrari himself, the self-styled 'agitator of men', would have sanctioned. Yet Leclerc somehow glides past it all.
I mention Vasseur's observations to him. "In the teams I've been in, I've integrated quickly. I think I'm honest with the people I work with, and hopefully they like me. It was a challenge in F1 because there are so many people it's difficult to build a close relationship with everyone."
When I put it to him that it seems unlikely he would respond the way Verstappen did when he clashed with old foe Esteban Ocon while leading the Brazilian GP, he's pragmatic.
"It depends on the situation. I suppose I can be impatient. But when there is an incident like that, I'm not the sort of guy who reacts quickly in the heat of the moment, and you can say things you probably don't want to say… as I did with Magnussen, when I said he was stupid in Suzuka ['Magnussen is and always will be stupid. It's a fact. A shame,' he said over the team radio, after the Haas driver moved across him]. Although I still think he was wrong, I believe I think before acting."
But the human drama is part of what people love about F1, and we want more of it, I say. Liberty Media, F1's owner, wants more of it… "Of course. But I don't want to be what the people want me to be. I want to be the best of myself and what is best for me to perform on track. If that's not the personality the people want, I don't mind…"
Is he too young?
"No. Experience is a big thing in F1, but when it comes to speed, you either have it or you don't. If I don't have it next year, they won't wait for me to find it. If I do, well it's proof."
I ask him about the sport's notorious politics.
"To be honest, I've been warned a lot about it in F1. And I've been surprised since I arrived here, although it's a small team, so maybe that's helped, but there was no politics this year. For now, I've been impressed."
Leclerc finishes seventh in the race, after outflanking Daniel Ricciardo in the opening laps. Seventh, in fact, is almost disappointing. Two days later, he tops the timing sheets after testing 2019's Pirellis in his Ferrari.
The stage is set.