Electric
Top Gear's Top 9: electric motorbikes
All that electric fun doesn't just happen on four wheels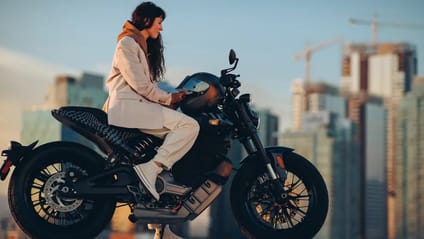 The world is going electric and all the brands we've known (and loved?) for decades are changing their tunes, some pianissimo and some very loud indeed. But car brands aren't the only ones at it. Bike manufacturers are doing similar. The success of motorcycle-passionate electric-only start-ups has greased the wheels for more established brands to get involved.

In a vision of the future, the sun bleaches down on all of our homes. Domestic battery packs get recharged by day and power our homes and vehicle by night, with no need to rely on oil, uranium and other nasties that could kill or pollute.

But it's 2023. If you can turn your mental logic and ears off to all the reasonable criticisms of such a flawed vision, ignore phrases such as 'lack of infrastructure' and 'range anxiety' and the fear that all homes will trip the nation's fuse box at peak demand, you might be able to appreciate these juicy two-wheeled electric things as much as us.

Advertisement - Page continues below

This unequivocally British electric bike is so deliciously good-looking, we're itching to get our paws on one. The brainchild of the Maeving team, based out of Coventry, the zero-emission Maeving RM1 is part of a mission to design and engineer desirable bikes that are better for the world. While the sales pitch is pretty compelling, it's the practicality as well as the nostalgic retro nod of the RM1 that really wins us over.

The RM1 can be configured with one or two batteries, each of which give 40 miles of range. With a top speed of 45mph, it's no cruiser, but it can be ridden with just a CBT licence. Conveniently, it charges from any plug socket and comes with a two-year warranty.

Untitled Motorcycles is a custom bike design outfit spanning London and San Francisco with a veritable cache of award-winning commissions under its belt. The XP Zero is another award winner and a remarkably stunning example of how electric biking could be. The unconventional styling is both aesthetically pleasing and practical. The weight of batteries matters as much, if not more, on two wheels as it does on four. The XP Zero weighs a mere 218kg, only 15kg more than the S2 Del Mar.

Untitled's zero build pushes 110bhp - twice what is considered acceptable for electric bikes - boasts 140lb ft torque and accelerates, in UMC's words, "as fast as a Ferrari F40". The XP Zero's 14.4kWh battery charges in two-four hours and if you keep things relaxed, you can squeeze as many as 160 miles of range per charge.

Advertisement - Page continues below

LiveWire is Harley Davidson's dedicated EV brand, much like Polestar to Volvo, or Cupra to SEAT. The follow-up to the Harley Davidson LiveWire is the LiveWire S2 Del Mar. Lighter and cheaper than the original, it's the first bike produced since LiveWire set up independently. The S2 Del has had such rave reviews, the 100-limit Launch Edition sold out in 18 minutes in the US.

That famous electric torque means a very nimble 0-62mph in less than four seconds. Sporting a 10.5kWh battery with a 59.6 kW electric motor, the S2 Del Mar has clever architecture, in that the battery forms part of the bike's overall structure, thus there's no frame - saving some 50 kilos. The aim is to get 100 miles out-and-about in town and for an every day commuter, this bike has been branded 'the goldilocks' of electric bikes. The standard version is expected to hit UK shores priced around £19,000.

The already popular KTM Duke core model is being duplicated for electric power. Pierer Mobility confirmed almost a year ago that it is working on an E-Duke. Expected to be based on sibling brand Husqvarna's E-Pilen, the two bikes are being built on the same platform but will sport differences.

The KTM E-Duke is expected to use a 5.5.kWh fixed battery pack, as opposed to the removable one on the E-Pilen. (Removable batteries are used for convenience, enabling riders to take batteries back to their apartments to charge, thus appealing for flat dwellers without the driveway needed for a charge point.) Both bikes, however, will have a similar frame and swingarm and the same 10kW motor - not hugely powerful, but enough to get about town and recharge quickly. The electric KTM streetbike has no set launch date, though there are rumours of an autumn release.

Expected to make its debut later this year, the Kawasaki Z EV is part of a duo, making up Kawasaki's new zero-emission range, which also includes a Kawasaki Ninja EV. In summer 2022, Kawasaki rolled out a prototype of the Z EV, while showcasing a Ninja Hybrid concept, at Suzuka 8 Hours and gave fans an unexpected demo run of the bike. Kawasaki has also been showcasing a concept propelled with hydrogen, so it's really throwing itself into this zero-emissions thing.

Kawasaki released details back in 2019 of an EV concept and spoke of ambitions of 'a mid-capacity style machine with more rider features' than current EV rivals. The electric motor is expected to have between 10-20kW output and uses familiar road bike suspension, akin to the Ninja 650. The Z EV, however, will be a more diminutive electric bike. The prototype used the fuel-based Z250's frame but in the 2022 unveil, Kawasaki's chief Hiroshi Ito said they'd have two 3kWh removable batteries which suggests a more 125cc-class equivalent. While details are sparse, by the looks of things, the Z EV will be one cool urban runner with Kawasaki's signature styling.
 

Synonymous with motorcycles since 1902, financial hiccups in the 1980s would see Triumph Engineering morph, under the shrewd supervision of John Bloor, into Triumph Motorcycles, the global success it is today. It's no surprise this major motorcycle manufacturer has been working on an electric prototype. Now in the final phase of testing, the Triumph TE-1 has all the specs to make it a commercial success.

The TE-1 has 100 miles of range and charges 0 to 80 per cent in 20 minutes, as part of a collaboration with Williams Advanced Engineering (WAE). That speedy recharging window is useful, as Triumph reckons it'll do 0-100mph in 6.2 seconds - the brand is aiming to develop the TE-1's performance to match the Speed Triple 1200. That's why the TE-1 pushes 175bhp, at a peak torque of 109Nm. Daytona 200 racer Brandon Paasch has been part of testing, says it's 'super-torquey', corners well and is really light. There'll be refined electronics, such as traction control and front wheel lift control, blah, blah, but focus on what matters, it sounds positively neck-breaking. We can't wait.

Advertisement - Page continues below

Ok, coming off the high that is an electric Speed Triple 1200, we realise that Honda's first foray into the two-wheeled market in Europe doesn't quite bring the drama in the same way. But you've got to start somewhere, right?

Though there's not a heap of detail available for the EM1 e. Suffice to say its top speed won't exceed 30mph, and Honda has confirmed that the moped will use its Honda Mobile Power Pack, a swappable battery system. As mentioned, swappable batteries aren't as ludicrous as it first sounds. Even though this is not your TV remote, switching batteries is a heck of a lot faster than dinner for two while you wait for a charge. Chinese brand, Nio, is seeing growing success in its home market with this battery-swapping business. It does mean though, that Honda has to develop battery swap stations to support the bike and that means mentioning the dreaded 'I' word again...no, don't, just don't.

Yamaha is another major motorcycle maker, with sporting accolades spanning decades. It, too, is starting at the cheaper end of two-wheeled electric mobility, with a scooter to rival the Honda EM1 e above. The Yamaha E01 is a 8.1kW powered bike with a fixed battery design and aims to help the company achieve its goal to reduce its own CO2 emissions by 90 per cent by 2050.

Styling is based on the Jin-Ki Kanno EV design concept, and the Yamaha E01's output will be comparable to 125cc bikes. The battery will be good for around 65 miles of cruising range on a single charge and though a full recharge will take five hours, you'll get 90 per cent in around an hour. This electric bike has yet to get a release date or a UK price confirmed but we think it looks the biz for any one of the late-night food delivery heroes regularly visiting the TG offices.
 

Advertisement - Page continues below

Indian Motorcycles eFTR Hooligan 1.2

Indian Motorcycles was founded in 1901 and claims to be America's first motorcycle company. So what the heck is it doing building an electrically assisted pedal bike? Diversifying its portfolio, we guess. And it's doing a pretty cool job at that. The Indian eFTR Hooligan 1.2 is a collaboration with e-bike builders Super73 and it's debatable whether it should be on this list, or one dedicated to electric push bikes. Like the bike/scooter/push-scooter/push-bike naming dilemma, everything's getting electrified so it's not especially easy to pigeon-hole anything. But then, you may ask, would we want to?

For the time being, the Indian remains here. Featuring a 960wH battery that offers a 75-mile range in ECO pedal assist mode, there are also tour, sport and off-road modes, making this particular push-bike sound more like a car than anything else on this list. It looks the nuts and can hit a top speed of 28mph, if you give it enough pelt in sport mode. Time to go and find a really big hill with a really steep ascent, hooligans.