Future Tech
Blimey, we'd completely forgotten about the hydrogen-powered V12 BMW H2R
BMW brought its record-setting Noughties hydrogen star to Goodwood last week
BMW reminded us of its history with hydrogen at the Goodwood Festival of Speed last week, and if we're honest we'd completely forgotten about the H2R concept.
It's a tricky thing to forget too. Heck, just look at it. BMW built the H2R with speed records in mind, so its aerodynamic shape is formed from carbon fibre-reinforced plastic bodywork on top of an aluminium spaceframe chassis.
Advertisement - Page continues below
This wasn't some hydrogen fuel cell eco-warrior either. It used a lightly adapted version of the 6.0-litre V12 engine from the 760i, which was given auxiliary air-cooling for the cylinders and modified injectors to enable it to run on liquid hydrogen. 
The result was 'more than 285bhp' according to BMW, which might not seem like much from such a monstrous engine, but in period the H2R set no fewer than nine different hydrogen speed records at the Miramas Proving Ground in France. The most impressive of those was probably the 'flying-start kilometre' record, with the H2R taking 11.99 seconds to complete the feat, which equates to an average speed of 187.62mph.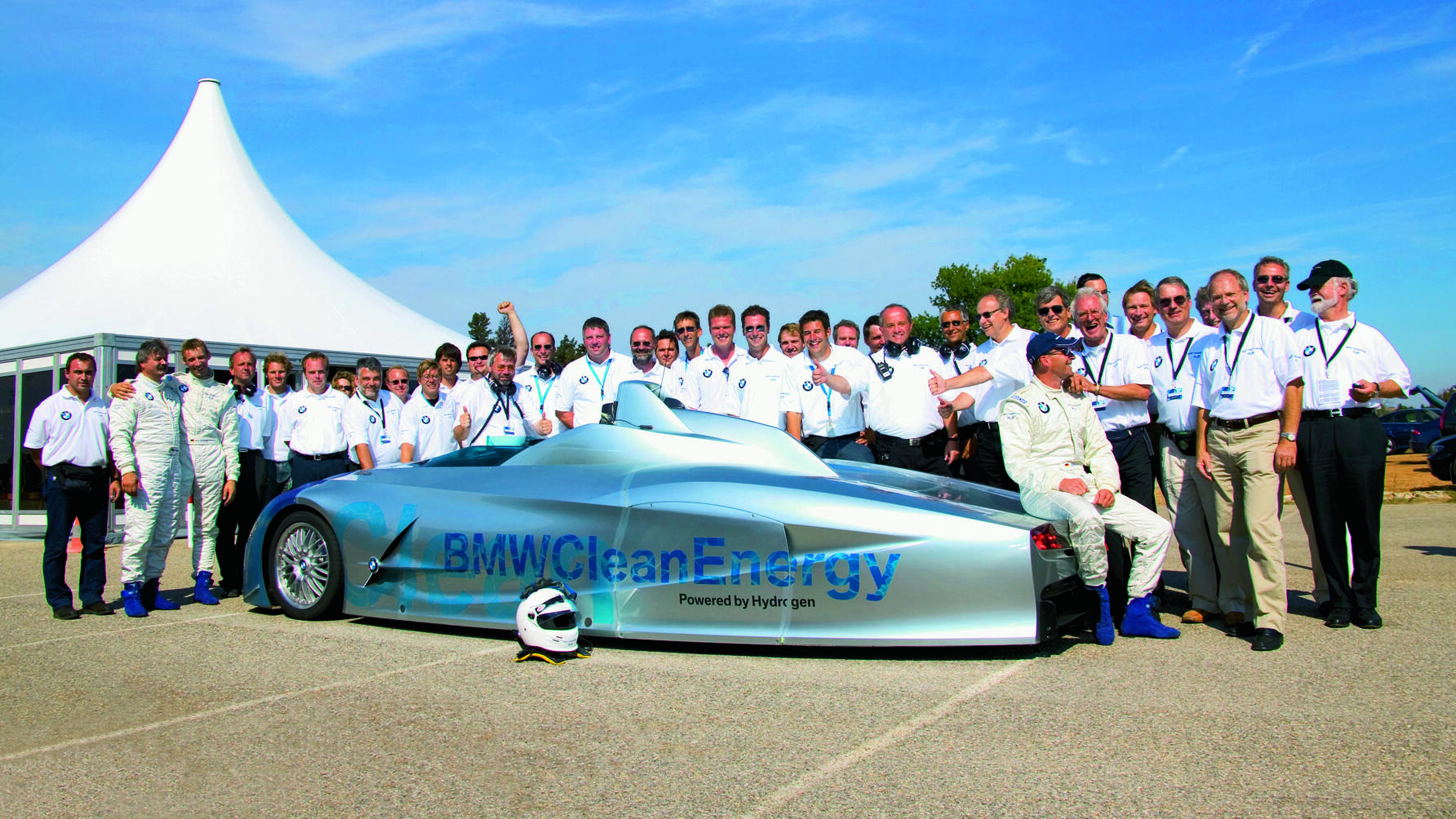 "Nine records marking the start into the hydrogen age. BMW technology has already come a long way. Now, together with politicians and the energy industry, we must turn our vision of sustained mobility into reality," said Professor Burkhard Göschel, a BMW Board Member back in 2004.
Ah. Of course, BMW did very briefly offer the E65 7 Series with a V12 that could run on both petrol and liquid hydrogen, but the experiment didn't really go any further than the 100 examples of that car. We have recently driven the fuel cell-powered iX5 Hydrogen prototype too, so it would seem that BMW has switched paths on its hydrogen journey. 
Advertisement - Page continues below
Top Gear
Newsletter
Thank you for subscribing to our newsletter. Look out for your regular round-up of news, reviews and offers in your inbox.
Get all the latest news, reviews and exclusives, direct to your inbox.