Hybrid
Top Gear's 21 biggest WTF moments of the decade
Remember James Bond's city car? Or when Peugeot reinvented the wheel?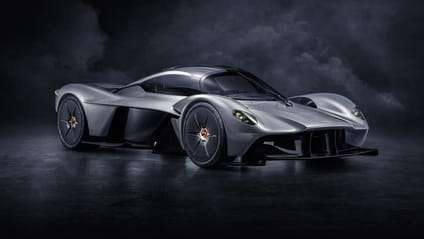 Ferrari's four-wheel drive V12 shooting brake hatchback (2011)

In 2011, Ferrari followed up its line of elegant two-door four-seater GT cars with the FF. And the world couldn't believe its eyes. A hatchback. A hatchback with four-wheel drive. A 4x4 hatchback with a V12 developing 651bhp. Now we've had years to get used to the idea – and seen it refined into the confusingly titled GTC4 Lusso – the FF doesn't seem like such a bonkers creation, but at the time, it was a massive shock. Coolest Ferrari of the decade? For us, no doubt. 

Advertisement - Page continues below

Aston Martin's rebadged Toyota city car (2011)

Oh yeah, remember in 2011 when Aston Martin thought that it could sell 4,000 leather-coated Toyota iQs to its faithful city-dwelling public? That's 4,000 a year, for £30k a pop. Find the Cygnet next to the Microsoft Zune in the dictionary under 'what were they thinking' commercial flops. Unless you're looking for a cheapish, second-hand runaround with a really posh-smelling seat.

The Lamborghini Urus concept (2012)

Hah! Lamborghini is going to make an SUV! How bizarre and out-of-sync with the brand, and the environment. No-one will want a two-tonne family-ghini, will they?

Advertisement - Page continues below

Anything Tesla-related, especially the Cybertruck (2012-2019)

'Fart mode', in-car games, a truck that looks like it's from the future (where crash tests don't exist), a truck and a supercar that promise so much but still don't exist in production form... pretty much any and every time Elon Musk has opened his mouth – or his Twitter account – we've been served a surprise from Tesla. And love it or hate it, the industry has been massively shaken up as a result.

Peugeot reinvents the steering wheel (2012)

Normally, anything classed as 'a good idea' in the car industry is shamelessly copied. Even if it's a terrible idea. Think massive grilles, or huge touchscreens. Stupidly heavy SUVs that can't off-road. Coupe-SUVs. See what we mean. The car industry loves a gimmick, even if it demonstrably sucks. 

But no-one has copied Peugeot's cabin design trend, first seen in the 208 back in 2012. The tiny steering wheel and instruments atop the dashboard is purely a Peugeot exclusive. And it can't be because Peugeot buyers all hated it – because satisfaction surveys prove customers love the curious set-up. Even if it's a tad tricky to find a comfy driving position…

Lewis Hamilton jumps ship to Mercedes (2013)

After winning the F1 World Championship at only his second attempt in 2008, Lewis Hamilton sensationally left McLaren in 2013 and swapped to Mercedes F1, which had bought out the defunct Honda operation (via world champs Brawn GP) and won precisely nothing in the sport's modern era. Wonder whatever happened to that promising British talent?

Porsche killing manual gearboxes in extreme 911s (2013)

In 2013, Porsche told us that people who wanted a 911 GT3 needed fast lap times and fast shifts and that means there was no market for a slow manual gearbox. End of days stuff: PDK-only was the way forward. Except, lots of enthusiasts did want the slower manual box, and after selling a few 911 Rs to nicely prove the point, a stick-shift went back in the GT3 in 2017. Phew.

Advertisement - Page continues below

DS becoming a thing (2014)

Citroen going premium? An absurd idea. Citroen plundering the back catalogue for an iconic name and then dressing up oily bits in new bodies to go premium under said iconic name? Now there's a plan.

Infiniti's drive-by-wire steering (2014)

Infiniti has now departed the UK market, which you didn't notice, because these things sell slower than second-hand charity shop pants. One of the reasons for Posh Nissan's demise was the refusal of the UK buying public to leave their Audi A4s and Mercedes C-Classes for stuff like this: the Q50. The badge was a problem, but so too was the bad press brought about by its steer-by-wire system.

Instead of a mechanical connection between the steering wheel and the front tyres, computers told the font axle how much to steer by when the driver turned the wheel. And yet, fearful of any kind of computer-says-no moment, Infiniti also installed a back-up steering column which would activate in the event of a glitch in the matrix.

So, it didn't save any weight, it added complication, and the sense of unease when tipping a Q50 into a medium-speed bend was… clenchy. It's probably still the future of steering, though.

Advertisement - Page continues below

BMW's M boss moves to Korea (2015)

The head of BMW's M Division, Albert Biermann, decided that instead of setting up rear-wheel drive V8 megasaloons full of pedigree, he'd like to go to Korea and teach Hyundai and Kia how to make drivers' cars instead. And maybe he just prefers kimchi to sauerkraut.

In 2015, that seemed like a pretty bizarre call. In 2019, having driven the likes of the Kia Stinger GT-S and Hyundai i30N, we're sure Albert is the one smiling now. 

Dieselgate (2015)

When the news began to break in September 2015, that Volkswagen had taught its diesel engines to recognise when they were being emissions test and hide the monumental quantities of NOx bring emitted under normal conditions, the scale of the deception beggared belief.

It's estimated 11 million cars were sold with guilty engines, in Volkswagens, Skodas, Audis, Porsches and so on. Meanwhile, it was discovered that VW had been part of a group including Daimler and BMW who tested the effects of tailpipe emissions on live monkeys. Many millions have been spent on compensation to date, and VW is now launching a range of clean, green electric cars, insulated from the diesel backlash.

So the question we're left with is: did VW's reputation pretty much get away with dieselgate?

Aston Martin teams up with Red Bull Racing (2016)

James Bond's car marque of choice, in bed with an energy drink? What's going on? The tie-up was, mercifully, about more than F1 marketing, and led to Project Nebuma – or the Valkyrie hypercar, as it's now known. An Aston Martin by Adrian Newey – it's surely one of the most anticipated cars of the next decade.

Land Rover Discovery's wonky numberplate (2016)

Three years later. We're still not okay with it.

Dodge gives the world a wheelie good drag car (2017)

Selling the general public a road car that can perform a wheelie. That can't be done. But no-one told Dodge that, did they? The Demon offers 840bhp, a drag-spec transmission, drag tyres, and a stripped-out cabin. And it will, we can confirm, put daylight under its front tyres.

Shock new Ford GT (2017)

Ford kept this spaceship completely under wraps by hiding the prototype model in a secret room and only giving a select few of its 12 most trusted employees the key. So, when it 'dropped' to use the modern parlance, at the 2017 Detroit motor show, it caught the whole world on the hop. 

Fancy a guided tour of this most secret of design studios? Of course you do. TopGear.com's got you covered.

Koenigsegg sets a new road car speed record – on a road (2017)

Yes, it's now been superseded by Bugatti, but in 2017, we were bowled over by the bravery required to take an Agera RS to 277mph on a public highway. A closed one, we hasten to add. What a decade it's been for speed.

Renault-Nissan boss gets arrested on a private jet (2018)

Carlos Ghosn forged an empire by building alliances between weaker brands and using the resulting cost savings and hive mind to take on the might of VW and Toyota. Then, in 2018, he was arrested in Japan, after a secret year-long investigation into financial impropriety. His trial will be a major event in motoring corporate history, and may well redraw the map of the global car industry. 

A Corvette with its engine in the middle (2019)

Ok, boomer. Your sports car is now a supercar. The news became official this year, but the secret had already been out for a couple of years. Still quite a lot of online butthurt about it though.

BMW begins its hideous grille odyssey (2019)

One day, we'll look back on this wretched era of BMW design and chuckle at how woefully misguided it was for a brand with some of the most recognisable cues in all of motoring design to defecate on its heritage and reputation with such a shoddy policy over-exaggerated horror-grilles. We hope that day is soon, but with the new 4 Series promising even more horrendous schnozz, we fear BMW's sketchbook nightmare will get a lot worse before it starts to get better.

Ferrari confirms it'll build its own SUV (2019)

Sort of a shock and yet depressingly predictable at the same time, this one. The 'Purosangue' project (that's Italian for thoroughbred – they doth protest too much) is said to reinvent the SUV concept in a very Ferrari way, but we can't help feeling that the only way we'll learn to love the Ferrari SUV is when its profits pay for a new family of 'proper' sports cars straight outta Modena. 

The seventy-two grand hot hatch (2019)

Is it just us, or has the latter part of this decade been a rather controversial one, in the world of cars? 2019 itself has been a humdinger of a year for provocative announcements. Like a Renault Megane with no back seats and a price tag rivalling a Porsche Cayman GT4's. Fortunately, there's much more to the RS Trophy-R than that – it's an all-time high-watermark for a track-focused hot hatchback. And deservedly Top Gear's Performance Car of the Year 2019.