List
Happy birthday vRS: a brief history of (quite) fast Skodas
It's been 20 years since the first Skoda vRS landed in Britain. Here they all are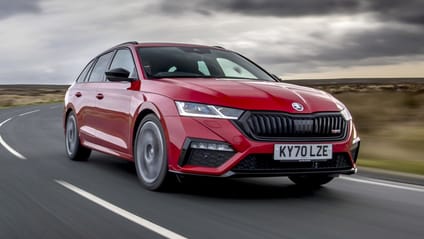 Octavia vRS Mk1 (2001-2006)

Apparently it's because Ford's lawyers had a problem with Skoda sticking RS badges on its fast-ish road cars (like it does everywhere else in the world), that in the UK we get 'vRS' instead. The Octavia vRS arrived first in 2001 – it's 1.8-litre turbocharged engine produces 178bhp, which made it the most powerful road-going Skoda ever at the time of its launch. Only cost £15,535 too. Nowadays that only just buys you an entry-level Fabia. 

Advertisement - Page continues below

Fabia vRS Mk1 (2003-2007)

The Fabia vRS was weird for two reasons. First, it had five doors where many of its rivals had three. Second, it had a 1.9-litre diesel engine with more torque than a contemporary Porsche Boxster. Skoda tells us "demand comfortably outstripped supply" in the first two years of production. 

Octavia vRS Mk2 (2005-2013)

You're looking at the first production Skoda with more than 200ps (that's 197bhp in old money). Available with 2.0-litre petrol or diesel power, you'll no doubt recognise the second (and third, and now fourth) generation Octavia vRS from all those Cop Police Camera Action Kill programmes on Channel Five. A favourite of undercover cops for its unassuming looks and turn of speed. 

Advertisement - Page continues below

Fabia vRS Mk2 (2010-2013)

The second (and final) coming of the Fabia vRS was more closely aligned with the Polo GTI this time around. The clever 1.4-litre engine was turbocharged AND supercharged to deliver 178bhp, and paired with a seven-speed DSG. 0-62mph in 7.3 seconds is only half a second slower than today's crop – the Hyundai i20N and Ford Fiesta ST to name but two. 

Octavia vRS Mk3 (2013-2020)

Petrol or diesel, manual or auto, hatch or estate, front or all-wheel drive – the third-gen Octavia vRS came in many forms. Our favourite of those forms was the vRS 230, which had all the goodies (sports exhaust, diff, 227bhp) from the Performance Pack Golf GTI. 

Kodiaq vRS (2019-present)

Skoda's first 'performance' SUV. The Kodiaq vRS was a curious thing – it arrived in the UK in limited numbers in 2019, with the most powerful diesel engine ever fitted to a roadgoing Skoda. The twin-turbo 2.0-litre made 235bhp, helping the seven-seat family SUV hit 62mph in seven seconds flat. The legendary Sabine Schmitz flung one around the Nürburgring in 9mins, 29.84 seconds – a record for a seven-seat SUV. A facelifted car, now powered by same 2.0-litre petrol as the Octavia vRS, arrives this year. 

Octavia vRS Mk4 (2020-present)

The current-gen Octavia vRS, now available with plug-in hybrid power for the first time. The regular petrol-powered car remains the one you want, mind. Ideally as an estate; as all-rounders, these things are superb. Click right here to read our review. 

Advertisement - Page continues below

The first all-electric vRS is coming soon, and it'll look a bit like this. Closely related to the Volkswagen ID.4 GTX, the Enyaq vRS is expected to use twin e-motors for upwards of 300bhp and 0-62mph in a shade over six seconds.