TG's guide to Japan
Toyota Supra 2.0 vs Porsche 718 Cayman vs Jaguar F-Type
As a dinky 4cyl engine is dropped in the GR Supra, two established rivals lie in wait
Believe it or not, it's five years since Porsche lopped two cylinders from its base Cayman, tacked on a 718 badge to evoke some history and ignited the bottom half of the internet in the process. A lot has happened since early 2016 – a  lot – but suffice to say a slightly grumbly sounding Porsche quickly became a minor inconvenience rather than an outright hate crime. Tiddly 2.0s have sat amidst the majority of Caymans sold since, even now the option of a flat-six has returned further up the range.
Toyota is expecting a similar result for its new GR Supra 2.0 – for the comments section incandescence to subside and 60 per cent of Supras sold in Britain to have just four cylinders. Given how irked the 2JZ diehards were by a BMW-sourced 6cyl, it's hard to see how this 254bhp 4cyl turbo – shared with the new BMW 128ti hot hatch as well as a mid-range Z4 – can possibly do any more damage.
Advertisement - Page continues below
Then there's the Jaguar F-Type P300, a slightly unemotive suffix informing us this one has 300PS – or the same 296bhp as the Porsche – produced by a 2.0-litre four-cylinder turbo shared with the XE saloon. It launched almost four years ago as the least skittish and most nimble F-Type yet, and it's here in facelifted form. But weighing in at over 1.5 tonnes it's the porkiest (and slowest) car here, as well as the most expensive – the idea of a First Edition trim feels a bit of a stretch on a car that's basically seven years old, and it helps lift the price almost £20k north of the Supra's as tested. A tough battle lies ahead.
We're all magpies at heart, so let's start with the newest, shiniest one. The car whose Ice Grey metallic is the least austere of a colour palette for this test otherwise reflective of the national mood upon hearing the phrase '7pm briefing'. The Supra easily wears the most eye-grabbing shape of our group, too. Whether it's pretty is a subjective matter, but it melts the design conservatism of the Cayman into the misty backdrop. Will it – and its numerous fake vents – age well? Perhaps not. But for now, and likely the duration of a three-year lease deal, it's as visually arresting as cars three times its price.
So when you poke the starter button and a hot hatch's engine burbles into life, it comes as somewhat of a shock. The Supra 3.0 stands out in a competitive field as a brooding, muscular sort, trading outright dynamism for the demeanour of a shrunken GT. But slicing off two cylinders has saved 100kg and right at the front axle, doing wonders for weight distribution. While it takes a step back in terms of character, it strides forward in athleticism.
The Supra easily wears the most eye-grabbing shape of our group
Advertisement - Page continues below
Here's a Supra you'll confidently push hard into corners, with an incisive front end followed by a rear that'll happily – and accessibly – cut shapes if you've loosened the DSC. Which I think you will. There's still a GT car vibe pervading the whole thing, not least because its comparatively dinky 18in wheels give it the least fussy ride of our trio, but there's a sense of humour running through the Toyota. The engine sounds a bit reedy when really revved but with eight short gear ratios and peak torque from 1,550 to 4,400rpm, you can move pretty briskly without having to work it overly hard.
Leave decision making to the gearbox and it'll slink up to sixth gear in 30mph zones, though take charge yourself and this eight-speed auto is keen, feeling more at home here than a similar setup does in the new M3. Indeed, plenty of the German seasoning on this car simply makes it more competent – the stability control's midway setting mimics M Dynamic mode and the touchscreen system adopts all the most logical bits of iDrive while ignoring the ghastly gesture control.
It feels like a smart little sports car, but how does it compare with the benchmark? If you're holding your breath in hope of a dramatic plot twist then I'm sorry to inform you the Cayman just feels as instantly brilliant as it always does. It probably scores highest in the engine start-up test, too: at idle, it does a decent impression of a Porsche flat-six, and if you keep the sports exhaust off, that sensation largely continues with speed. It's boomy where a six would sing, but what irks more is the response of the engine, and the fact bugger all seems to happen below 3,000rpm. Thus the lightest and quickest car of the group on paper actually feels the most sluggish in the real world – unless you're working its twin-clutch gearbox hard.
The PDK's lightness of touch illuminates this engine's duller traits and given how much it likes revs, I'd heartily suggest being in the mere 15 per cent who specify this car with a six-speed manual, saving £2,000 in the process. You'll be changing gear a lot, so you might as well enjoy pleasurable pulses up and down your forearm as you do it (worth noting that this is the only car here offering a choice of transmissions, too). Its flat-four manages to sound and feel relatively expensive in this company, too, the 718 getting the only bespoke engine of our group while being the only one to place it behind the driver.
Top Gear
Newsletter
Thank you for subscribing to our newsletter. Look out for your regular round-up of news, reviews and offers in your inbox.
Get all the latest news, reviews and exclusives, direct to your inbox.
Which means it can't help but be the sharpest car to drive. A slightly scarred Cayman is still a Cayman; sprain Lionel Messi's ankle and he'll continue to jink through most defences with nary a concern. The steering feel is broadcast in UHD beside the others, and its slim 30kg weight benefit over the Supra feels larger in reality. My experience of running a base (manual) 718 in the Top Gear Garage suggests you'll make peace with that engine in mere weeks, unable to stem the tidal wave of satisfaction that comes from a car so flipping good to drive also possessing two boots with more combined luggage space than a Golf. It's got the highest quality and most ergonomically pleasing interior, too, though it's the least 'GT' of our trio, with a heck of a lot of tyre roar made all the more evident by the fact that the engine sits below 2,000rpm on the motorway like the Supra's and F-Type's.
If it's serenity you crave, then the Jaguar is the best place to find it. Mark its talents with a purely objective score card and it comes up well – lighter and more agile than the wild F-Types that have gone before it, with its cuddlier torque figure leading to a notably more trustworthy chassis beneath. It's just a bit undramatic as a result, not helped by the plainest engine here and the least appealing sound augmentation when the binocular button's lit. It handles so neutrally whatever you throw at it, which ought to be commended – this is a car that appears to neither understeer nor oversteer, exhibiting utmost traction and precision. We're just used to Jags with more swagger. If you want a dose of history without the histrionics, though, it's perfect; that E-Type inspired cab-back stance is as delectable as ever.
Believe it or not, we first saw the F-Type Coupe's shape 10 years ago on the Jaguar C-X16 concept. It has aged wonderfully, and when this P300 sat beside a highlighter-yellow BMW M4 outside my flat, the neighbours could only coo over the cloudy grey Brit. It's joyously unadorned next to the slashy, fussy Supra, suggesting it'll be the far more appealing object in another decade's time.
The drama continues inside, with the most visually interesting cockpit of this group. It's usually a bit naff using the word 'cockpit' to describe an interior, but the Jag's joystick gear selector, wraparound console and slender windscreen make it hard not to indulge. All of which is a positive spin on how the heaviest, widest car here is also the most claustrophobic. Quite a trick, and one which makes it the hardest to place down a narrow B-road.
But it's the easiest to place last in this test. It's got surface-deep star quality – this is a £100k V8 sports car punching down, whereas the other two find their roots at half the money – but pressing the starter button nibbles away at the illusion just a little too much. It's the car most affected by its cylindectomy. Jaguar's 'fully electric by 2025' announcement earlier this year immediately placed a sell-by date on the petrol F-Type and if you've hung on this long to buy one, wouldn't you rather have a lightly used V8 and see it out with a bang?
The other two are much closer together. Surprisingly so: the gap between four-cylinder Supra and Cayman is significantly narrower than when you throw the full-fat six-cylinder versions in the ring. Is that because the Toyota has become smarter, or because the Porsche has become less mesmerising? The truth is a combination of the two, but there's no doubting that if you're sold on the looks and want something fervently different to the crowd, the Supra wears its simpler 2.0 form well, even if its lease saving over a 3.0 might be as slim as £20 a month.
The Cayman, though, is insurmountable. Sometimes it seems a little studious – a peculiar mix of class swot and sports team captain where the Supra's happier to sacrifice some grades to get into a bit of mischief. But ultimately the 718 is a triple threat: it's the best to drive, nicest to sit in and easiest to own, the latter a true achievement for the only mid-engined car present and proof that the other two could perhaps work their more traditional layouts better. Porsche wins again, but by a smaller margin than it has become accustomed to.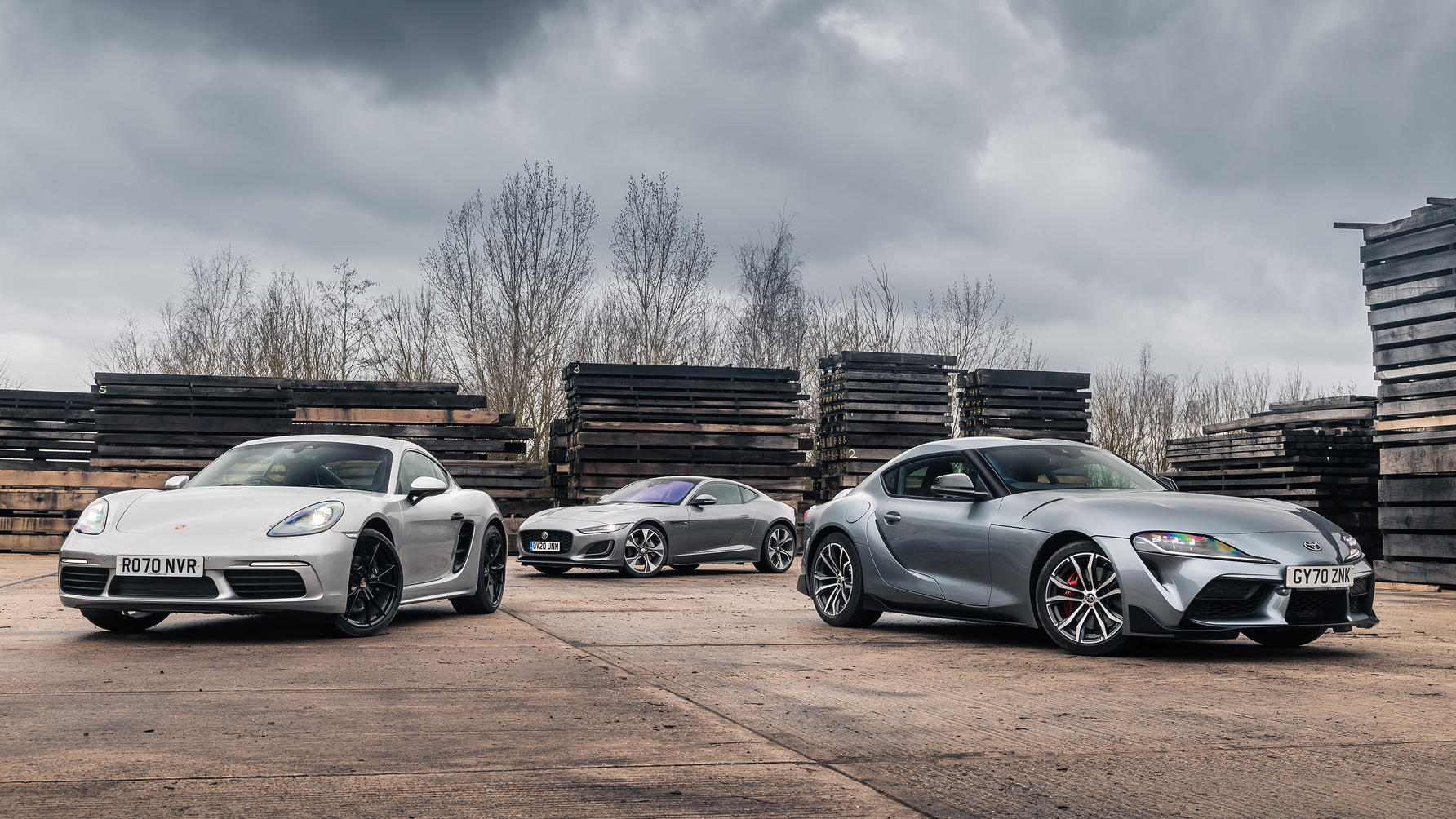 Porsche 718 Cayman PDK – 8/10
£46,790 otr/£57,817 as tested
2.0 4cyl turbo, 296bhp, 280lb ft
0-62 4.7secs, 170mph
31.4mpg, 203g/km
1365kg
RWD, 7spd twin-clutch
Toyota GR Supra 2.0 – 7/10
£45,995/£46,705
2.0 4cyl turbo, 254bhp, 295lb ft
0-62 5.2secs, 155mph
38.7mpg, 167g/km
1395kg
RWD, 8spd auto
Jaguar F-Type P300 – 6/10
£54,510/£66,335
2.0 4cyl turbo, 296bhp, 295lb ft
0-62 5.7secs, 155mph
29.8mpg, 216g/km
1520kg
RWD, 8spd auto
Photography: Jonny Fleetwood