Top Gear Advice
The beginner's guide to Land Rover
Everything you ever wanted to know about Land Rover, right this way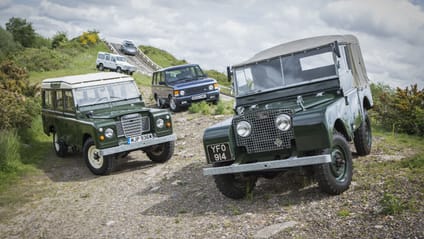 Who's Land Rover and when did it start making cars?

Soon after WW2, two brothers who worked at Rover identified the need for a rugged vehicle for agricultural use. Luckily they were in a position to make this happen, since Maurice Wilks was chief designer at the firm and his brother Spencer was managing director. Influenced by the Willys Jeep, they built a prototype in 1947 and launched the first Land Rover in 1948.

Land Rover was purely a model name for the next 30 years. It wasn't until 1978 that it became a separate company in its own right, although still under the umbrella of British Leyland. It's journey from there saw it sold to British Aerospace on the breaking up of BL in 1988 and then on to BMW in 1994, Ford in 2007 and, most recently, to Tata Motors in 2008. 

Advertisement - Page continues below

Where are Land Rovers built, and how many does it build a year?

Let's start with the Solihull plant outside Birmingham, as that's been Land Rover's home from the very beginning. Today it still builds the Range Rover, Range Rover Sport and Velar. When the Freelander came along in 1997, a second production facility was opened at Halewood on Merseyside, and today that facility produces the Freelander's successors, the Discovery Sport and Evoque. 

Further afield, those two models are also built in Brazil, India and China (the latter through a joint venture with Chery). And what of the Discovery and new Defender you might be thinking? In 2018 Land Rover opened a new plant to build those at Nitra in Slovakia. That's right, the new Defender isn't built in the UK.

Now, if viewed another way, it's likely that Land Rover has actually had more assembly plants than any other company. Throughout the Sixties and Seventies, when Land Rovers were the vehicle of choice for the planet's toughest terrain, the firm used to ship complete knock down (CKD) kits out to some areas, especially across Africa, for the cars to be assembled locally. 

In total Land Rover produces around 400,000 cars per year, the biggest sellers in 2019 being the Discovery Sport, Range Rover Sport and Evoque, each accounting for over 80,000 sales. 

What cars does Land Rover build?

The model range is currently seven strong. Starting at the bottom we have the Discovery Sport, a seven seat family SUV. That comes in a more stylish, less practical bodyshape as the Evoque. Continue along the more style-led leg of Land Rover's family tree and you get to the Velar, and above that the Range Rover Sport and eventually the flagship Range Rover. 

Along the more practical, capable branch, beyond the Discovery Sport we have the full-house Discovery and then the new Defender. Which we just happen to think is far cooler than any of the models that are actually meant to be cool.

Advertisement - Page continues below

What's the cheapest car Land Rover builds… and what's the most expensive it has ever built?

It is actually possible to buy a Discovery Sport for under £31,000, and a base Evoque from only about £1,000 more than that. Whether you should or not is another matter. Because no, you shouldn't. Unless you want to commit residual value suicide you need 4WD and an automatic gearbox and that means you're up around the £36,000 mark…

Now, at the other end of the scale it's possible to spend £180,000 on a long-wheelbase SVAutobiography Range Rover. Same money as a Mercedes-Maybach or Bentley Bentayga. Ouch. But then this is the company that tried to remove the back doors from a Range Rover and charge twice as much for it. In 2018 the firm unveiled the SV Coupe, limited to just 999 examples. Just a year after that, the Special Vehicle Operations (SVO) project was cancelled, with the firm citing the need to invest in the regular product range. 

What's the fastest ever car Land Rover has built?

Speed is not really a key attribute. But then in 2015 along came the Range Rover Sport SVR, powered by a supercharged 5.0-litre V8 with 542bhp (recently enhanced to develop 567bhp). It's capable of 174mph and makes a sound that can be heard across entire mountainsides. 

There's another way of looking at speed: competition. Now, in rallying, the toughest event on the planet was the Paris-Dakar. The first event was in 1979 and what car won? That's right, a Range Rover. We'll ignore the fact it was driven and run by a French team.  

What's been Land Rover's best moment?

We'll nominate the Camel Trophy. This was an exploration event that started in 1980, but after a year of using Jeeps, they switched to Land Rovers. It was an extreme test that saw cars driving through the jungles of Borneo, surviving in Siberia or the Australian Outback, or tackling the Amazon rainforest. A competition at heart, as a marketing tool for Land Rover it did more than anything else to establish the firm's reputation for ruggedness. 

In 2000, after the Camel Trophy had run its course, Land Rover set up a similar contest, called the G4 Challenge, which ran for the next decade. Our favourite fact? The winner of the 2003 event, Rudi Thoelen, a Belgian fighter pilot, rejected the first prize of a brand new Range Rover. Instead he asked for (and was given) two Defenders.

What's been Land Rover's worst moment?

Land Rover has actually had a rough ride in recent years – although you wouldn't know it from the products it's been turning out. In 2018 it cut 1,500 jobs, and in early 2019 a further 5,000 from its UK workforce. This was due to uncertainty around Brexit, a downturn in Chinese sales and a slump in demand for diesel. This is ongoing and as yet Land Rover and partner firm Jaguar have little electrification strategy in place under their current Tata Motors ownership. 

Advertisement - Page continues below

What's Land Rover's weirdest moment?

Land Rover invented the premium SUV as we know it: the Range Rover. It's been around since 1970, but here's a weird one for you. Land Rover almost invented the SUV 20 years earlier. In the early 1950s the firm realised there was a demand for a more upmarket Land Rover, so they built a few prototypes on the chassis of a Rover P4. But that's as far as it went. The project was shelved in 1958. 

What's the best concept Land Rover built?

It's got to be the Range Stormer, the 2004 concept shown at the Detroit motor show, which previewed the Range Rover Sport launched a year later. A three-door powered by a 370bhp V8 and designed to tackle the Porsche Cayenne, there was no doubt it was going to make production in some guise, nor that it would fundamentally give Land Rover a new, more dynamic avenue of attack. 

Advertisement - Page continues below

Tell me an interesting fact about Land Rover.

Let's go back to the first Land Rover ever created. It was designed to help on the farm, and what other vehicle do you find on a farm? A tractor. And where does a tractor have its steering wheel? In the middle. So too did the original prototype Land Rover, which is known to this day as the Centre Steer. Unfortunately, that first ever car is believed to have been broken up soon after Land Rover production began in 1948.