Electric
Here are 10 of the best electric vans on sale today
Our round up of the finest eco-friendly vans for your forward-thinking business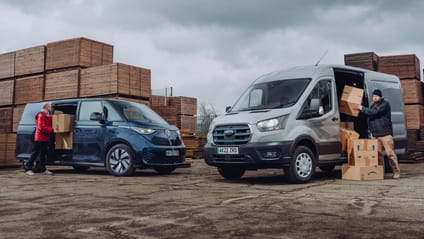 We'll ease ourselves in with a name that's surely familiar to everyone – the Ford Transit. It's been around since 1965 and now electric propulsion ensures it'll live long in to the future. Available in two height (medium and high) and three length (medium, long and extended) variations, it offers between 9.5 and 15.1 cubic metres of cargo space depending on spec. Plenty, in other words.

Under the skin it gets a 68kWh battery mated to either a 180 or 265bhp electric motor, with a claimed range of up to 196 miles. We've spent a fair amount of time behind the wheel and reckon it's the best driving Transit yet, with its quiet and torquey electric motor a far cry from the diesels of time gone by. And Ford's not done yet: there's a smaller e-Transit Custom and the littlest e-Transit Courier on the way, too.

Advertisement - Page continues below

Volkswagen ID. Buzz Cargo

Want something a little more chic for tootling around the city? Try the Volkswagen ID. Buzz Cargo for size. Based on the passenger ID. Buzz that's got plenty of people talking, from the outside the most noticeable difference is the lack of windows, but inside it gets a fixed partition and the cabin adopts a more durable feel with its plastic dash, rubber floor, extra storage and suchlike.

Naturally, the Cargo's loadspace is significantly smaller than the e-Transit's at 3.9 cubic metres, but VW tells us that's still enough to load two pallets. Under the bodywork it's identical to the Buzz MPV too, with its 77kWh battery paired to a 204bhp electric motor and good for up to 256 miles of range, while it drives just as neatly as its passenger-ferrying counterpart too. We approve.

You'll recognise the name, but what you might not know is that Renault first introduced an electrified Kangoo way back in 2011. A lot has changed in the world of battery-powered vehicles since then, with a new and improved version arriving to cope in 2021. 

Now called the Kangoo E-Tech and available in two body lengths, it boasts a 45kWh battery mated to a 121bhp electric motor for a range of up to 186 miles. Renault claims a maximum load volume of up to 4.2 cubic metres, payload of up to 764kg, and towing capacity of up to 1,500kg, while it's also available with a passenger bench seat with a central folding backrest that turns into a handy work surface. Plus there's almost 44 litres of storage in the cab - perfect for those empty coffee cups.

Advertisement - Page continues below

You're not short of options when it comes to small sized electric vans – and to tell you the truth, we could have chosen from any of the Citroen e-Berlingo, Fiat e-Doblo, Peugeot e-Partner, Toyota Proace City Electric or Vauxhall Combo Electric from within the Stellantis et al camp, all of which share the same EMP2 platform, same 50kWh battery and same claimed 171-mile range.

We've gone for the e-Partner, however, because it gets the same iCockpit that you find in Peugeot's car range, with compact steering wheel and high-mounted instrument cluster. Some people love it, some people loathe it, but it's at least got style on its side compared to any of its other slightly uninspiring Stellantis siblings. Who says vans have to be boring?

What about if you need something slightly bigger? Again, you've plenty of choice from Stellantis alone – take your pick from the almost identical Citroen e-Dispatch, Fiat e-Scudo, Peugeot e-Expert and Vauxhall Vivaro Electric – which all get the same platform and same choice of 50 or 75kWh battery offering up to 142 or 205 miles of range respectively.

This time though, we've gone for the full-size Proace Electric, largely due to the extended warranty offered compared to its almost identical competitors (yep, the Toyota and Stellantis platform sharing for vans stretches right across the range). That's because every Toyota comes with a three-year manufacturer warranty, with an additional year added with every qualifying service up to 10 years or 100,000 miles, as standard. And as the saying goes, a tradesman is only as good as his tools…

Before the Ford e-Transit came along the Fiat e-Ducato was arguably the pick of the large electric van bunch, and it's still got plenty to offer. Available as both a chassis cab and panel van, in latter guise it's available in three lengths and three heights, while Fiat says it offers a whopping 17 cubic metres of cargo space and a payload capacity of up to 1,900kg, spec dependant. 

It comes with a choice of either 47 or 79kWh battery mated to a 121bhp electric motor, for up to 142 or 230 miles of range respectively. Fiat reckons the e-Ducato offers real world fuel savings of approximately £13k compared to the diesel Ducato over 95,000 miles, whilst servicing costs are reportedly around 40 per cent lower. Plus, your eco-conscious peace of mind comes free of charge.

When is a van, not a van? When it's the Renault Zoe Van E-Tech, which really is only a van in the lightest sense of the word. It sees the rear seats removed and a mesh bulkhead added which extends to the edge of the cargo area, while for added security the rear windows are fixed in place and are covered in black vinyl to protect from any prying eyes. And that's about it.

But that also means it retains all that we like about the city car. It gets a 52kWh battery mated to a 107bhp electric motor and can manage up to 245 miles on a single charge – more than anything else on this list – and because it retains the two rear doors, getting items in and out of the 1.2 by 1.1 metre load bay is as easy as can be. Any small eco-minded business could do a lot worse.

Advertisement - Page continues below

Looking for something a little more premium to represent your business? Mercedes offers both the medium-sized eVito or the larger-sized eSprinter, and while both have recently received much needed updates to improve range, we won't see the new eSprinter until the end of the year.

Which explains why we're focusing on the eVito here. While previously it came with a 41kWh battery good for a rather pitiful 92 miles of range, its refresh saw the battery upgraded to a 66kWh unit for a far improved 162 miles of range. Available in two body lengths, Mercedes claims a maximum load volume of 6.6 cubic metres and a payload capacity of up to 807kg. Sure, it'll likely cost you a premium over any mid-sized rivals, but you can't put a price on image.

The Citroen Ami Cargo remains every bit as adorable as the regular two-seat Ami it's based on, but ditches the passenger seat in favour of an extra 260 litres of storage space, bringing total load capacity to 400 litres. That's 20 litres more than you get in your Volkswagen Golf's boot, FYI. 

Measuring 2.41m long, 1.39m wide and 1.52m tall, the Ami Cargo gets a separating partition between the driver and cargo area, a fold-down shelf that holds up to 40kg or can be used as a mobile desk, and a two-way adjustable floor for carrying larger items. Otherwise it's as per the Ami ordinaire, which means a 5.5kWh battery mated to an 8bhp electric motor for a top speed of 28mph and an electric range of up to 46 miles. Sold? Prices start from £7,695 OTR.

Advertisement - Page continues below

OK, we'll admit we're jumping the gun a bit with this one, but for good reason. It comes from British startup Arrival, founded in 2015 and aiming to reinvent the automotive sector with its range of affordable and sustainable electric vehicles. Vans, buses and taxis are all in the pipeline, with the former set to be the first to market – and it's got a lot of people, including UPS, talking. 

With its purpose-built electric platform, modular battery ranging from 44 to 133kWh, and lightweight aluminium frame and composite body panels, it'll reportedly be good for up to 211 miles of range, a payload of up to 1,975kg and cargo volume of up to 14 cubic metres. Back in September Arrival announced its first production van was complete, but we also know that the company has been struggling for funds at the same time. Fingers crossed this thing makes it to market eventually.