First Look
The facelifted third-gen Volkswagen Touareg is here with fancy lights
And there's an illuminated VW logo round the back too. Not exactly a drastic change for the flagship SUV
Volkswagen has announced a 'major update' to its flagship SUV, although from where we're sitting, we're struggling to see what's quite so major.
The standard facelift fare is present and correct, with fresh bumpers front and rear (that change depending on trim level) and fancy new lights that VW refers to as 'IQ.Light HD LED matrix headlights'.
Advertisement - Page continues below
Bit of a mouthful that, but essentially it's a collection of over 38,000 interactive LEDs (19,000 in each headlight) that project a 'light carpet' onto the road ahead and "illuminate the road more precisely than ever before". Right. We're told that the main beam is glare-free too – it can be left on and its ability to mask areas for oncoming traffic and cars in front is more precise than ever. Oh, and the whole thing will be standard except for on the entry-level Touareg, and it'll soon pass down to VW's smaller SUVs.
The rear lightbar is also new and everything except the 'Basic' trim level gets an illuminated VW logo back there too. Interesting, but not exactly a fundamental change from the car that went before.
The powertrains are hardly revolutionary either. All are 3.0-litre V6s, with one turbocharged petrol (335bhp and 332lb ft of torque) and two turbodiesels (228bhp/369lb ft or 282bhp/443lb ft) available. There are two petrol V6 plug-in hybrids too – the Touareg eHybrid with a total of 376bhp or the full-fat Touareg R eHybrid with 456bhp. As with the pre-facelift version, all get four-wheel drive and an eight-speed auto gearbox, while both the standard steel spring and optional air suspension setups have been revised for greater comfort.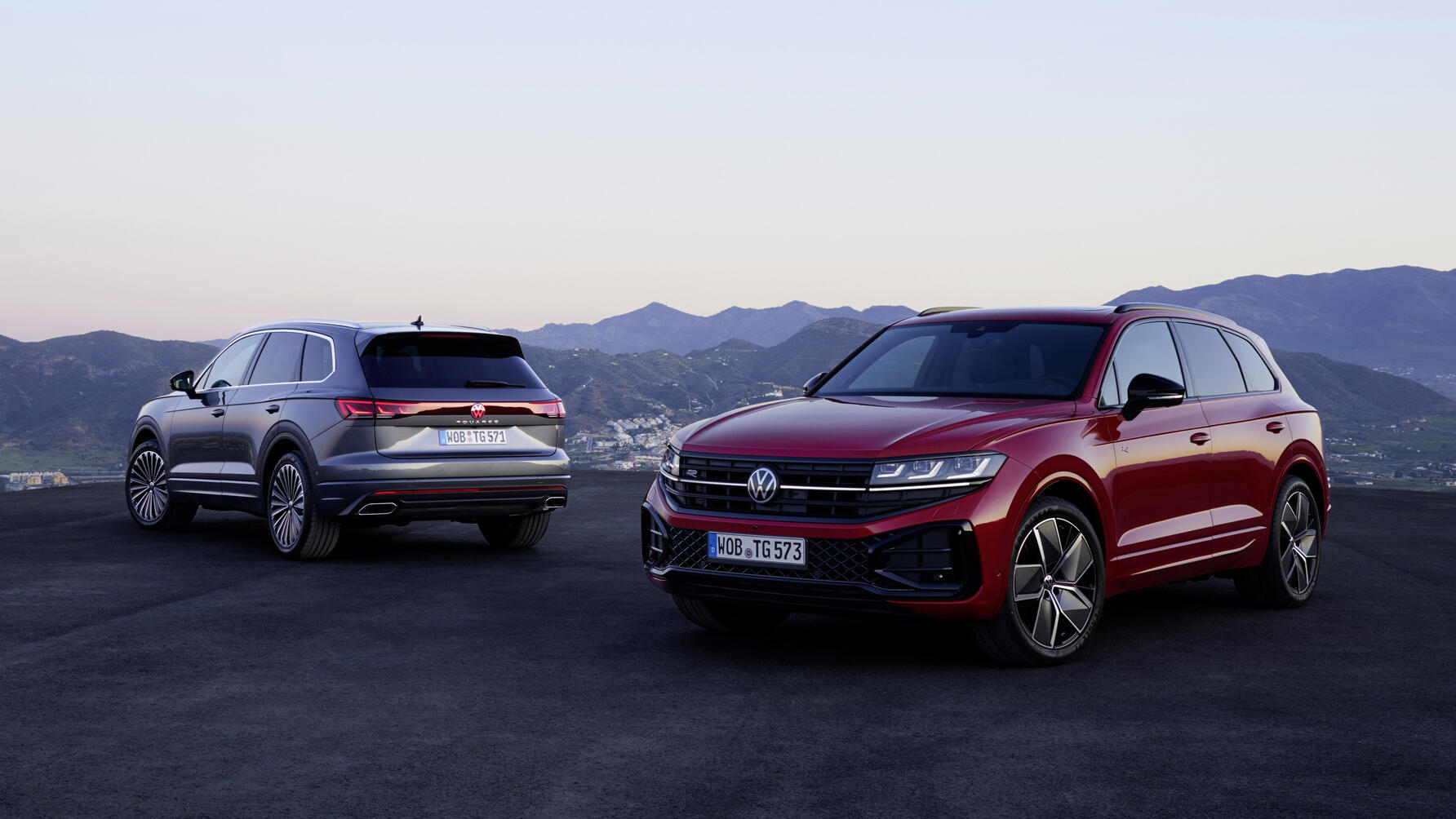 The trim levels will start at Basic, with prices in Europe kicking off at the equivalent of around £60,000. There will then be a jump to Elegance trim (around £65k) and R-Line (around £69k). The R will start at over £80k. Ouch.
Advertisement - Page continues below
Other updates compared to the pre-facelift car? Well, there's a new roof load sensor that talks to the safety systems and the ESC to keep things stable when you're carrying a roof box, and the new alloy wheel designs have some fantastic names. Braga and Napoli are 20- and 21-inch designs respectively and sound rather glamorous, but then you can also go for Coventry (19-inchers) or Leeds (21-inch). Odd.
Inside you get an updated version of VW's Innovision Cockpit with fresh software, as well as wireless Apple CarPlay and Android Auto. Oh, and there's softer materials on the door panels and the centre console, so that your resting knee gets a little more support. Major updates indeed…
Top Gear
Newsletter
Thank you for subscribing to our newsletter. Look out for your regular round-up of news, reviews and offers in your inbox.
Get all the latest news, reviews and exclusives, direct to your inbox.