First Look
The Porsche Vision 357 is a stunning 493bhp tribute to the original 356
Porsche says this 718 GT4 RS-based concept has proportions that are very "close to reality". Just build it, please
Porsche must have registered the number 357 but has never used it. Until now. This is the Vision 357, the latest in a long line of Porsche concepts, this one powerfully invoking the memory of the 356/1 Roadster. That, fact fans, was the first production car to bear the Porsche name, the model that kick-started the whole adventure on 8 June 1948, 75 years ago.
So what is it exactly? It's primarily Porsche's birthday present to itself as this important year gets under way. Vision 357 is a mercifully compact, beautifully proportioned little coupe that swerves the retro thing by taking modish design tropes like reductionism and stirring in some emotive historic references. Kind of old and new at the same time and yet neither. Or, as Porsche says, "it's a look back at the conceptual journey to the future". Huh?
Advertisement - Page continues below
If you've read the book Porsche Unseen, you'll already know that the company's design team are also knowledgeable historians. Design head (and new VW Group design boss) Michael Mauer is clear about how this works in Weissach. "Would it better to have a clean sheet and not have any restrictions? No. History gives us orientation… I'd compare it to a compass. It also gives you a brand that stands for certain values. It would be stupid not to build on this, but you have to find the right balance between tradition and innovation, otherwise you won't be successful in the future."
There are a few other important things to note here. Peel away that impressively disciplined body and you'll find the chassis and powertrain of the 718 Cayman GT4 RS, including its magnificent 4.0-litre, 493bhp, six-cylinder engine. Given that Porsche made 77 units of its 911 GT2 RS-based 935 Moby Dick homage back in 2019, we don't think it's lunacy to suggest that this one could be headed in the same direction. Porsche has also re-issued images of the 2018 Renndienst concept – it means 'Racing Service' – which you may remember played with the idea of a Porsche people carrier and the 'spatial experience'. It had a central driving seat. Now it's presented here towing the Vision 357. Stop toying with us, please, and just build them.
"It's not even really a concept," Mauer continues. "We were thinking about the 75 years, what the first car was, and then we thought, let's do something where you could see the connection to the 356 without being too retro. Then we decided to do it on the combustion platform. We had a lot of freedom but the proportions are very close to reality. When we do concepts they have a pretty realistic base, we don't do them simply for the sake of doing something. So yes, it would be possible."
Mauer says another part of the Vision 357 creative process was to envisage the sort of car Ferry Porsche might have liked. They've been here before. In 1989, the company created an 80th birthday present for Ferry based on the 964-era 911, called the Panamericana. It was engineered by future Aston Martin boss Uli Bez, its design overseen by Harm Lagaay, and still looks pretty way-out today. There were twin air vents on the engine cover that nodded to the 356, but as the Panamericana name implied, this thing was a quasi dune-buggy. The link now is much more explicit.
Advertisement - Page continues below
Ferry, of course, was the man behind the original 356, and is credited with activating Porsche as we've come to know it. Not that the main movers and shakers had been slack before that. His father, Ferdinand Porsche Sr., was one of the greatest automotive engineers of all time. In fact, he was instrumental in a handful of the most significant cars ever made, including the first petrol-electric hybrid, 1901's Lohner-Porsche, the Mercedes SSK, the epic Auto Union racing cars, and of course the KdF-Wagen that became the Volkswagen Beetle. That's a whole other, vast story, with the murkiest of roots, but let's just say it fell to Ferry Porsche to pick up the pieces post-war. Initially, the company fixed cars and made water pumps and lathes. Then Ferry did a deal with former Juventus footballer turned racing driver and entrepreneur Piero Dusio to build the Porsche Type 360 Cisitalia single-seater. Gorgeous and advanced, that was the first car to wear the Porsche badge, but the project stalled.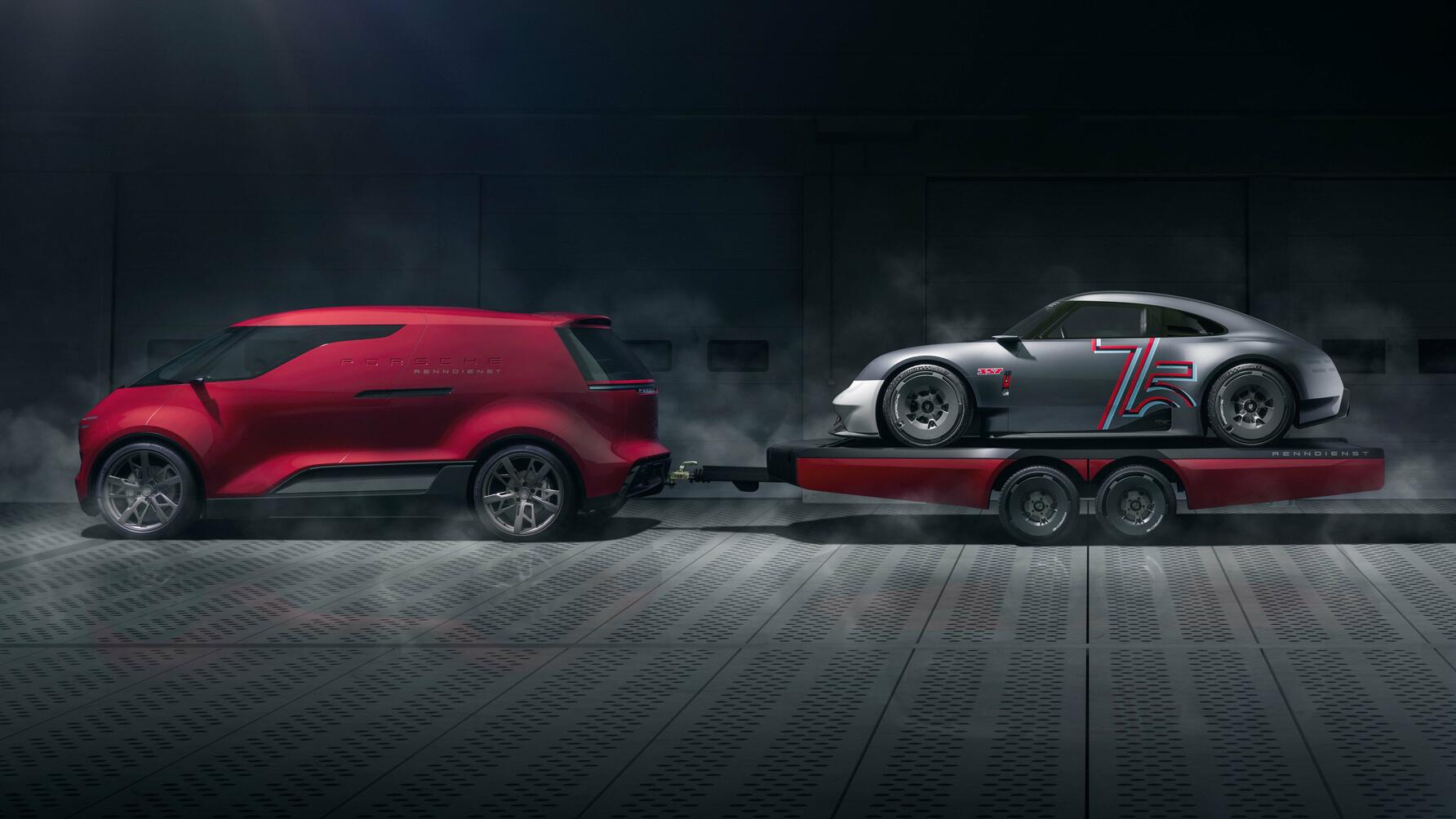 Still barred from returning to Stuttgart, Ferry set up in Gmünd, Austria and got to work on what would become the 356. That was previewed by the 356/1, considered by some to be an outlier because its air-cooled, flat-four 1.1-litre is mid- rather than rear-engined, as the 356 would soon be. But the shape is there, this most recognisable of design typologies set by long-term Porsche associate, Erwin Komenda, who had joined Ferdinand Sr's newly established design office in 1931. Komenda was the man who designed the Beetle, and had been formulating the 356 since 1946.
"I saw that if you had enough power in a small car, it is nicer to drive than if you have a big car which is also overpowered," Ferry Porsche said in a 1972 interview. It took two years to sell 50 cars, but by 1965, when the 356 finally ceased production, more than 76,000 had been made.
The Vision 357 is as well-informed a reimagining as you'd expect. The passenger compartment is narrow and sits in-board, while the windscreen – split on early examples of the original – wraps around the A pillars so that the glass area resembles a visor. The shoulders are broad, the car less over-bodied than the slightly cuddly 356. There are no door handles; a patterned array of light points by the side windows conceal openers. The original's engine cooling vents are referenced in the grille pattern in the rear, which run the full length of the car, and the tail lights are almost invisible until lit.
Top Gear
Newsletter
Thank you for subscribing to our newsletter. Look out for your regular round-up of news, reviews and offers in your inbox.
Get all the latest news, reviews and exclusives, direct to your inbox.
At the front is a discreet four-point light similar to the motif used by Porsche in its production cars. The 20in wheels are made of magnesium, and use aero-efficient carbon fibre hubcaps with central locks. Racing inspiration is manifest in the jointless bonnet which uses quick-release mechanisms, with threaded rods for the front spoiler. The sills are made of natural fibre reinforced plastic (NFRP), as previously used on the Mission R concept, which partly consists of flax. The exhaust has blue-ish toned titanim trim but the pipe itself is ceramic. Cameras replace traditional door mirrors. As on the Cayman GT4 RS, there are air intakes behind the side windows, with 'air' decals fixed to them. Porsche nerds will know the company's rich history in graphics – ever looked at a 908 Bergspyder from above? – and as well as the '75' decals, there's an 'e-fuel' one on the fuel filler flap, and dinosaur decals on the air intakes in front of the rear wheels.
"There was an option to do an electric car but we thought combustion was cooler," Mauer says. "And as this might be the last combustion engine we do, one of the designers came up with a dinosaur sketch which we turned into a decal."
Mauer admits that the Vision 357 happened quickly, coming together in barely a year. By going to the source rather than, say, another famous Porsche still in production, they've also avoided prompting speculation about what an all-new 911 might look like. Although stand by for another birthday present later in 2023.
"Compared to other companies, we have a more open mindset and a CEO who gives us budget and doesn't know what he's going to get at the end of the year," Mauer says. "Everything is possible. We're given the freedom without constraints to think about new concepts, to explore ways we might develop our design language. On this car I would refer to the head- and tail-lights. We always want to integrate elements, and new technology might enable something like this."
Like we say, just build it…
(The Vision 357 is on display as part of the '75 Years of Porsche sports cars' exhibition at the Drive Forum in Berlin)