Interview
My Life in Cars: Adam Peaty
Team GB's Olympic, World, European and Commonwealth swimming champ on A45s and AMG GT Rs
Like any normal kid, when I was 17 I started out with a Renault Clio. Classic. It broke down every single time I wanted to get anywhere in a rush. 
Luckily I started to do well with my swimming that same year and at the time I was thinking about economy, so I bought a diesel Volkswagen Golf. I was in that community of modding cars when I was 19 or 20 years old, though. There's only so much you can do to a diesel. Well, it's diminishing returns isn't it?
Advertisement - Page continues below
I did the exhaust system for some reason, I was questioning myself then. That was to make it look like a GTD because I couldn't get insured on one at the time, not without paying ridiculous money. 
After the World Championships I thought I could get something a little bit fancier, but I was still quite young so I had to think about insurance. I ended up buying a Mercedes-AMG A45. I eventually started modifying that too. It had a 4-inch downpipe, coilovers, new wheels, new intakes and a custom map after I got it onto a rolling road. I spent quite a bit of money on that car but I got it to exactly how I wanted it. It sounded insane for a little four-cylinder.
After that I thought right, there's nothing like a V8. So, post-Olympics I got an AMG C63 S Coupe. That was brand-new out of Mercedes and it was my first car with a big-boy engine. I really enjoyed that car, but I only had it for about 18 months before I had the opportunity to buy an AMG S63 Coupe. 
I did miss the sporting edge of the C63, though, so after the S-Class I got an AMG GT R. That was a little bit too far though, it was a track car – similar to how my A45 ended up. It had a properly firm ride and I had to get something else as a daily. So, at the time I bought a completely standard Jeep Wrangler.
Advertisement - Page continues below
Now pretty much everything you can do to a Wrangler (which is a lot) I've done. It's got a lift kit, carbon fibre fenders, a new grille, new bumpers all round and massive 36-inch tyres – it's definitely a head-turner.
I wanted to take it off-road properly, but as soon as it was ready lockdown hit. Now I don't think I'll do anything mad in it because I've spent too much money on it. It's got the off-road looks and ability but I'll never use it for anything other than going shopping, I'm one of those guys at the moment unfortunately.
From the GT R I went into the new shape Aston Martin Vantage, but then I had a baby boy and obviously the family couldn't fit. I can't really use the Jeep as a family car either because it doesn't fit in any car parks, so I got rid of the Aston and bought a Tesla Model X P100D. That is crazy fast. I've now got that, a Cupra Formentor and the Jeep Wrangler. Somehow I've ended up with three cars. 
My parents really weren't into cars. My mum had an Austin Montego when I was really young and all I can remember is my dad shouting because with the whole family in the car it couldn't get up steep hills. How was that even possible? Technology has come on so far and nowadays a three-cylinder can do what a V8 did back in the day, and we've got an electric future ahead of us. 
Top Gear
Newsletter
Thank you for subscribing to our newsletter. Look out for your regular round-up of news, reviews and offers in your inbox.
Get all the latest news, reviews and exclusives, direct to your inbox.
Adam is a brand ambassador for Cupra
Adam's Dream Three-Car Garage
Mercedes-Benz 300SL
If I came into a spare few million dollars, I'd buy a 300SL Gullwing. That's one of the best looking cars money can buy.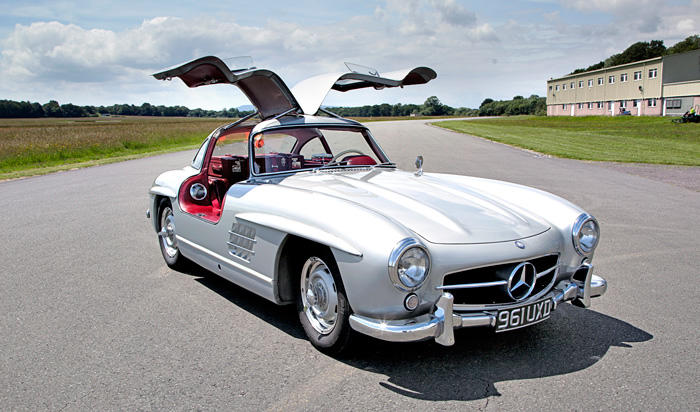 Aston Martin Vantage GT12
I've always liked the GT12, and I always think that supercars need to be rare to be special.
Cupra Born 
If we're looking at the future of motoring and with my current relationship with Cupra, the final spot would have to go to the Born.