List
Everything you need to know about cars this week: 22 Mar '20
The Aston Valkyrie hits the road, the two-door Rangie is back and Le Mans gets rescheduled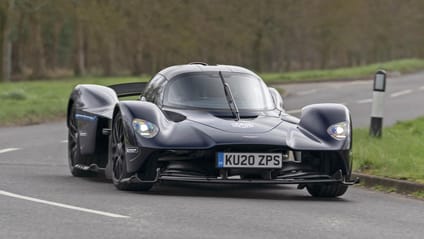 Twin-test: Peugeot 208 vs Ford Fiesta

"Of course the 208 does things a bit differently, because Peugeots usually do - it looks fascinating, especially in bright GT Line trim. Just so, so cool parked up among legions of grey crossovers. The Fiesta looks fine too, but you see so many of them around it's essentially part of the furniture. Like a post box, lamppost or bus. "

Advertisement - Page continues below

Some motorsport has actually happened, and Seb Ogier won

"Some motorsport happened at the weekend. Which is news in itself nowadays. Sebastien Ogier won the Mexican round of the World Rally Championship for the sixth time, putting him top of the drivers' standings."

What does the future look like for DS?

"Foucher says the DS 3 and DS 7 Crossbacks are the two best-selling premium models in France, beating all the Germans. Over in the UK it's not so good. Out of every 1000 cars sold here, just two are a DS. But the numbers are strengthening and the selling prices are high."

Advertisement - Page continues below

Merc's eVito Tourer is a nine-seat e-van with a 260-mile range

"Do you have seven children? Do you frequently make 200-odd mile car journeys? Are you looking for a way to cut your CO2 emissions? Are you sick of all these questions? If you answered yes to all, then a) sorry, and b) Mercedes has just the thing for you. That thing being the eVito Tourer."

The two-door Range Rover finally lives*

"Niels van Roij is calling its creation the Adventum Coupe. Just 100 examples will be available and each one takes six months to build, with only the bonnet, front wings and boot being shared with the donor car. Many will be pleased to hear that those fake side gills have been removed too. And there's a 5.0-litre supercharged V8 under the bonnet."

The BMW i8 meets some of the best-looking BMWs

"The BMW i8 will soon cease to be A Thing. This much you know. Production of the gorgeous two-door hybrid sports car will end in April, and if you need any more, BMW has some solace. "

The Bandini Dora is a roofless, 536bhp two-seat super-EV

"It comes via GFG Style – an automotive company founded by one Giorgetto Giugiaro (you may have heard of him) and Fabrizio Giugiaro – and features not one, but two electric motors."

Advertisement - Page continues below

This tuned Rolls-Royce Cullinan has almost 700bhp

"Now some 12cm wider than the already very wide standard car, Spofec's Cullinan also has colossal 24-inch alloys designed in collaboration with Vossen. A special control module tricks the air suspension into settling 40mm lower than standard, while a plug-and-play ECU tweak (that ups boost pressure and changes injection/ignition mapping) means the 6.75-litre twin-turbo V12 now makes 675bhp and 745lb ft"

Ten £5k stars from the 80s and 90s that should be your next track car

Advertisement - Page continues below

What do you think of these restomod V8 Range Rovers?

"Now, we don't often like to tell you how to think, but you absolutely must love these restomodded Range Rovers from Florida-based company E.C.D. Automotive Design. "

It's time to beef up your Ford Ranger

"Tough times call for tough vehicles. And that's exactly what you see here. Concerned the Ford Ranger we get in Europe can't hold a candle to a rufty tufty F-series pick-up from the States? Give APG a call."

The Aston Valkyrie looks astonishing on the road

"Well that's quite a sight, isn't it? If the Aston Martin Valkyrie has thus far seemed a little too otherworldly to get excited about – a track-focused hypercar with a 1,160bhp output and 11,100rpm redline seems almost too potent to fully comprehend – then here it is looking utterly spectacular on a regular old road in the company of Normal Cars."

The next BMW 7 Series will come as an electric car, too

"BMW has confirmed that its next generation 7 Series will be offered as a full electric car. Which means that soon, all you'll be able to hear is the grille. And reactions to it, perhaps."

A Bugatti hypertruck is eight wheels of awesome

"Using some of Bugatti's iconic design hardpoints (the horseshoe grille, the Bugatti line, and the centre line from the Atlantic) Prathyush has really run with them and let his imagination flow. With a gaping 'C' shape housing a vertical glass cab that takes inspiration from one of the Chiron's air vents, this eight-wheeler (a single-axle up front, triple at the rear) is properly futuristic and purposeful."

Volvo XC40 Recharge T5 review: hybrid SUV tested

"Volvo is making a pretty compelling offer to encourage you to use the battery. At the end of your first year with the car, Volvo will look at the amount of electricity you, the 'primary driver', has used. It'll then refund you the money for that, at standard UK price per kWh."

Americans: you have a new Hyundai and it looks rad

"Well, there's something we weren't expecting. The all-new Hyundai Elantra – otherwise known as the Avante in the Korean market – features some seriously distinct styling."

Fiat says the electric 500 paves the way for the Centoventi

"Yeah, new cars always get their bosses excited. Olivier Francois is seldom anything less than ebullient. But he goes into total overdrive when talking about the new 500. His conversations loop around and around, bouncing off the rev-limiter."

The 2020 Le Mans 24hrs will happen in September!

"Race organiser Automobile Club de l'Ouest, along with the FIA and WEC, has decided to postpone the 24-hour endurance race. Originally set for the 13th and 14th of June, it'll now take place on the 19th and 20th of September."

You must buy this Ford Escort RS Cosworth recce car

"Look at the size of those spotlights. LOOK AT THEM. You can absolutely guarantee that you'd never lose your way in this Escort RS Cosworth."

Norris crashes into Verstappen while racing for the lead at Daytona...

"Most F1 drivers, we suspect, are spending their days probably reading Top Gear magazine or watching Homes under the Hammer as they wait for the delayed new season to start. A couple of the newbies however, are still racing each other… albeit online. And it's glorious to watch and see."

Shock! The Suzuki Swift Sport's gone hybrid

"The Suzuki Swift Sport may have been the very last hot hatchback to go turbo, but it's one of the very first to have gone electrified. Yep, in the three great chapters of hot hatch propulsion, the Triple S has spent seemingly the least amount of time lingering in the middle."

The Mazda RX-Vision GT3 is gorgeous

"Now adding spoilers and skirts to such a pure design was a risk, but Mazda and the GT lot have pulled it off. What a lovely-looking thing the GT3-spec RX-Vision is. With its swollen bodywork, massive spoiler and vented bonnet, it looks very much ready to race."

Lamborghini Huracán Rear-Wheel Drive review: skids ahoy!

"Removing the front driveshafts and ancillaries means weight drops by 33kg and the weight distribution moves back a bit (60 per cent on the rear axle rather than 57), but more importantly Lamborghini has once again softened off the suspension. Springs, dampers and anti-roll bar are around 10 per cent softer at the front, with the rear backed off about half that. These are changes that are deliberately intended to make the Rear-Wheel Drive more playful."

The most hardcore Honda Civic Type R is sold out

"Bad luck – the most hardcore version of the new, facelifted Honda Civic Type R has sold out. It was only announced back in February, but already 20 people have committed to buying the Limited Edition without seeing, sitting in, driving or even knowing how much one would cost. Brave."

The Giocattolo is the 1980s supercar of your Radwood dreams

"In the pantheon of supercar-building nations, a few stand out – Italy, Germany, Britain. France too, if you include the Veyron and Chiron. America has its moments – SSCs, Glickenhauses, Ford GTs and Hennesseys. But what about Australia? Well, yes. Just… rarely."