Motorsport
Remembering the 6.8-litre 300 SEL's Spa 24hr heroics
This week's classic motorsport moment is a big one. Literally. A big, bad, red AMG
On a Saturday afternoon fifty years ago in Belgium, a big red four-door saloon sat on a starting line nestled amongst lightweight, full-bore touring cars. And it was mocked.
Mocked enough to earn it a rather unflattering nickname. 'Red Pig', they laughed. A car with thick carpets, leather seats and a full rear bench, even luxury trim on the doors. A racing Mercedes-Benz W109? Ha! The cheek of it.
Advertisement - Page continues below
It was the predecessor to today's Mercedes S-Class, which gives you some notion of the gall engineers Hans Werner Aufrecht and Erhard Melcher had when they elected to champion a big luxury bus against Ford Capris and E9 BMWs and Alfa GTAs.
The founders of AMG however – A for Aufrecht, M for Melcher and G for their home town of Großaspach – knew they were onto something. They had prepared this Benz "comprehensively". The V8 was enlarged to a mighty 6.8-litres, producing 428bhp and 457lb ft of torque. In 1971. AMG reckoned on a 0-62mph time of 6.1s, which – for a car weighing 1,635kg – was more than acceptable.
And it was this prodigious power which helped bludgeon the SEL into the history books. It had an enormous thirst for fuel and destroyed its tyres over the 24hr race because it was so heavy, but along the big, long straights of Spa, drivers Hans Heyer and Clemens Schickentanz simply flattened the throttle and blasted through. "Luckily the vehicle suited the old course of Spa-Francorchamps – 14.863 kilometres long and with many straights that could be driven at full throttle," AMG explained.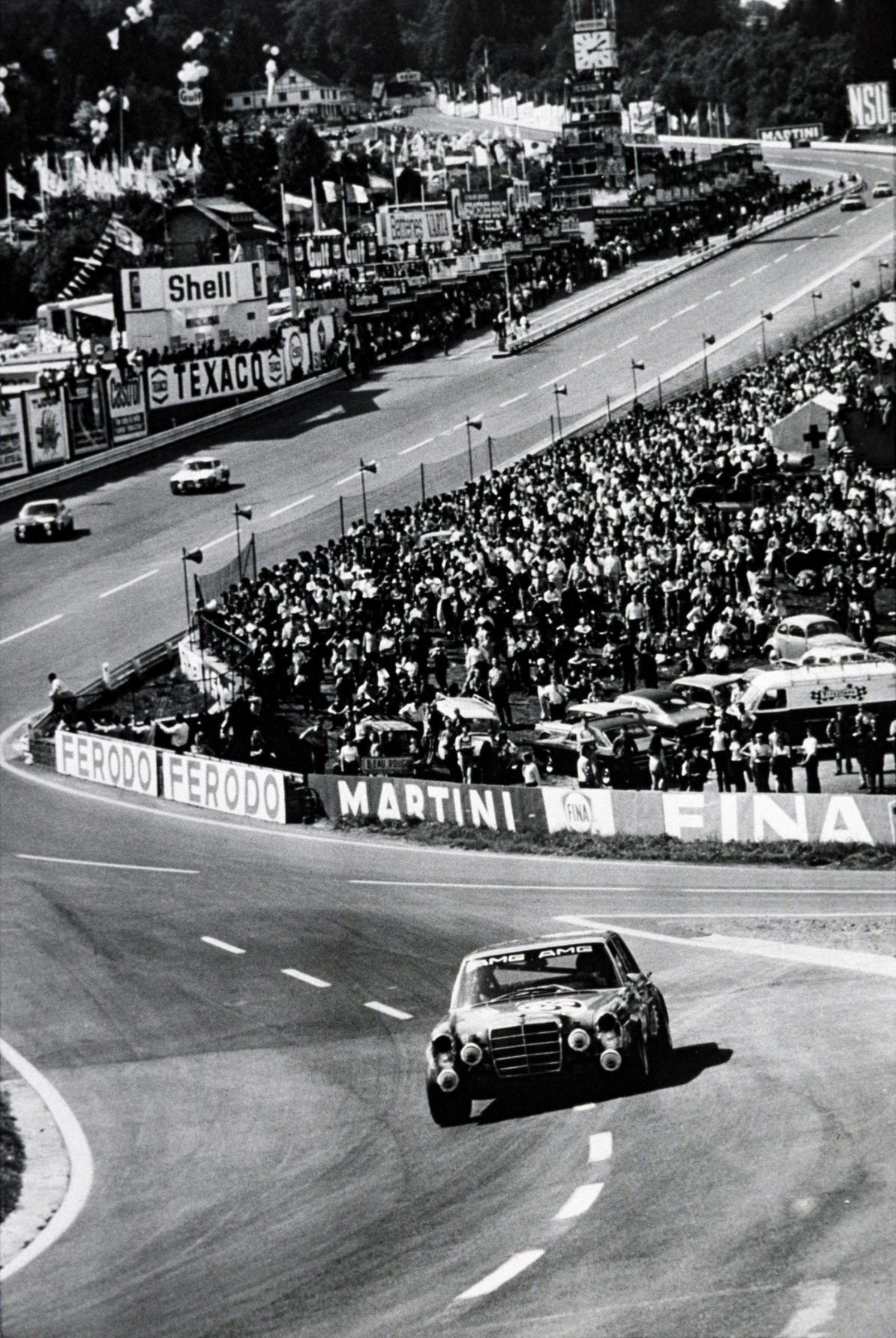 More than that, it was reliable and tough enough to actually finish. More cars retired with problems than finished the gruelling 24 hour race, and only 18 made it to the chequered flag. The mighty SEL finished just three laps lap down on the winning Ford Capri (311 laps vs 308) in second place, and likely would have won had it stopped less for fuel. And tyres. A moral victory, then.
Advertisement - Page continues below
The result made the local news and put AMG firmly on the map. It gave the engineers impetus to continue, and mainlined that SEL's essence into a USP that stood for decades: big, hearty V8 power.
Pity then, that the original SEL doesn't exist anymore. It was sold off and used as an aircraft tyre test rig, before being unceremoniously scrapped. AMG built an exact replica though, which TG drove many years ago. Turns out, it was actually really good, our correspondent remarking at the time that it's "huge fun, but somehow soothing too. Carry on for 24 hours? I think I'd like to".
Today, AMG rightly celebrates the 'Red Pig' and the importance of that 1971 result. Nobody's laughing now.
Top Gear
Newsletter
Thank you for subscribing to our newsletter. Look out for your regular round-up of news, reviews and offers in your inbox.
Get all the latest news, reviews and exclusives, direct to your inbox.