Supercars
The KTM X-Bow GT-XR is a 486bhp GT2-inspired road car
KTM returns with a mad-looking X-Bow complete with 'electric jet fighter canopy'. Oh yes
Big news people, those madcap Austrians over at KTM are back in the road car game. Hurrah! Welcome to the new KTM X-Bow GT-XR.
Looks suitably... KTM, too. The company has been campaigning the similar-looking X-Bow GT2 for a year or so already, but the GT-XR is a proper road car with an (optional) hydraulic lift for speed bumps, an air conditioned cabin, Bluetooth phone connectivity, a 160-litre boot and even a glovebox. Super practical. 
Advertisement - Page continues below
That's all fairly boring though, isn't it? You want to know about the motorsport bits. Underneath there's an evolution of the carbon monocoque that underpinned the first X-Bow in the late 2000s. It's super strong and weighs just 89kg, with the engine housed in a tubular steel rear frame.
Said engine is Audi's brilliant 2.5-litre turbocharged five-cylinder from the RS3, which here makes 486bhp and 429lb ft of torque. The whole thing only weighs 1,250kg too, so it should be rocketship quick. KTM quotes a top speed of 174mph.
All of the exterior bodywork is made from carbon fibre and the aero is straight from the GT2 racer, with an 'AirCurtain' system and a special floor designed to maximise ground effect. KTM says the GT-XR is "the closest you can get to a purebred race car in a road-legal vehicle".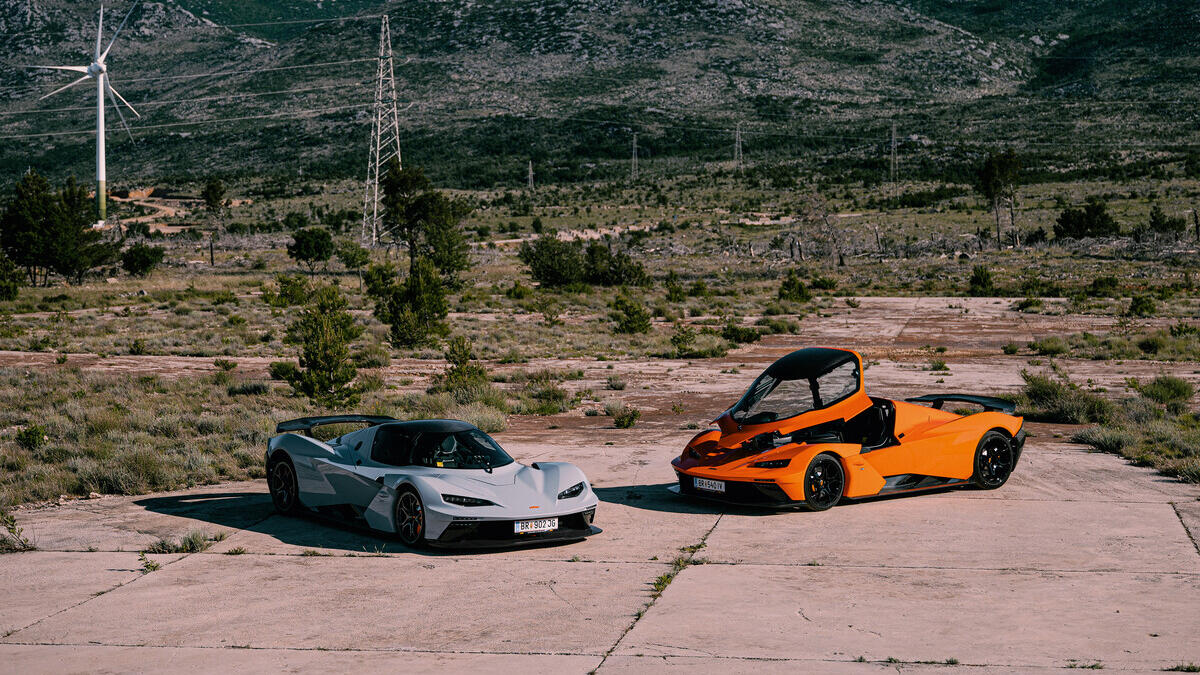 The gearbox is a seven-speed DSG unit, there's optional carbon ceramic brakes and the dampers are adjustable units from Sachs. Power is sent to the rear wheels and is distributed between them by a mechanical, motorsport-spec diff. There's also a stainless steel exhaust and KTM says "a catalytic converter and a silencer are optionally available on request". We wouldn't bother ticking that particular box, if we were ordering…
Advertisement - Page continues below
Want even more detail? The wheels are bespoke centrelocking pieces designed by OZ Racing, the steering wheel features an integrated LED display and the fuel tank is a massive 96 litres so you can get up to 621 miles (1,000km) from a single tank. Anyone thinking road trip? It does have GT in the name after all. There's ABS and ESP, plus electronic power steering and LED lights front and rear. 
Perhaps the greatest single detail on the GT-XR though is the 'electric jet fighter canopy' that opens in one big section so you can climb out of the top of the car and apparently utilises a soft close function (just like an Ikea kitchen cabinet). If we're honest, we'd buy one just for that.
Top Gear
Newsletter
Thank you for subscribing to our newsletter. Look out for your regular round-up of news, reviews and offers in your inbox.
Get all the latest news, reviews and exclusives, direct to your inbox.