Review
BMW i4 vs Polestar 2: which electric compact exec is best?
The world is going electric, including middle-management types. Time to pit the BMW i4 against the Polestar 2 in the outside lane
"Compact executives": this became a common if rather ugly car-biz term. It referred to the type of car, not to the five-foot-two-inch shiny-suited middle-management person behind the wheel. During the past decade the likes of the 3 Series, C-Class, and A4 ruled the company-car roost, first as diesel, then PHEV. But no electric equivalents have been forthcoming. Which is surprising given the importance of benefit-in-kind tax to the user-choosing executives (of whatever height) who drive them.
Tesla filled that gap with the Model 3, and it has recently been outselling the Fiesta and Corsa in Britain. Then came the Polestar 2. Which we prefer to the Tesla, even though we love the Silicon Valley machine's face-bending performance and its access to Superchargers. We just prefer the Polestar's slightly more fluent dynamics and its design, inside and out. So that's what we've brought to meet the BMW i4.
Advertisement - Page continues below
We've been gagging for the i4. For decades BMW's 3 and related 4 Series have utterly bossed their rivals. So surely a battery-powered version has to be catnip. Just to emphasise it's a heartland BMW, not an outlier like the i3, BMW has made it look just like the 4 Series Gran Coupe. It even gets the same grille, for which it has no earthly need. They could've gone the whole hog and bolted on a pair of large-bore blank tailpipes.
Photography: Alex Tapley
Yet this 4 Series Doppelganger actually has a substantially different floorpan and suspension to make space for the battery and motor. Inside, the i4 has a bigger screen and fewer buttons than a 4 Series, as a nod to the interfaces pioneered by Tesla and Polestar too.
Advertisement - Page continues below
The Polestar is also related to a combustion car, the Volvo XC40. But like sussexroyal.com, it's now got its own new-agey brand, separate from the fusty old Volvo establishment. Bits of the cabin are recognisably Volvo but most isn't: the screen most obviously, which stands proud of the dash and runs an Android-based system under Polestar's graphic skin.
The cars stood before you have closely matching equipment and options, including full driver assist, pixel headlights, maxed-out infotainment, big wheels and brakes and fancy dampers – adaptive on the BMW, Ohlins spanner-adjustable on the Polestar. This Polestar is a long-term test car that resides with my colleague Tom Ford. It's the Long Range Dual Motor version, with three option packs (Plus, Pilot and Performance) and optional Snow White paint. The i4 eDrive 40 begins at £52k and that'll get you smaller wheels for longer range. But we have the M Sport with leather, 19s, and three packs: M Sport Pro, Technology Plus and Comfort Plus. You can have the i4 with dual motors, but it's honestly less fun than the rear-driver.
For the Polestar with options as seen here, that'll be £58,800, and the BMW an uncomfortable £64,705. I say uncomfortable because the BMW is just 340bhp and rear-drive (albeit with LSD) and posts a 0-62mph time of 5.7 seconds, facing up to the Polestar's 400bhp and 4WD and 4.5sec. But the BMW's battery is a bit bigger – 80.7kWh usable, versus 78kWh. It uses it better, too: its WLTP range on these wheels is 344 against 282 miles for the Polestar.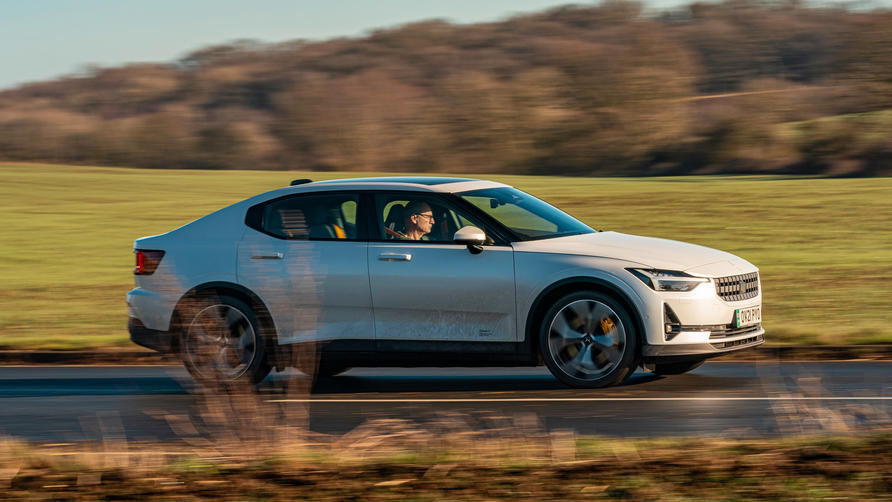 Even in a heavy car, four hundred horsepower means something. Especially when it arrives the instant you ask, and the tractive effort is shouldered by all tyres. The Polestar accelerates with a casual and slightly brutal ease, at least up to any sensible UK speed. The i4 is merely very brisk. But that's plenty enough to undertake any sane overtake. On a dry road it has all the traction it needs.
Which brings us to the i4's big win. It's just such an interactive thing in bends. The steering yields you some sense of the front tyres' duress, and the back tyres communicate too. So it's easy to gently ease the power their way and balance things. The traction control is subtle, and it has a 'dynamic' setting. And a superfluous 'off'.
The Polestar is faster out of any bend, any weather. It's grippy and steers precisely, asking little from you. But it's a one-item menu. It has huge grip, then it understeers a bit. On wet roads, it understeers sooner and more. It doesn't talk to you or give options. The BMW does both.
Top Gear
Newsletter
Thank you for subscribing to our newsletter. Look out for your regular round-up of news, reviews and offers in your inbox.
Get all the latest news, reviews and exclusives, direct to your inbox.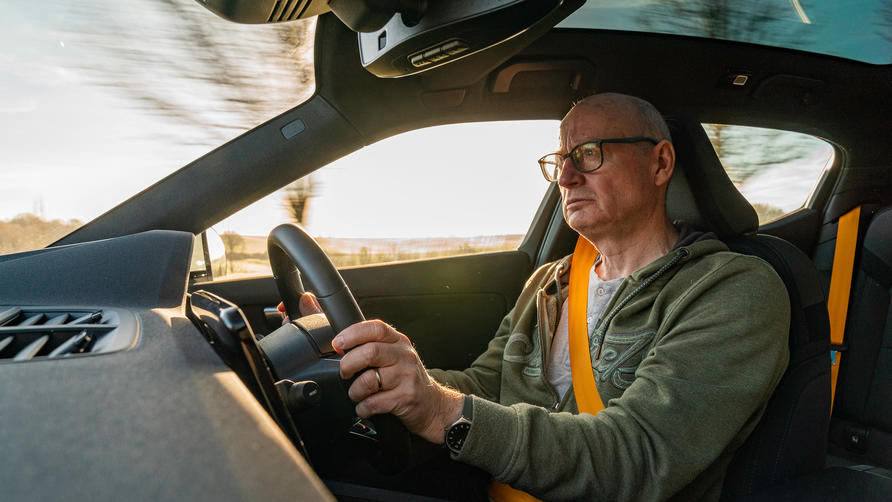 Yet the BMW rides well too. It's not pillowy, but it's contained by its adaptive dampers and chamfers off big hits, smoothes road coarseness, and operates so quietly that you stop noticing after a while. You're low-slung enough that pitch and rock just aren't really a thing. And its tyres roll quietly on most surfaces, and it slips quietly through the air.
The Polestar is significantly firmer-sprung. Its Ohlins dampers indeed act like a tarmac rally car's: they aristocratically quell both body movement and wheel hop, but they need speed to work. In town this car thumps you, and makes motorways seem corrugated. Its tyres hum, and the mirrors and doors rustle at speed.
It was a bit of a shivery day when we tested, 2-8 degrees, and we didn't precondition them on charge, and we were pressing on. So our actual range figures are the worst you'd see. The BMW did 235 miles, the Polestar 175. And look how similar their battery capacities are. The BMW was doing 2.9m/kWh, the Polestar a poor 2.2. Still, on warmer days, or with preconditioning, you'd easily stretch the economy and range of both by 15 per cent. The i4 is supposed to charge slightly faster on DC if the charge post is up to it, but they both throttle down once they pass 50 per cent full, making a 350kW charger superfluous. That's what we found: about 40 minutes for either to do 10-80 per cent on a 150kW outlet.
If you read no further, you'll think the Polestar's a struggler. The i4 has the dynamics and efficiency to justify your decision to buy a sports saloon not a crossover. The Polestar doesn't. But then, people do buy crossovers in droves, so dynamics and efficiency obviously aren't all that matters. People want image, brand and design. Well, durr.
Design? BMW still does stance and proportion very well. Beyond that, the i4 falls apart. Enough bilious words have been expended on the BMW's big grille, which is a distraction from the fact the rest of it is a dog's dinner – creases begin and end aimlessly, and the front and back bumper units embody a cacophony of unrelated visual ideas. A car that looks better in a very dark colour is surely one that needs a visual edit. Whereas the Polestar's silhouette is strong, and the surfacing and detail are confidently simple, yet a very long way from naive.
So it goes with the cars' interiors. The BMW's feels more expensive, yes. But the furniture designers could have taken a chill pill. The screens' graphics use so much decoration and colour that they lose clarity. The Polestar's furniture is cleaner and more pared back. The front seats lever their Volvo heritage, being awesomely comfortable on long hauls. But the Polestar is tighter in rear legroom and its boot.
BMW has binned some of its switchgear for the i4. But rather excellently, it has kept the iDrive controller wheel and surrounding buttons, which let you do a lot of useful stuff by touch alone and without looking. But there's no longer a direct-access switch for the driver-assist, so you can't prevent it nudging the steering on single carriageways. Oddly, you can set a screen shortcut to switch that system on, but not to switch it off. Huh?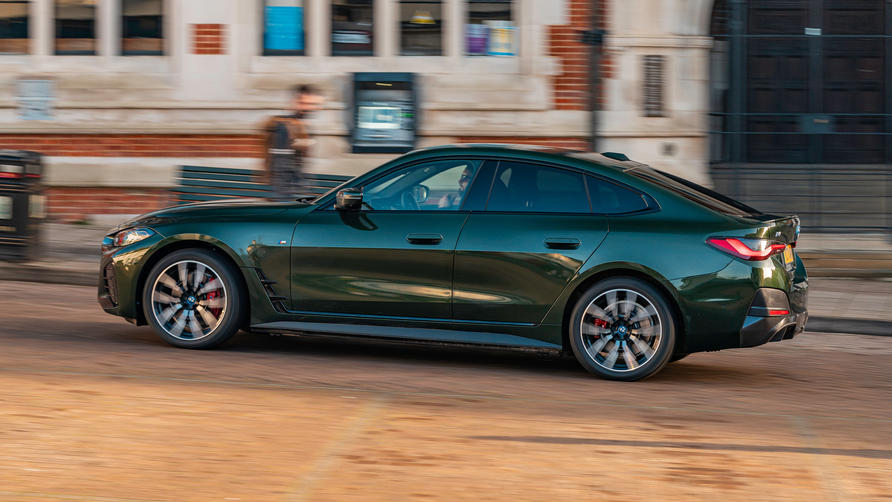 The screen graphics occasionally put gaudy decoration above clarity. but CarPlay integration is superb. And you can divide the central screen into tiles. I set it to show a decent-sized map, the trip computer and the current music track. Finally the test car had an excellent HUD.
Apart from a silly-small speedo, the Polestar's screen graphics are a model of calm legibility. They need to be because there's no HUD and no haptic controller. To make the finger-jabs as easy as possible, the virtual buttons are large and widely spaced. The corollary is that there aren't many on the screen so things get pushed back into the menus. Climate controls need to be called up. Just adjusting the treble is five jabs deep. Has the interface designer ever actually driven a car?
But then, this is supposed to feel new-skool. Volvo invented Polestar so that it could snare buyers looking for a clear, disruptive break from the image and values of the oil age. This car's design is a breath of fresh air. And maybe its buyers won't care that the dynamics don't measure up to the best of what the establishment can do. Which is the i4. In range and efficiency the i4 is an excellent electric vehicle. As a driver's car it's the best EV you can get for anywhere near this money.