Supercars
Gallery: the wild and wonderful supercars of The Quail
The end point of Monterey's Car Week is a golf course, sunshine, and supercars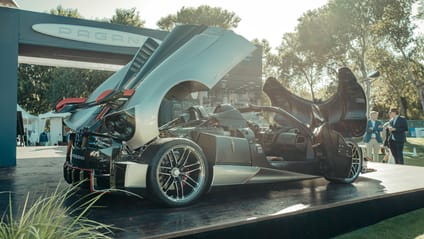 The Quail has been the pinnacle of Monterey's Car Week for something like 17 years now, and it is, essentially, a really exclusive supercar show held on a golf course in California. It is exactly as luxurious as it sounds.

Alongside classic machinery, there's lots of modern stuff jostling for your attention, so we've rounded up some of the stars from this year's show. Though, one stands out among the rest, and you'll soon see why...

Photography: Philipp Rupprecht

Advertisement - Page continues below

Perhaps we should have left this one to the end, because after seeing the gorgeous De Tomaso P72, you might not need anything else.

Here's an old safari-spec Porsche to make it better.

Advertisement - Page continues below

Not technically a supercar, but an exciting car nonetheless. We asked whether Acura's Type S could mix it with the big boys of Pagani and Koenigsegg at The Quail.

Answer? Yep, it can.

Allow us to present the Drako GTE - a four-door, electric supercar based on the old Fisker Karma. The makers of the Drako GTE proudly trumpet the car's 1,200bhp and 6,500lb ft of torque.

That's right, six and a half thousand pound-feet of torque. Enough to push Earth out of its current orbit.

Yes it's a Koenigsegg Regera and yes it's stunning in carbon fibre, but look at the ground clearance. Sheesh. You do not want to be the delivery driver parking that thing.

Another Regera, with a slightly more adventurous colour scheme.

Advertisement - Page continues below

The Aston Martin Valhalla. Anyone else currently humming the James Bond theme? No? Just us then.

Advertisement - Page continues below

Though this Longtail probably said, 'that's not a wing, this is a wing'.

Ladies and gentlemen, we've done it. We've reached peak dog-car-based internet. Life will never get better than this picture.

Apparently this 812 'N-Largo' Ferrari came with a plaque headlined 'The Greatest Ferraris'. You may have something to say about that.

Oh hi there, Lamborghini Countach!

The EB110 is undergoing a little renaissance at the moment, what with it inspiring the Centodieci. We at TG have always had a soft spot for this forgotten Bug.

A Gullwing. No more need be said.

Like the cool kids at school, hiding at the back of the class no doubt enjoying a sneaky tab or two.

Not that you needed reminding, but DO NOT STEP on the Ferrari P80/C's side skirt.

TBH, we could devote this entire gallery to the BC Roadster.

Old Paganis. Much fast. Very rare.

And the hits just keep ooooooon coming. The stunning Zonda Barchetta here, folks.

We... we just... we just can't even. Whomever is responsible, well played.

Couple of LaFerraris, an 812... yeah, pretty standard stuff really.

It might be a paint and trim special, but any roofless Aventador is special because it's a V12 Lamborghini.

Ford's racing GT sneaks onto the lawn...

A picture of lady drawing a picture of a racing Ford GT. Gone a bit meta here, hasn't it?

It's pronounced Evv-eye-ah, ahktchuarly.