Electric
The best electric family cars: Top Gear's big test
There's choice a plenty when it comes to electric family cars... so we got the lot
Two years ago, about the time COVID-19 kicked off, only one of these cars existed. Today, despite the vagaries of virus, Brexit, semiconductors and supply chains, if you want an electric family car you're not short of options. We've got 11 full-house family EVs here, cars that a) ought not to break the bank and b) can handle all the tasks you'd need, up to and including this summer's camping trips.
We used Tesla's newly arrived Model Y as the rallying flag, and gathered to it everything that could potentially be seen as a rival. They span a price range of £35–65 grand, or about £400 a month to £1,000. First point to make: there's not a bad car here. And one that drops out early might possibly be one that suits you best. You'll have to use your judgement on that. I'll tell you why: the Jaguar I-Pace remains a corkingly good electric car – if what you want is a luxurious, effortlessly handsome and fine driving machine. But you're never going to chuck sandy surfboards in the boot while overseeing dripping ice cream cones within a hundred yards of that cream leather, are you? One for the grandparents then. Tell 'em it comes Top Gear recommended.
Advertisement - Page continues below
Photography: Jonny Fleetwood
We're not looking for an overall winner-takes-all victor then. Instead the aim is to guide and suggest, point out strengths and weaknesses. So let's start with a bit of whittling. Three cars here actually used to be petrol powered. You'll identify two of them easily: the BMW iX3 and Volvo XC40 Recharge. All they've done is add to the names and fill in the grilles. You think I'm going to have a go at them for not being very well packaged. Only the Volvo. The BMW is an impressive piece of all-round engineering. See, the i3 and i8 didn't go to waste, BMW just realised it didn't need to go to that much effort. It's a good car, with a big load area that's only matched by the Tesla and Skoda, but perhaps too conventional. And, starting at £60,970, expensive. Thinking of an Audi e-tron or Merc EQC, though? Personally, I'd have the BMW instead.
The third ex-petrol? The Polestar 2. Trick answer: it never was petrol, but then it wasn't always a Polestar. Underneath it's the Volvo XC40 again. Both are compact, park the Polestar next to any other car here (especially the heffalump Ioniq 5), and see how small it appears. Not really family transport. Instead insert this character: trim greying beard, roll-neck, intelligent specs. Yep, the Polestar 2 is a latter-day Saab. Stylish business use only.
Advertisement - Page continues below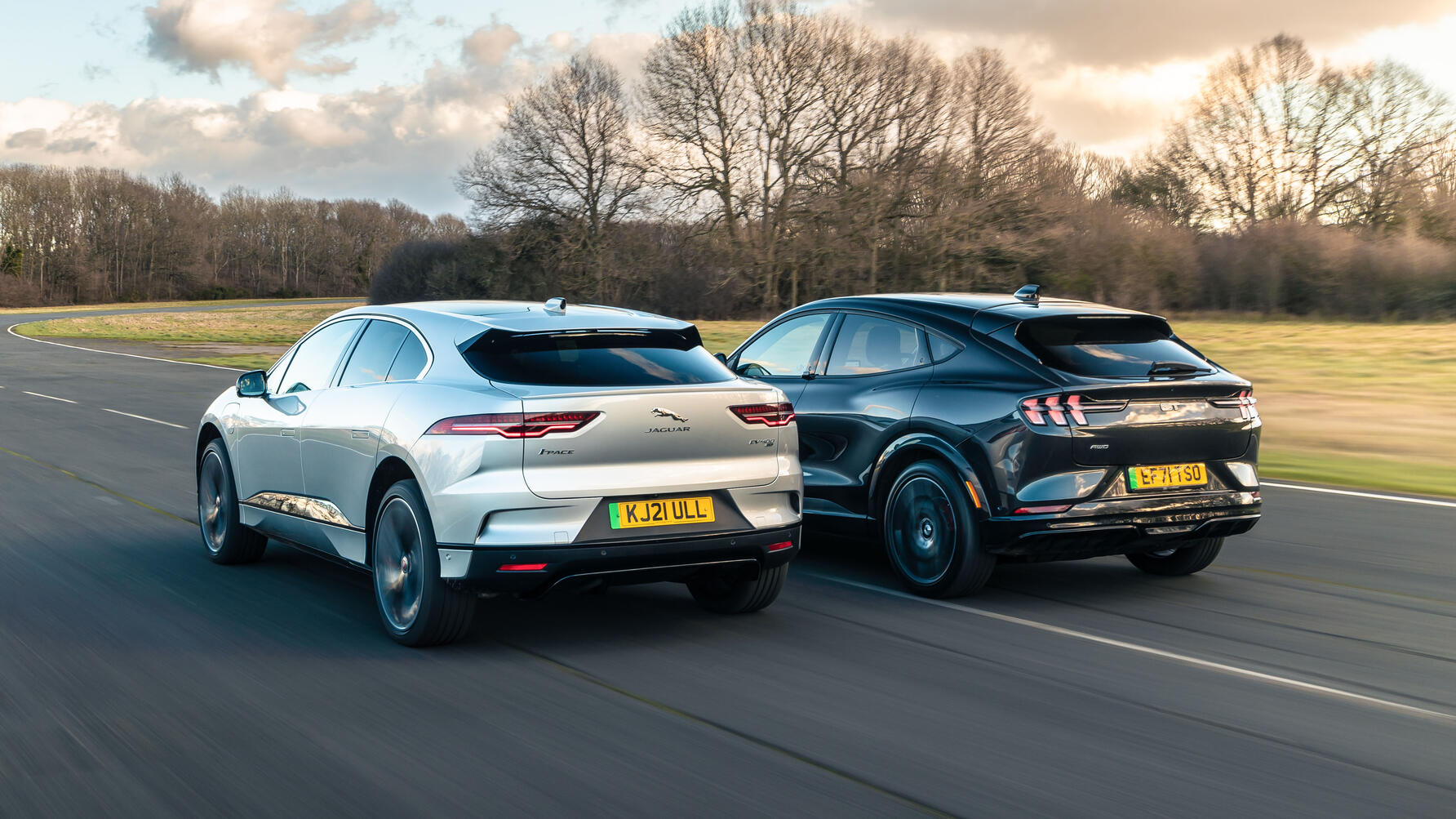 But fair play Polvo (or does Volestar play better?), your cars are commendably dissimilar. They also share similar market territory (more hatchback than estate, prices in the £40–45k sweet spot) to a pair of fast risers. The Koreans have come. We're way beyond 'are coming' now. The Kia EV6 has been voted European Car of the Year, the Hyundai Ioniq 5 is perhaps the most zeitgeisty piece of design to land in the industry for the past decade. They exude confidence in a way that not even the Ford Mustang Mach-E and Tesla Model Y can match. Are they perhaps a bit overwrought? The Kia is squintier than Clint Eastwood, the Hyundai an origami Austin Allegro, park either next to the conventionally elegant Jaguar I-Pace and you worry about how fast fashion changes. And whether you've got the spec right: the Ioniq is worryingly susceptible to colour choice, the EV6 looks crap unless it's on big wheels (also applies to the Jag).
The only un-brave thing about the Koreans is their market positioning. Look at how many Tucsons and Sportages each shifts. Millions. Hardly surprising that's the audience they're chasing. They're crossovers rather than estates, but spacious enough and thoroughly thought through. The same applies to the Mustang Mach-E. It's another car willing to sacrifice practicality in the name of image. We like this car. It's an honest motor, wants you to have fun, even if it's not very good at delivering it. The ride is turbulent, but at least it tries to be engaging. It's also genuinely efficient with its electrons and more practical than it looks. The heavily sloped tailgate won't find favour with the family hound, mind.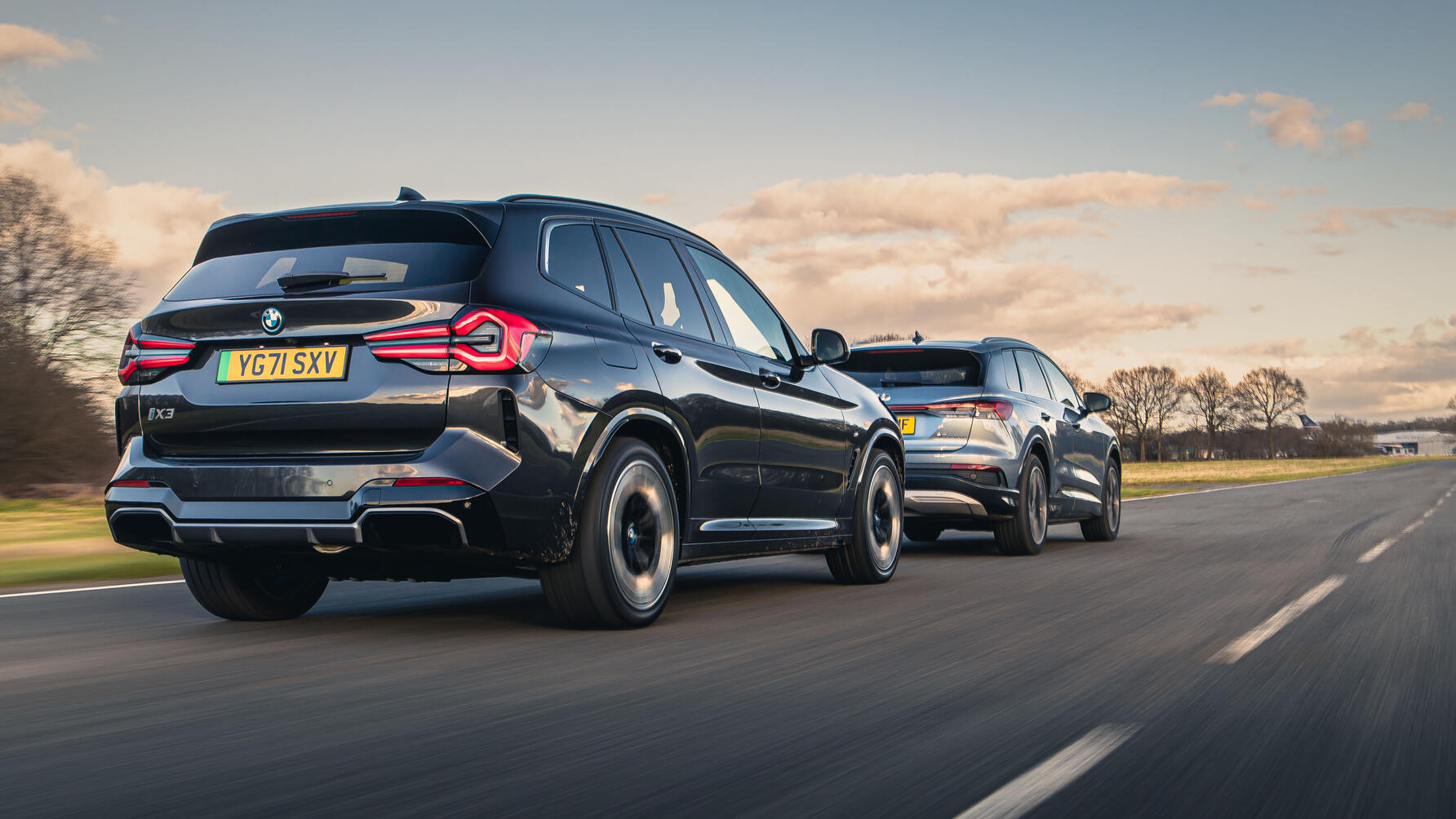 This one's a GT, the fast one with 480bhp. It's the worst Mach-E Ford does. Look, Tesla has made you think performance matters. In family cars it just causes issues. They don't have the brakes, body control, steering response or chassis dexterity to cope. Everything that makes a good family car makes a bad performance car – and vice versa. The ones that are most relaxing to drive are the ones that aren't trying to thonk you in the back all the time. So the Mach-E to have is the rear-drive single motor version with 265bhp and the 75kWh battery. It does 0–62mph in 6.9secs. Swift enough for you, Daddy Cool. Have the big 98kWh battery for your bragging rights – that's 379 miles of range.
Range is the new 0–60. Range anxiety wouldn't be a thing at all if the charging infrastructure was any good. Sorry, that's a drum I've banged many times before, but I can't help but feel that the energy companies are the weak link right now. Government policy is pushing us into electric cars, the manufacturers are producing them and we're buying them; but how are we meant to use them? Charger unreliability used to be the issue, now it's simply supply – the public network is overrun. Great time to buy an electric car, eh?
Onwards to the sensible-suit VW Group collective. Not breaking any moulds here, are we? Literally in fact: the Audi Q4, Skoda Enyaq and VW ID.4 share not only chassis, motors, battery, and underpinnings, but proportions. Same car cut three ways, and seen alongside the farting Tesla, gung-ho Mustang, elegant Jag, urbane Polestar and manga-inspired Koreans they're slightly joyless. The VW has dealt itself the best cards. It's the only one to get the dash-mounted twisting gearlever and has the cleanest aesthetic. But just try interacting with it while driving: changing the heating, radio station or settings. It's not fit for purpose. Skoda and Audi have edged around the software issues more successfully, but this body shape – versatile, useful – plays to one brand's values better than the others. Skoda. Look, it's concealed an ice scraper in the bootlid, the rear tray tables have pop-out cupholders and rubberised edges to hold a tablet.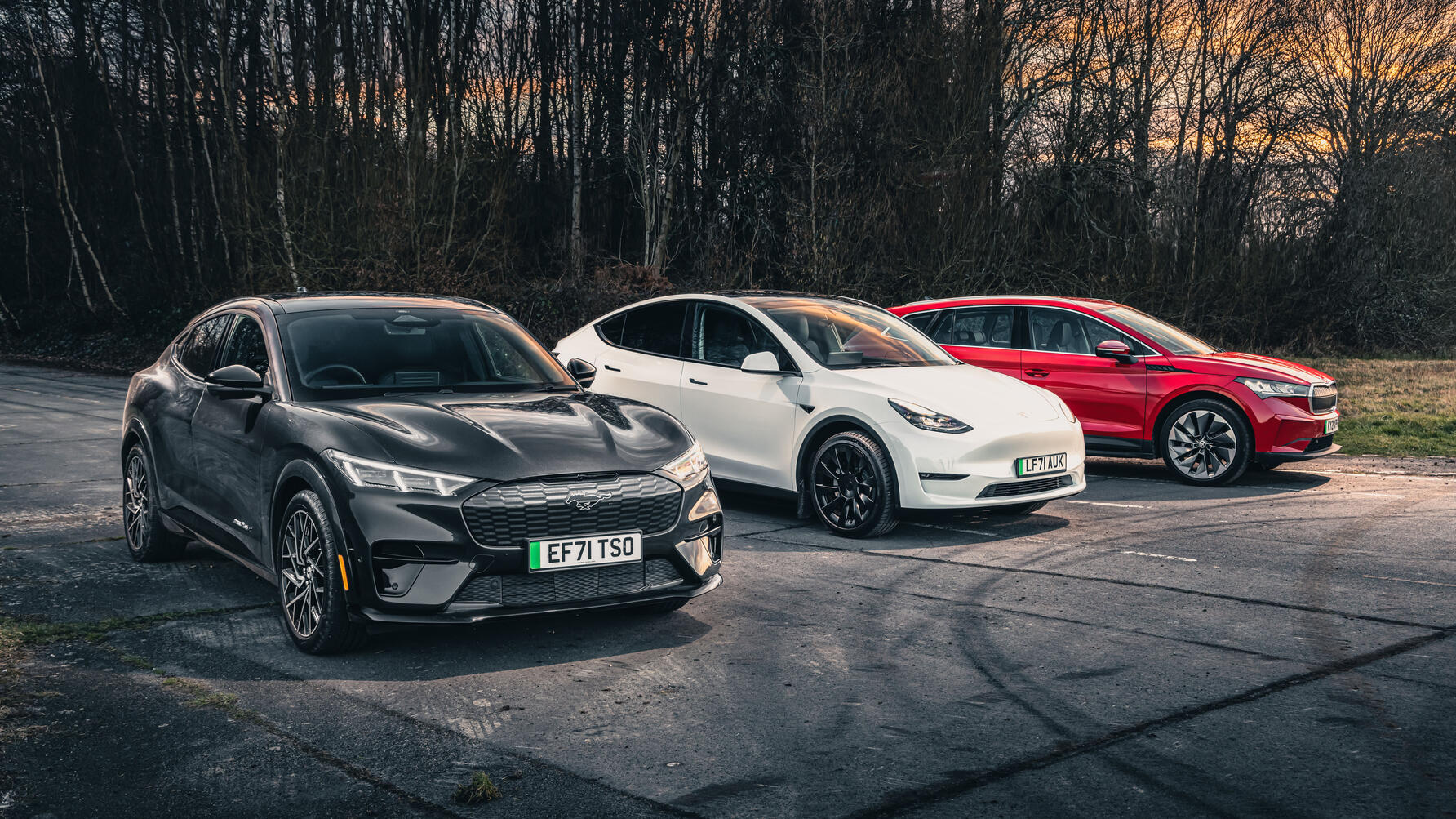 It's also the cheapest car in the whole line-up – you can have a base version with the 58kWh battery (252 miles claimed range) for £34,850 (about £440 per month) and a really nice one (329 miles plus extra bits) for less than £45k (about £610 per month). The Koreans are costlier and not as well equipped as you might think. No denying they're glitzier inside though.
Where does this leave the Model Y? Well, I was sceptical before it turned up. Its domed roof surely adds space where you don't need it and you either get on with the super simple wilfully buttonless cabin or you don't. It's different gravy. That packaging is clever. Most firms go for stadium seating with second row higher than the first, allowing rear legs to dangle. But Tesla has put the front seats on pedestals, raising occupants into that domed area, while allowing rear legs to stretch underneath. Sure the car looks gawky, but it works. And the boot area is massive – the most floor space here – even if vertical space is limited. If you want a car that will carry the clobber, it's this, the iX3 or the Enyaq, with Skoda doing a better job of carving out useful space than either Volkswagen or Audi.
Now, the sticky subject of seven seats. None here has them, and although stateside Model Ys get them, in the UK they won't be available for the foreseeable future. The Merc EQB will be along shortly, otherwise you're into e-vans such as the Citroen e-Berlingo or e-SpaceTourer.
Top Gear
Newsletter
Thank you for subscribing to our newsletter. Look out for your regular round-up of news, reviews and offers in your inbox.
Get all the latest news, reviews and exclusives, direct to your inbox.
We haven't talked much about driving beyond pointing out that speed is daft. The Jaguar is the benchmark for calm, clean, engaging handling, the Ioniq 5 its most polar opposite with twirly light steering and lumpen ride quality. The others occupy the middle ground, but this is what you need to know: electric really suits family cars. Simple, smooth, silent. Progress made bewitchingly, eerily easy, plus the thrill of regeneration. You'll have heard this before, but there's not much to add. It's just deeply annoying that having whisked yourself about feeling like you're piloting the future, you then have to pull over to deal with a Luddite charging system. Unless you're in the Tesla. The Supercharger network is charging done better. It's still a valid, sensible reason for choosing the Model Y over its rivals.
Let's stick with our earlier premise: you want a useful family EV. We're down to three. The Model Y earns its place. Hype runs ahead of Tesla, but this is a good car. It just doesn't need to be this fast or costly – the Y, like the 3, should be available with the single motor set-up for less power, more range and lower costs. This entry level Long Range is £54,990 – £739 a month. Ouch. The Mustang Mach-E ticks the Top Gear boxes, there's a bit of fizz about it, plus it's efficient, well equipped and cool inside. The Kia EV6 fulfils a similar brief and runs it close, though. The Skoda Enyaq is the practical, value choice. This is the one that'll shed dirt easily, wear battle scars lightly, cost you the least to own and run. If you can, upgrade to the 77kWh battery. That aside, this is the complete family package. Devil's advocate: you can have a seven-seat Kodiaq with the burly diesel for less. But how's that going to look on the renewable energy, organically sourced, ethically minded, ecologically clean campsite?