Electric
Electric twin test: Renault Megane E-Tech vs Cupra Born
Time to find out which of these mid-sized electric hatches comes out on top
Odd innit that while mid-size hatchbacks remain (just) Britain's favourite form of car, electric hatches that size have so far been in short supply. So this test was a long time coming.
You can get electric superminis. And £50k electric performance four-doors – the Model 3, Polestar 2 and BMW i4. But the only Golf-size hatch with decent range has been VW's own ID.3. Otherwise it's crossovers-a-go-go out there.
Advertisement - Page continues below
Well, we've tested the ID.3 loads of times, so here's its slightly perkier sibling, the Cupra Born. More sporty suspension and jazzier trim make it more our kind of car. Meanwhile, Renault bosses have called its all-electric Megane 'the hot-hatch of EVs'. That might be stretching it, but let's see.
You'd have to be wearing very dark glasses indeed not to spot the Born's family resemblance to the VW ID.3. It has the same steep sharp-eyed nose and angled planes. A repeating triangle motif is the main decoration, inside and out. The Renault has a flatter bonnet and is more fulsome in its curves. The detailing is more loving too. The black wheel-arch extensions don't make it a crossover. The Born is actually the taller one.
I'd pay more for a Born than an equivalent ID.3 just for the interior. Cupra has splashed on more supportive seats and a nicer dash covering than the VW. But – and this is a 'but' the size of the Himalayas – Cupra hasn't done anything about the horrid capacitive touch switches all over the steering wheel. Too often when I turn a sharp bend my hand rubs against them and the radio retunes or the cruise control resets itself. But when I want to do those things they're laggy and inconsistent.
Advertisement - Page continues below
Plus far too much control is buried in the screen. And not enough energy consumption info is readily available. Most annoying driver interface in any car on sale? Possibly. Its only saving grace in this high-spec car is the big head-up display.
The Renault has bigger screens, more responsive processors, some very handy physical buttons and a general sense its interface was designed by a driver not a gamer. Driver-assist and climate have physical controls, the steering wheel sensors work much more nicely and there are regen paddles. Four column stalks seems a lot but they just work. You can divide the central screen to give a big map – Google, easily readable – plus permanently displayed music or whatever.
Also Renault has trimmed the Megane in materials that look and feel expensive. For a car this price, the Cupra fields too much acreage of hard plastic. Grown-ups can live but not stretch out in the back seat of either car. The Megane's boot is usefully bigger, but then there's no motor underneath unlike in the Born.
To bring you some extra novelty, the Born is specced here with a 77kWh battery and 231bhp motor. That long-range pack will be a later addition and we don't have a price yet. On the right wheels it'll get you 335 miles WLTP. The first UK batch of Borns, available from April, get 58kWh and 204bhp. They run from £33,735 to £37,375. In other VW Group cars, the power and battery upgrade to 77kWh is about £5k.
As specced here, the Megane looks like being about £36k when it comes to the UK in late summer. The motor is 220bhp, the battery 60kWh, giving a range of 281 miles, although like the Born that's on 18s not the 20s they're rolling on here. In mixed winter driving I got about 230 miles out of the Renault. My trip in the Born was shorter and interrupted by a puncture – there's no spare or tyre-repair gloop – so not a fair comparison. Experience with the 58kWh-battery Born tells me the 77kWh job would get about 260 winter miles.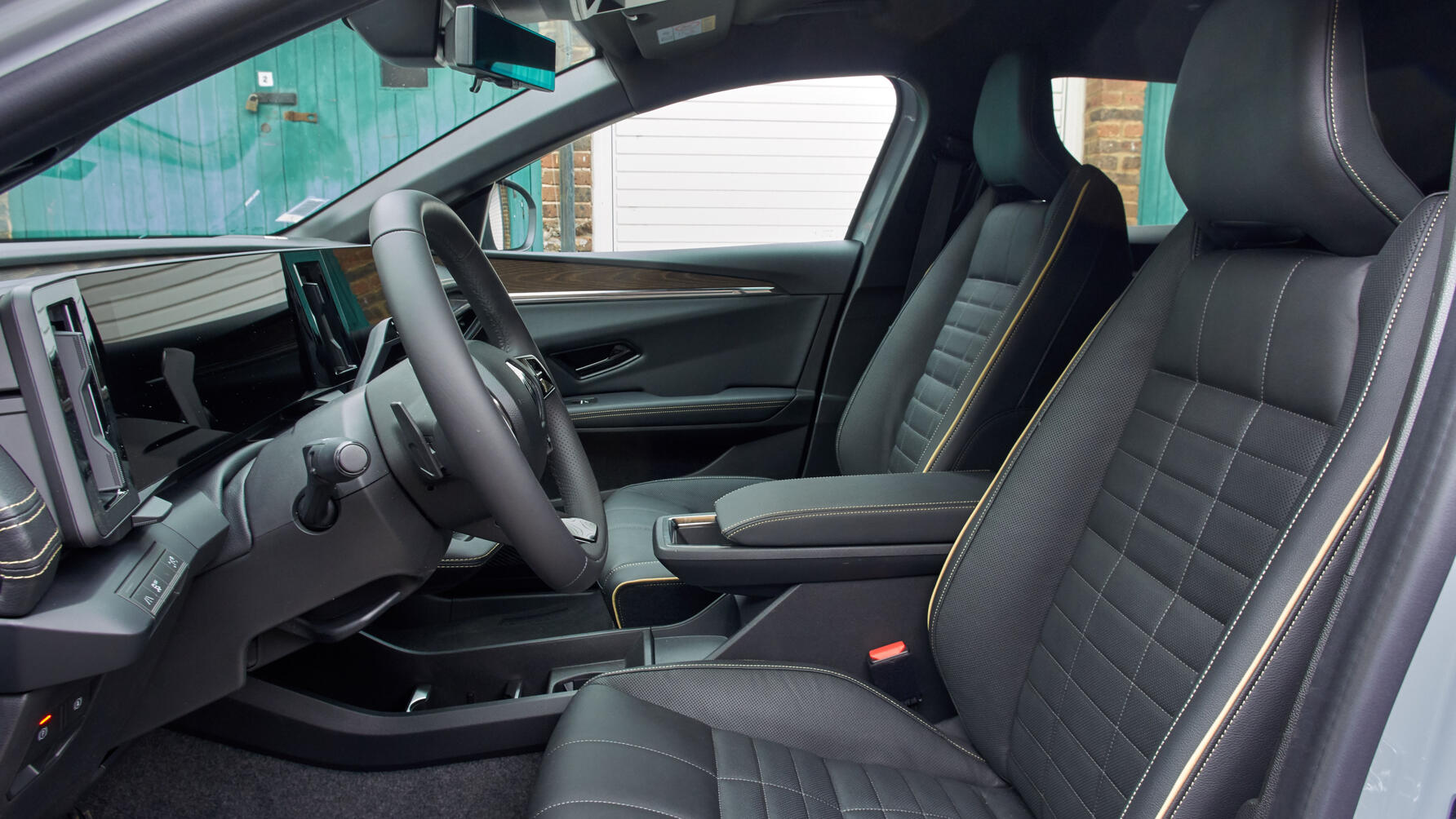 Talking of wheels, the Born's motor propels its rears, the Megane's its fronts. You probably wouldn't notice any effect of that in the versions of these platforms with weaker motors, but as we'll see it does make a difference with this extra torque – both make just over 220lb ft.
For DC recharging, the Born is rated at 125kW and the Renault 130kW, but it looks like the Born has better cooling and sustains that rate higher up the charge curve. It's claimed to be able to pull 10-80 per cent in just over half an hour, where the Renault takes double.
The Cupra, like the other VW Group MEB cars, is delivered at net-neutral for CO2 – its whole manufacturing process is claimed to run on renewables of offsets. Renault doesn't make that claim, but it does use an electrically-excited motor rather than the Born's permanent-magnet unit. That means the Renault isn't responsible for mining rare-earth metals.
Top Gear
Newsletter
Thank you for subscribing to our newsletter. Look out for your regular round-up of news, reviews and offers in your inbox.
Get all the latest news, reviews and exclusives, direct to your inbox.
Let's get driving. The Born will get to 62mph in 6.6 seconds, with no fuss. The Megane takes 7.4, because you've got some front-drive tyre slip to contend with as it moves off. But then it feels the faster car, by some way, partly because it's lighter by an impressive 150kg or so. (But then, 150kg is almost exactly the figure added to the Born when you step up to its bigger battery.) The Born's poke tails off about 60mph too, while the Renault keeps going.
So real-terms it's a win in performance for the Renault. Until it gets scrabbly. Away from tight bumpy corners it'll hit you with a proper little wriggle of torque steer. I found myself, on that sort of narrow bumpy roads, opting for the gentler accelerator map. Otherwise the Renault's steering, like the Cupra's is pretty numb.
Beyond that the Megane's chassis is all gravy. The steering's quick and progressive, there's little roll, and at speed the ride becomes remarkably serene even on a bucking road.
Don't expect the Cupra to go all rear-drive slidey on you. The traction control is stern, if neat and progressive. Still, it will emerge at full-torque from a bumpy tight 90-right with a bit of a sense that the rear tyres are helping, and more decorum than the wriggling Renault. It's emphatically stiffer-sprung and better-damped than the ID.3. Like the Renault it hardly rolls or pitches, but there's a little more turbulence, wheel patter and roll-rock to the straight-line ride.
So in the end this isn't a hard choice to make. At least not unless you really heed the Cupra's extra range, itself not as much as you'd think from the battery sizes because the Renault uses each kWh more efficiently.
But the Renault has a far better display and control interface, nicer cabin trim and a better ride, without losing much on agility to the apparently more sporty Cupra.