Electric
Six electric pickups you need to know about
2021 is the year of the EV pickup. Here are the six you ought to know about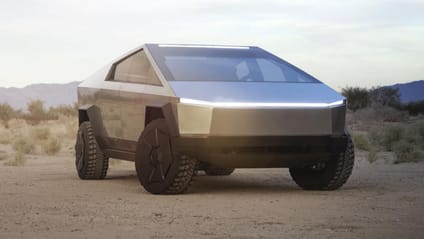 Ford F-150 Lightning

The Ford F-150 going electric is a BIG deal, not least because the regular one has been North America's best-selling vehicle (not just truck) for the best part of 40 years. Since the Lightning – which borrows its name from high-performance, petrol-powered F-150s of yore – was revealed in May 2021, tens of thousands of Americans have reserved one. 

You're looking at up to 563bhp and 775lb ft and a claimed 300 miles of range (apparently that's with half-a-tonne of weight in the bed, too). It has a massive front trunk and something called bi-directional power, meaning the Lightning can power your tools, or even your entire house, for days at a time if needs be. Max payload is 900kg, and it can tow 4.5 tonnes. Prices range from around $40,000 to $90,000, and deliveries are expected to start in 2022. 

Advertisement - Page continues below

Rivian R1T

Deliveries of the much-hyped Rivian R1T – and its seven-seat SUV sibling, the R1S – are set to begin this summer. Early trucks get a "300+ mile" range (longer- and shorter-range versions are coming) and quad-motor powertrain for 0-60mph in as little as three seconds. Prices start at just shy of $70,000. Aimed squarely at outdoorsy adventure types who enjoy a spot of off-roading, the R1T can supposedly wade through over 900mm of water and tow almost five tonnes. 

Amazon and Ford are both big investors in Rivian, which has been around in some form since 2009 and nowadays has over 5,000 employees. The California-based company is also creating its own charging network, with over 3,500 chargers at over 600 locations in the US scheduled to go live by the end of 2023. 

Tesla Cybertruck

Like no truck – no vehicle, even – that you've ever seen before. Tesla claims Cybertruck production will start towards the end of this year, and that it's sitting on hundreds of thousands of pre-orders. 

Prices are set to start at less than $40,000 for the single-motor, rear-drive version and rise to $70,000 for the all-wheel drive, tri-motor model with a theoretical "500+ miles" of range, a 1.5-tonne max payload and over six-tonne towing capacity. Oh, and 0-60mph in a claimed 2.9 seconds. Tesla insists this is exactly what the Cybertruck will look like when it reaches production, too, with its unpainted stainless steel body, toughened glass and seating for six. 

Advertisement - Page continues below

Lordstown Endurance

Lordstown Motors – so named for Lordstown, Ohio, where the company owns an old General Motors factory – is aiming to start production of the Endurance pickup this September. 

BUT… to do so it needs more money. In a recent filing with the Securities and Exchange Commission, Lordstown said its "current level of cash and cash equivalents are not sufficient to fund commercial scale production and the launch" of the Endurance, and that in a year's time it may not be able "to continue as a going concern". The company is also under investigation by the SEC over allegations it misled investors. 

The Endurance itself is supposed to be a proper work truck, more like the F-150 than the Rivian, with four in-wheel hub motors and a 109kWh battery for a claimed 250+ miles of range. Prices start at $52,500. 

Image: Lordstown Motors

Bollinger B2

"The world's most capable pickup truck" says American start-up Bollinger of its B2. A bold claim given the number of other EV pickups set to land in the next year or so. 

The B2 might look like a knock-down kit you could put together yourself with a rudimentary set of instructions, but underneath it's a clever thing. Hydropneumatic suspension apparently gives it proper off-road chops, and its max payload is over two tonnes. A passthrough that runs from the very front to the very back of the truck means it can carry exceptionally long objects. 

Not cheap though, at $125,000. Dual motors give 614bhp and 0-60mph in 4.5 seconds, and 142kWh battery gives a claimed 200-mile EPA range. 

Hummer EV

The Hummer EV isn't for tradespeople, not really. Billed as the "the ultimate off-road EV supertruck", the $112,000 First Edition models have 1,000bhp from three e-motors (drawing power from GM's clever new 'Ultium' battery) and supposedly hit 60mph from a standstill in around three seconds.

It comes with up to 37-inch tyres and a "CrabWalk" feature that points the front and rear wheels in the same direction. GM claims the Hummer can scale "18-inch verticals" and wade through over 600mm of water. Claimed range is around 350-miles.