Electric
Here are 12 electric pickups you need to know about
2023 is the year of the EV pickup. Here are the ones to keep an eye out for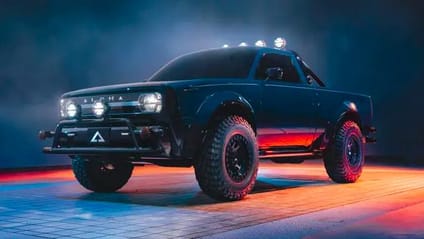 The Ford F-150 going electric is a BIG deal, not least because the regular one has been North America's best-selling vehicle (not just truck) for 40 years straight. Since the Lightning – which borrows its name from high-performance, petrol-powered F-150s of yore – was revealed in May 2021, tens of thousands of Americans have reserved one. 

You're looking at up to 572bhp and 775lb ft and a claimed 320 miles of range. It has a massive front trunk and something called bi-directional power, meaning the Lightning can power your tools, or even your entire house, for days at a time if needs be. Max payload is 900kg, and it can tow 4.5 tonnes, while prices range from $60,000 to $100,000.

But is America ready to go electric? Last year TG mag editor Jack Rix spent two days in the States to discover just that – and gauge public opinion on Ford's new electric pickup.

Advertisement - Page continues below

An all-electric pickup truck from an American start-up… you know where this is going. Right? Except you don't, because this pickup comes from an American start-up called Rivian. And, unlike that other pickup from that other company, it's already in production.

Early trucks get a 300-mile range (longer- and shorter-range versions are coming) and quad-motor powertrain for 0-60mph in as little as three seconds, with prices starting from $73,000 (approx. £59k). It's not short of loadspace either, with 330-litres in the bonnet, 350-litres in the lockable 'gear tunnel', and a 200-litre sealed bin beneath the rear bed floor. Oh, and it can supposedly wade through over 900mm of water and tow almost five tonnes.

There's also a seven-seat SUV sibling to the R1T, which Rivian started delivering back in December 2021 - it's called the R1S.

You can read our first drive of the R1T below.

Like no truck – no vehicle, even – that you've ever seen before. The much-hyped Tesla Cybertruck was scheduled to begin production in late 2021 – with Tesla reportedly sitting on hundreds of thousands of pre-orders – but that came and went, when it was pushed back to 2022. Then, Elon announced it was being pushed back to 2023, and has since gone a step further, confirming it will enter production later this year. Fingers crossed.  

Here's what we know so far. Prices are set to start at less than $40,000 for the single-motor, rear-drive version and rise to $70,000 for the all-wheel drive, tri-motor model with a theoretical "500+ miles" of range, a 1.5-tonne max payload and over six-tonne towing capacity. Oh, and 0-60mph in a claimed 2.9 seconds. Tesla insists this is exactly what the Cybertruck will look like when it reaches production, too, with its unpainted stainless-steel body, toughened glass and seating for six. Like the look?

Advertisement - Page continues below

Lordstown Motors – so named for Lordstown, Ohio, where the company owns an old General Motors factory. At least it used to, until it was sold in 2021 to tech group Foxconn, a move intended to raise capital to help finally see its Endurance electric pickup truck enter production – which we're told it finally did in late 2022. Good news.

The Endurance itself is supposed to be a proper work truck, more like the F-150 than the Rivian, with four in-wheel hub motors and a 109kWh battery for a claimed 250+ miles of range. Initial plans were to build and deliver 50 pickups by the end of 2022, and up to 450 more in the first half of this year. More as we have it…

Image: Lordstown Motors 

The Hummer EV isn't for tradespeople, not really. Just look at it. You want some numbers? It measures eighteen feet long, six and a half feet high, more than seven feet wide and weighs more than four tonnes. Looks the part, at least.

Billed as the "the ultimate off-road EV supertruck", the $112,000 First Edition models have 1,000bhp from three e-motors (drawing power from GM's clever new 'Ultium' battery), 11,500lb ft of torque, can supposedly hit 60mph from a standstill in around three seconds, and have a range of around 350 miles. 

It comes with up to 37-inch tyres and a "CrabWalk" feature that points the front and rear wheels in the same direction. GM claims the Hummer can scale "18-inch verticals" and wade through over 600mm of water. The Navy SEAL of the pickup world, in other words.

Just as night follows day, a Chevrolet pickup truck follows a Ford pickup truck. And don't for one minute think it's just a repurposed combustion-engined Silverado: it's built from the ground up on the same electric platform as the Hummer EV. 

When it launches in 2023, buyers will have the option of the bells'n'whistles grade $105,000 RST First Edition, or the more rough and ready, and, er, reasonably priced $39,900 Work Truck (WT). Differences? Where the former offers 664bhp and 780lb ft of torque, a 600kg payload, and a towing capacity of 3,650kg, the latter gets you 510bhp and 615lb ft of torque, a 550kg payload and a 3,650kg towing capacity. Healthy enough.

Perhaps the smartest thing about it, though, is that bed. It measures 5ft 11in long, but open the midgate and you get 9ft, or with the optional tailgate extended, a monstrous 10ft 10in.

The third all-electric truck from GMC is this, the Sierra EV. Like the Hummer and Chevrolet's Silverado EV, it'll be based on GM's Ultium platform, with two motors providing a maximum of 744bhp and 785lb ft of torque. Plenty, in other words.

Set to arrive on US roads in early 2024, the launch model will be the Denali Edition 1, and we're told it'll do up to 400 miles on a full charge, while 350kW charging capability means 100 miles of range in approximately 10 minutes. Plus, the 10.2kW onboard power outlet can reportedly juice your home for up to 21 days in the event of a powercut.

Like the Hummer, it can also crab walk courtesy of four-wheel steering, and it gets a 600kg payload capacity and a 4,309kg towing ability. With prices starting from $107,000 it doesn't come cheap, but future models should bring the entry price down significantly.

Advertisement - Page continues below

The Ram 1500 Revolution Electric Vehicle (REV) was first revealed as a concept back in January, before Ram took the covers off the production version during this year's Superbowl halftime showcase a month later. Not a bad way to make your debut, eh?

Here's what we know so far. Built on Stellantis' new STLA Frame platform, it'll be available in two guises, either a 168kWh battery pack with a range of up to 350 miles, or a 229kWh unit with up to 500 miles of range. Up to 110 miles of additional range is achievable in 10 minutes if you can find yourself a 350kW fast charger, while 645bhp, 620lb ft of torque, and a 0-60 mph time of 4.4 seconds all sound plenty healthy to us too.

But that's not all, with the Ram 1500 REV also boasting a 1,225kg payload capacity, 6,350 towing ability, and 610mm wading capability, plus vehicle-to-vehicle, vehicle-to-home and vehicle-to-grid bi-directional charging. Full launch is scheduled for later this year.  

Another day, another Californian EV start-up, but Alpha has hit the ground running. We first cast our eyes on the Wolf back in March 2021 when it was just a 3D rendering. Fast forward five months, and it had evolved into an actual, physical model. Speedy work.

Here's what we know so far. There's set to be three variants, the standard Wolf, the extended cab Wolf+, and the double cab SuperWolf. Buyers will have the choice of single motor 2WD, or dual motor 4WD. Alpha reckons it'll do 0-60mph in 6.2 seconds, with the 75kWh battery good for a range of around 250 miles. And get this – Alpha's targeting a starting price of just $36k (approx. £29k), though we'll believe it when we see it. 

It most recently made its global debut at this year's Seoul Mobility Show, with plans to put it into production in Q4. In the meantime, check out our exclusive photo shoot below.

Advertisement - Page continues below

Another American start-up after a slice of the electric pickup pie, Atlis first revealed its wedge-tastic XT pickup to the world back in 2019, complete with a claimed Mercedes EQS-rivalling 500-miles of range – and a 15-minute full charge time. Wowsers.

The rest of the specs were equally impressive: 600+bhp, 12,000lb ft of torque, 0-60mph in 5.0secs, a top speed of 120mph, a payload of nearly 2.3 tonnes, and a towing capacity of almost 16 tonnes. Buyers will have the option of a 6.5 or 8ft bed, with prices starting from $45,000 for the entry-level version with 125kWh battery and 300-mile range. The range-topper, meanwhile, with its 250kWh battery and 500-mile range, starts from $69,000. 

Oh, and one other thing – Atlas claims it'll have a one-million-mile life span… four times as much as the average British driver reportedly covers in their lifetime. Otherworldly.

Meet the EdisonFuture EF1-T, which is notable for one reason above all: its solar panel roof. Which when you think about it, just makes sense, right?

Having made its public debut in concept form at the Los Angeles Auto Show last year, a solar cover bed is also optionally available to maximise juicing, as well as helping to protect any contents. Oh, and the solar panels will charge the battery when both parked and driving.

It's set to be available in three specifications: Standard (single motor), Premium (dual motor), and Super (tri motor). While there's no word yet on battery sizes, we do know it'll be good for a range of 300, 380 and 450 miles respectively.

Whether the whole solar charging thing will work as well over in the UK (or if we'll get it) as it will in sunnier climes is another matter entirely…

Image: EdisonFuture

Remember Canoo? Back in 2019, the California-based (obviously) start-up got us all giddy with its futuristic-looking microbus. A multi-purpose delivery vehicle followed, and then last year, this – the aptly named Canoo Pickup.

Reminiscent of VW Type 2 pickups of old (and VW's teased ID.Buzz pickup...), it offers a six-foot truck bed complete with two-foot pull out extension, a front cargo storage area that can hold tools or gear along with a fold down worktable with electrical outlets, flip-down side workbenches, hidden side steps and storage areas, and more.

Canoo says it'll be available in dual or rear motor configurations, up to 600bhp and 500lb ft of torque, 816kg payload, and around 200 miles of battery range. The website is already taking pre-orders, with first deliveries potentially later this year. Tempted?