Top Gear Advice
Here are 10 of the best used electric cars to buy
As you've noticed, EVs are pretty pricey. But does the second-hand market offer any bargains?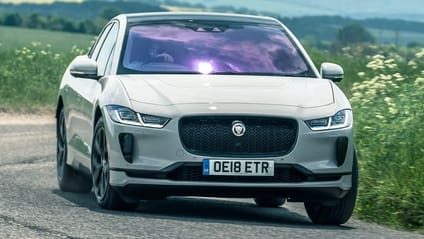 Nissan Leaf

Used EVs are a bit of a funny concept to wrap your head around. It feels like we haven't had enough, for long enough, to have anything approaching a decent used market. And yet we've had second-hand Nissan Leafs (hey, if that plural works for Toronto's best hockey team, it works for us) for more than decade now.

The Leaf is perhaps the most obvious choice for a used EV, but it's also one that works – as the most popular EV ever made for most of its life (until a certain car company named after a certain Serbian genius rather stomped all over that), there are loads to choose from on the used market, which keeps prices down. And the other reason this choice works? Because the Leafs... work. If nothing else, the fact that relatively rudimentary early Leafs haven't all been rendered useless after a decade of use is perhaps the best counterargument to the know-it-all EV naysayers.

Advertisement - Page continues below

BMW i3

You know that band that you love, that never really made it as big as they should have? Or that TV series that always deserved a second season, but never got it? Well, welcome to the automotive version of that exact situation.

Yes, the i3 had some success, and the people who know the car also know how incredibly well it does what it was designed to do – be the ultimate urban car. It's so good at it, in fact, that you can stretch its purview to intercity journeys, long trips, camping or anything that we've proved it's capable of. This was the car that should have been massive, but somehow never was. It's the car version of The Melvins' brief brush with the mainstream and Train's 'Hey Soul Sister' still being on the radio today, or Firefly's single-season stand while even CSI: Cyber got a second.

Renault Zoe

And if we're talking about overlooked electric cars, we can't really disregard the Renault Zoe. While eminently popular in its home country – and one of the best-selling electric cars ever – the Zoe never seems to rate a mention in most EV conversations.

Which feels especially unfair, given it's been around for just as long as the Tesla Model S and – unless our maths is severely off – has sold just as well or better than the Model S since then.  

The Zoe is same essentially right idea that the Honda e, Mini Electric and Peugeot e-208 followed years later: a small electric city car, that just happens to suit its environment better with each passing day.

Advertisement - Page continues below

Tesla Model S

So, who else is surprised it took us this long to get around to the only car of our generation that can truly be called game-changing? We've seen some excellent cars in our years on this earth, observed huge advances, watched paradigms shift and witnessed car companies transform from fledgling third-tier options to fully fledged titans. We've even seen cars that should have been game-changers (hello, i3!). But only the Model S went and did it.

It's a severe pain in the musky bits that we can't talk about Tesla without immediately having to add at least one disclaimer, so we're going to keep things simple. Want to hammer it out about Tesla's CEO, stock price, FSD Beta or anything else? Go nuts. Mercifully, in this instance, it is very much not our circus and not our monkeys.

This disclaimer is just about one thing: build quality. Tesla's a very new manufacturer, which has spent the last decade establishing itself, proving its worth, selling us on the concept that an EV is a car you could actually want to own, and actually turning a profit. So build quality to match so-called 'legacy' manufacturers who've been in the business for five and ten times as long is perhaps expecting a touch too much.

Tesla Model 3

And if we're going to talk about the car that changed the game, it wouldn't do anyone any favours to overlook the car that's let the most people play it. Yep, it's the Model 3 – the best-selling electric car of all time, the first electric car to sell more than a million, and the car that, quite literally, brought the full impact of Tesla home for more people than ever before.

As before, we're going to have to address the woolly mammoth waiting impatiently in the corner: build quality. If anything, the Model 3's frantic production ramp-up and bigger build numbers make it the poster child for Tesla's fit and finish foibles.

We're not saying this is a Tesla thing or even an American-made thing; this is purely a new-company thing – especially one that's focusing on a million and seven things at once.  

Also, the joke of American 'that'll do' engineering is utter nonsense. We're pretty sure a country whose home-made output includes the likes of Filson, Grado, LL Bean, Taylor, Dickies, Carhartt, Maglight, Fender, Redwing, Zippo, North Face, Leatherman, Airstream, Taylor Stitch, Martin, Weber and Steinway has a deep enough talent pool to a) know what quality is, and b) know how to achieve it.

Jaguar I-Pace

Ever get the feeling like the Jaguar I-Pace was a big deal for a very small amount of time, before being rather forgotten about? We certainly do. We just can't figure out why.

The design is both recognisable as a current Jaguar and an example of what Ian Callum can do with a Jaguar when he's freed from the packaging constraints of internal combustion. There's the best part of 400bhp and 515lb ft to play with, and an easy 200 miles of range in which to play. Should you manage a journey without any such playing, you're looking at more like 250 miles of range. And, with a 7kW home charger, you can do it all again after an overnight charge. Seems all right to us.

Kia Soul EV

With Kia and Hyundai's latest electric offerings, it's hardly surprising that Korea's earlier efforts in the EV space have been more than a little overshadowed. But from Kia's side of things, what the EV6 eclipsed was actually a pretty decent electric car to begin with – especially after the 2020 refresh.

As of the 2020 model year, the Soul EV offers 200bhp (i.e. exactly enough for a regular family hatch-type thing), an official 240 miles of range and a face that looks like someone just told it a dad joke. But, crucially, it doesn't have the 'look at me and envy my money' aesthetic of so many electric cars – it's just a Kia Soul.

Which, incidentally, we liked when it was new and petrol-powered, still liked when it wasn't new, and still like now that it's not petrol-powered.

Advertisement - Page continues below

Tesla Model X

That the world's best-known electric car company should have three entries on this list will shock... oh, we'd say roughly none of you. What might be surprising is that the Model X is quietly becoming a canny second-hand purchase for those in need of maximum space and maximum pace. Sorry, Jag; maybe you can just hold on to the 'grace' part of the old strapline.

Broadly speaking, the Model X is the Model S – same platform, same luxury and same near-painful acceleration – just one with space for seven and styling that will not stop reminding us of a Kinder Surprise, no matter how much we try to see something else.

Volkswagen e-Up

Much like the petrol-powered Up, the e-Up is a charming little thing. How much of the that charm is down to the fact you can pronounce e-Up in a northern accent is largely immaterial, and likely not a motivating factor for most people to buy one.

With that in mind, what is? Well, the fact that it's every bit the simple, happy little city car that won hearts and minds when it was powered by liquefied dinosaurs. It's a quality that hasn't diminished with the addition of an electric drivetrain, largely because the e-Up doesn't make a song and dance about being electrified. It's just a simple city car that happens to be powered by electricity.

Advertisement - Page continues below

Volkswagen e-Golf

As much as we'd love to include something like the Porsche Taycan here, it just hasn't been on sale long enough for the 'second-hand' market to be anything more than a 'jump the queue' car-flipping exercise, as fiscally sound as it is morally bankrupt.

On the other hand, the e-Golf has; in fact, it feels like it's been around for ages. Then again, with years as hard as these, 2014 does feel like an entirely separate epoch. But we digress.

The e-Golf works for the same basic reason the e-Up does – where the electric Up is the same happy city car, the electric Golf is the same reserved, refined, just-as-much-car-as-you-need experience as non-sporty Golfs have been for the past 15 years. Best of all, VW upgraded the e-Golf back in 2017 with a bigger battery, faster charging and more power, so the only real difference between a newer, pricier preloved e-Golf and a 2018 model is the price.