SPEC HIGHLIGHTS
SPEC

Morgan Plus Four manual

ENGINE

1999cc

BHP

255bhp

0-62

5.2s
Have we messed up our Morgan Plus Four?
"Over a trillion combinations." When you're diving headfirst into speccing a car – one which will be built not in a matter of hours by emotionless robots, but hand beaten over the course of an entire month by masters of their trade – it's quite a daunting claim.
We've all spent idle afternoons on car configurators, throwing deliberately gauche colour combinations at poor defenceless sports cars. But there were butterflies in my tummy as I navigated Morgan's unexpectedly sophisticated Plus Four configurator in its Malvern factory, knowing that whatever I settled on would be crafted from real wood, aluminium, sweat and tears in the rooms next door. Picking the contrast stitching some real humans will run through a sewing machine feels a hell of a lot more meaningful than choosing which shade of grey to lease a Qashqai in.
Advertisement - Page continues below
I knew one thing right away, though: this had to look like a modern Morgan. Because it is. Beneath the Plus Four's highly familiar shape is an all-new chassis, one futureproofed for electricity, autonomy and everything in between, even if there's nothing beyond ABS present for now. Its rear wheels are powered by BMW's latest 2.0-litre 4cyl turbo – packing 255bhp – and there's even an option of an eight-speed paddleshift gearbox. But the only real giveaway to any of this innovation on the outside is an incongruous line of LEDs running across the middle of its familiar round headlamps.
Which is where I want my spec to step in. British Racing Greens or the clotted cream whites of an afternoon tea are out; bright, solid colours and a set of alloys – rather than wire wheels – are in. While most of Morgan's own colour options cost £695, it's just £995 to go down the 'paint to sample' route. A no-brainer, surely?
It says a lot about Morgan's aesthetic that a colour palette from 1992 was my first port of call as I sought 'modern', but I'd wager there's been no more intoxicating set of shades than those adorning the 964-gen Porsche 911 RS. After initially trying Signal Green, for a 2020s twist on BRG, I deviated to Rubystone Red – aka pink – for something that'd tear the office opinion in two, and likely send seismic waves through Morgan owners' clubs.
What I ended up with was neither, though a colour the company's design boss, Jon Wells, says he's never seen in the Malvern paint shop. After idly sampling (then falling in love with) Mint Green from the 964 RS catalogue, Jon steered me towards a lighter version deployed on Nineties BMWs. Thus it tells the story of the Plus Four's modern, Munich-sourced mechanicals even more proudly. Sorted.
Advertisement - Page continues below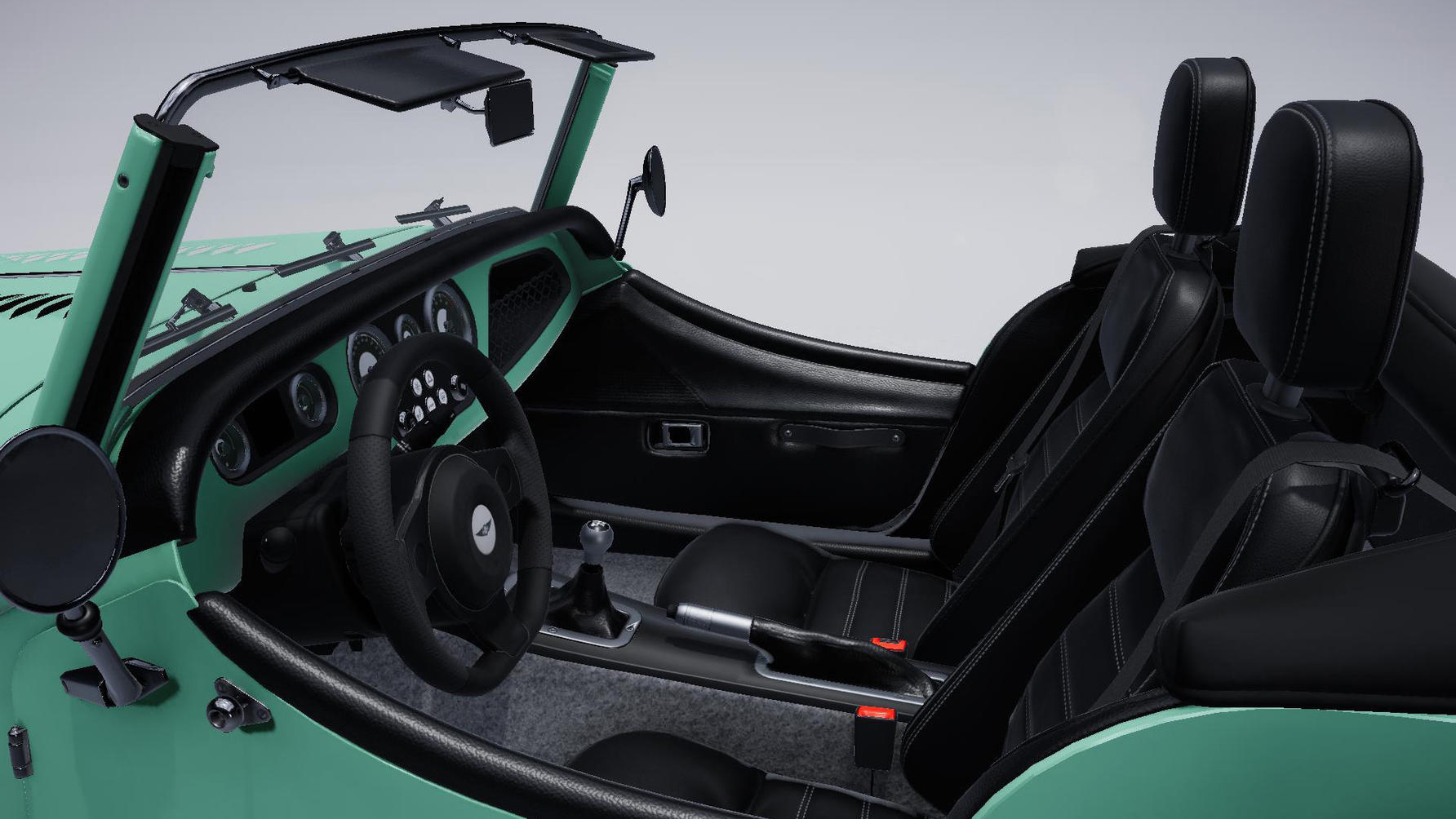 I didn't let him return to his sketchpad immediately, though, nicking 15 minutes of his time to sense-check the rest of my ideas. With a bright colour on the outside, I've gone for contrasting black on the roof, seats and interior wood (it's not standard, but there's got to be some wood to proudly shout about the ash frame beneath) with light grey carpets and a body-coloured dashboard. I did try Mint Green seat backs. They did not look classy.
Jon also talked me into black, rather than silver, for the steering wheel, and tried to lead me down a similar path for the alloys. I've never liked black wheels, and car photographers really don't like them, so I've resisted (though I have switched the chrome grille for black). And the silver alloys – a mere 15 inches in size – are the only no-cost rims. I love how they resemble entry-level steel wheels of yore, though once again, they look quite forward-thinking in the marvellous world of Morgan.
Aesthetics nailed down, it was time to fix the other options. I genuinely considered going paddleshift, having lived with (and loved) the same gearbox in my old BMW Z4, but not for long. Manual gearboxes are fighting a losing battle and if they can't survive at Morgan, they can't survive anywhere. I'll have my Plus Four less polished but more involving, please.
The money saved on the DCT transmission was immediately spent on the optional sports exhaust (£1,995) while it felt rude not to add the ace Cibie spotlights up front (£475). There's also air con (£995) and a Bluetooth link for the stereo (£200), which may seem like a cop out in a deliberately simple sports car – in turn inspired by a Porsche track special – but I'd always want my GT3 RS or Megane R26.R with AC and music. I'm not enough of a hotshoe to exploit the weight saving, and anything that encourages you to drive a cool car over a ginormous distance is welcome in my book. A further £50 preps the voluptuous rear for a luggage rack should packing for those trips prove too tricky.
The total bill? An exceedingly precise £71,245.28, a healthy rise over the £62,995 entry ticket and officially 'a lot' for a four-cylinder car. Especially when a Porsche 718 Boxster kicks off below fifty grand. But – as we'll find out getting stuck into the building process in the next report – it buys you a ticket into a world of unique craftsmanship that costs ten times as much elsewhere. 'My' Morgan is, after all, one in a trillion. Let's hope I haven't buggered it up.
Photography: Mark Riccioni
Powered by
more on this car
Take one for a spin or order a brochure
Powered by