SPEC HIGHLIGHTS
SPEC

Morgan Plus Four manual

ENGINE

1999cc

BHP

255bhp

0-62

5.2s
Why the Morgan Plus Four *could* go electric
With restrictions suitably loosened, the Mint Mog has finally made its first trip up to my spiritual Sunderland home. The fact it's taken until report nine does indeed mean nine months without seeing my family. A luridly painted sports car is a good way to re-break the ice when you've gone so long away from each other, though…
But is it a good way to make a 500-mile round trip on a bank holiday weekend? The gridlock of everyone else making similar pilgrimages meant I at least got lots of thinking time inside our Plus Four. And what I ended up thinking about was electricity, of all things.
Advertisement - Page continues below
Despite styling to make the 911's design evolution look radical, this Morgan sits on an entirely new aluminium platform. For now, it hosts relatively traditional petrol engines and manual or automatic gearboxes, and with little in the way of electronics controlling them (there's ABS, but nowt else in terms of 'nannies').
But the long-term plan is quite different – in time, Morgan says, its new ally architecture can host active safety systems, self-driving tech and hybrid or electric powertrains. Which is how I ended up pondering if the Plus Four would work as an EV. More specifically, as I juuuust about made it home without having to stop for fuel. Its tiny tank allows somewhere between 200 and 250 miles of range, depending on driving style. You might eke out a few more mile if you're happy with an illuminated petrol light. I am not.
It wouldn't be unfeasible for a block of batteries to extract similar zero-emission range, and given you need to stop more often (and for longer) on a big trip in the Morgan, I don't think charging times would extend your travel time much, if at all. There are no cupholders for coffee on the move and while that new platform may yield a bigger footwell, there remains nowhere to rest your left foot. A good 20 minutes of caffeinating and stretching your legs every 100 miles is fairly vital to your mood not nosediving, and if the car was plugged into a fast charger while you did so, the batteries would easily juice up enough to continue driving without the need to loiter impatiently at a charging post.
The big question concerns character, of course. Something the Plus Four is currently saturated with. I love executing wanton gearchanges, its pedals set up just-so for nerdy downchanges, while the charming sound the Malvern folk have extracted from a BMW 1 Series crate engine is to be applauded. Losing manual shifting and ever-present engine noise would certainly alter this car's personality for the worse.
Advertisement - Page continues below
Yet with its modern turbo powerplant and easy-40s mpg, it already feels like a stepping stone to a cleaner future. Its Plus Six stablemate doesn't even offer a manual. I think the sheer hilarity of whooshing around to the whine of motors – with a frankly naughty amount of instant torque troubling its rear Avons – would appease a healthy chunk of the disgruntlement of moving so dramatically with the times. You'd presume Morgan might embrace some form of traction control with the arrival of electricity…
It was quite fitting that after a weekend of stroking my stubble about such things, I drove the Everrati Signature – a 1991 Porsche 964 with a 53kWh transplant. I liked it, and given it was an unloved Tiptronic car that was surrendered for the conversion, nor was I especially affronted by what the engineers had done to it.
The bottom half of the internet didn't wholeheartedly agree, and there's undoubtedly going to be a lengthy period of acclimatisation. Rep mobiles and SUVs can switch to electric without tearing tradition to shreds, but petrol sports cars look likely to leave the market with the bolshy reluctance of an over-Hooched teenager being bundled out of a nightclub with sick on their shoes. On a purely logistical level, though, I think our Morgan is ready for the switch.
Mileage: 7352 Our mpg: 44.4
Mog meets restomod, take two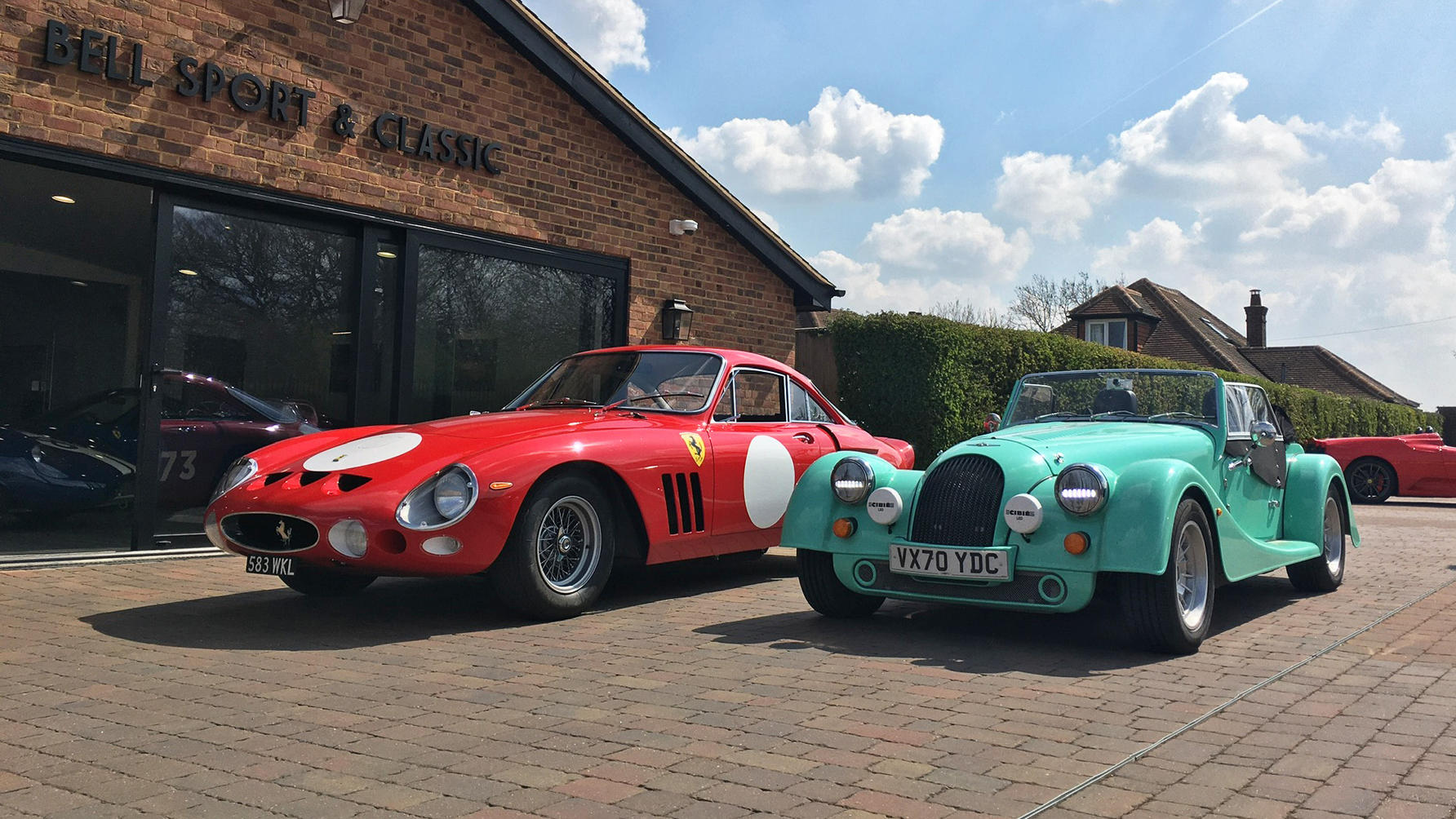 Yep, I didn't just take the Plus Four along to meet a plug-in Porsche this month. Priceless 1960s Ferrari racecar rep vs 70 grand 2020s Morgan appears a trifle unfair on our Mint Mog at first glance, yet it couldn't help but feel like a Cayman GT4 with a short-shift kit after a magnificent morning manhandling Bell Sport & Classic's 330 LMB resto. The Ferrari wasn't anywhere near as tough to pilot as I'd feared, but the deliberate actions it asks of its driver illuminate the decades separating the Plus Four's aesthetic and mechanicals rather brightly. Yet more evidence this really is a modern Morgan.
Powered by
more on this car
Take one for a spin or order a brochure
Powered by